Meet Christopher De Bono, Unity Health Toronto's new Executive Director of Mission, Values and Spiritual Care
December 09, 2021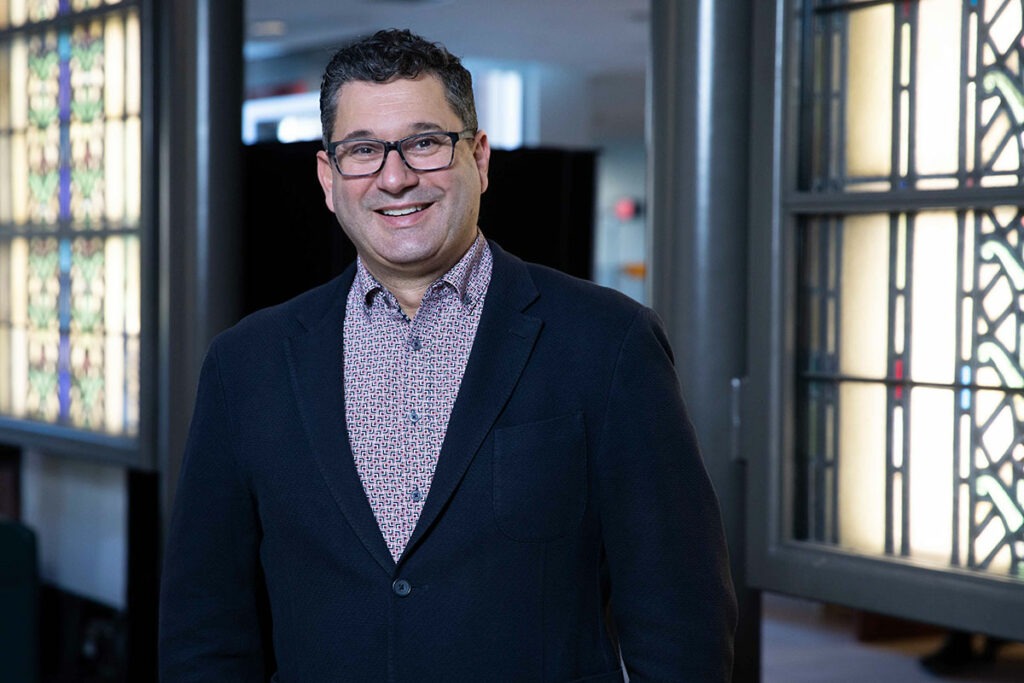 While living in Vancouver and leading the mission, organizational development and ethics portfolio at Providence Health Care, a major Catholic health-care network in British Columbia, Christopher De Bono enjoyed five years of snowshoeing in the mountains, cycling around Stanley Park and even the semi-regular trips up the Grouse Grind – also known as "nature's stairmaster."
But while Vancouver has a lot to offer, Christopher was more than excited to join Unity Health Toronto as the new Executive Director of Mission, Values and Spiritual Care. It is an opportunity to give back to the city where he grew up and launched his career, and be part of Unity Health's important provincial, national and international role in care, research and education.
With more than 20 years' experience in progressive and strategic health-care roles in both British Columbia and Ontario, Christopher is a highly regarded Catholic senior leader, ethicist and pastoral theologian.
We sat down with Christopher to learn about his career, why mission is the "secret sauce" of great organizations, and what he has planned for his first 100 days.
What excites you most about your new role as Executive Director of Mission, Values and Spiritual Care?
What excites me most about the role is simply one thing: the opportunity to advance the best care experiences created together. The Mission, Values and Spiritual Care portfolio has a central role to play in the values-based vision and mission of Unity Health Toronto. It's also exciting to have the spiritual care component of the portfolio because when it's done with excellence, it can advance the holistic dimension of what those best care experiences can be. I'm extremely intrigued by and committed to the vision of this organization.
What are some of your priorities for your first few months in your new role?
Starting anything new requires good listening and getting to know your new home. My priority for the first few months is meeting with and listening to our people – our staff, physicians, learners and volunteers – as well as those in care, including patients, residents and their families. It's really important for me to understand what people are experiencing (their joys and struggles) and where Unity Health is excelling so that I have a deep understanding of the organization I'm joining. I'm also reviewing and learning more about the strategic work this organization has done to engage its people and those in care. When you're new, it's critical to understand our needs, where we're going and how we will continue to develop our bold vision.
The first 100 days require a lot of listening, learning and relationship building to ensure I'm in a position to be constructive and to contribute to the strategic vision.
Why is mission integration and spirituality significant in the health-care environment?
I think mission is the "secret sauce" of all great institutions, especially health care. An integrated mission creates the culture that creates the strategy.
I've always been drawn to what makes life, people and institutions flourish and be the best they can be. I've discovered on my journey that if we can get clarity on "why" we exist that can help us in "what" we're trying to do and "who" we're trying to be.
What are we called to do in health care? We can think about the aim of medicine as the alleviation of suffering, and we do that through care, research and education. We alleviate suffering by providing the best care, using the best research and by training the best people through education to help listen and create safest and best care experiences for our patients.
An integrated mission allows us to align our values as a person with the values of an organization. It draws individuals from every way of life to create a mosaic of people united around one thing. It drives Unity Health Toronto's people to serve with excellence, compassion, community, inclusivity and a respect for human dignity.
Social justice is a common thread in your past experience and professional opportunities. What are some of the ways you advocate for populations living with social inequities and vulnerabilities?
Perhaps the best legacy of the Sisters of St. Joseph, who founded these institutions, is their passion for social justice. In many ways, I feel like I'm part of a tradition of people who not only care for the individual case (which we must), but are also committed to the larger reasons these cases exist in the first place. Unity Health has a history of going deeper, to those population health and social determinants of health areas which matter. The organization attracts amazing people who want to be socially just and who deeply believe we are here to use care, research and education to help people live better lives, individually and socially.
One exciting way I pursued this social justice work in the past five years was around harm reduction. In Vancouver, where I was previously working, harm reduction is extremely important especially given the opioid crisis. From a mission and ethics perspective, we worked to open the first overdose prevention site in a Catholic hospital in Canada. It opened doors for people that are living with great vulnerabilities, and we saved many lives. Through this work, we also advanced Catholic health care's understanding and approach to people living with addiction.
There are also some other important social justice issues that I've been privileged to advance, including Indigenous health, wellness and reconciliation in Vancouver, and advocating for strategic progress in Equity, Diversity and Inclusion. I am so pleased to see "inclusivity" as one of Unity Health's key values.
Lastly, another social justice issue on my radar is the wellness of health-care staff. This work, while exhilarating, can also be taxing. The COVID-19 pandemic has made health-care work so much more challenging. From a social justice perspective, the lens not only applies to people that are in care, but it also applies to a flourishing workplace. Now is the time to continue to advance the supports that will keep health-care workers flourishing. I really appreciate that Unity Health sees the joy in work for our people as a key to achieving our vision and creating a successful, healthy organization.
What keeps you motivated and inspired?
Inspiring people inspire me. I get to meet some amazing people in the work that I do, and in my personal life, I've been blessed with two amazing parents. My parents always taught me that if there was kindness I could show or something good I could do, I should do that. Be that good Samaritan!
The other thing that inspires me, and one of the reasons I wanted to join Unity Health, is the legacy of the Sisters and the future of what Catholic health care can be. We have exciting work to ensure that we continue to advance the legacy and continue to serve the health and care experiences of all Ontarians. Unity Health has a unique leadership role in this province towards achieving that aim, and I'm really excited to be joining the team.
What is your favourite activity outside of work?
While living in Vancouver, I took up road biking, and making the most of the mountains – hiking in the summer and snowshoeing in the winter. It was beautiful living so close to the ocean and sunsets were spectacular! Now that I'm back in Toronto, I've brought my road bike with me because I love the activity so much. I'll have to discover what the circuits and routes are here. When I'm not biking, I enjoy cooking and I'm excited to have my own garden here in Toronto too.
Is there anything else you'd like to add?
One of the great things about this position is it feels a lot like I'm coming home. I had the pleasure of training here at the Centre for Clinical Ethics for my post doc almost 10 years ago. It's so nice to be back again and to meet people I knew then – and so many new people – who are doing such amazing work at Unity Health today. It's heartwarming to see the gift Unity Health is to people who advance their work and careers here.
By: Jessica Cabral