What a Unity Health visitor screener is taking into 2022: Patience and a new career path
December 14, 2021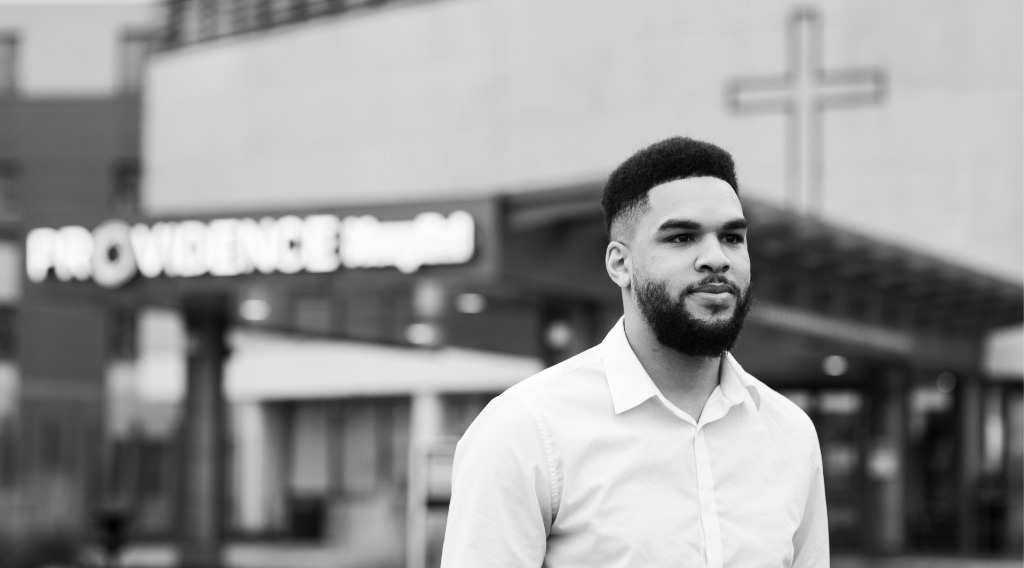 As 2021 draws to a close, we asked Unity Health Toronto staff and physicians to reflect on the lessons they've learned in this unprecedented year and what they'll take with them into the New Year. Here's what they said.
Jamar Stanton is a visitor screener and operations lead at Providence Healthcare.
I've been working at Providence for a little over a year. I started as a visitor screener and now I'm also an operations lead, so I handle scheduling, meeting agendas and payroll for our team. I would definitely say that patience is a big lesson that I've learned while working here, because you're dealing with all different people facing different situations – no two people are experiencing the same thing.
I could be at the front entrance and someone can come in and their family member could have just passed away, but I still have to screen them and ask them questions. But I let them know, 'I don't fully understand what they're experiencing, but I hope everything is OK and I wish the best for your family.' Sometimes there's a language barrier, so you just talk slowly and go step by step. I don't make anyone feel rushed. Even when there is a line and they look back, I tell them 'don't worry about that.' We try to make their experience at the front entrance short and sweet, and not add any problems to what they're dealing with.
This pandemic has also shown us that we can't take anything for granted, and we should live in the moment and embrace the small joys in life, like going into a store or going to work.
Before this job, I used to work in the restaurant industry, and a lot of restaurants closed because of the pandemic. Mine closed, and I was out of a job for a couple of months. But thankfully I got the job here and I haven't looked back since. I don't regret it for a second; it's one of the best things that happened to me. Some things are maybe just meant to happen.
What I like the most about working here is that a lot of our visitors are really friendly. Even now, I know a lot of people by name when they come in to see a patient. It's really intimate and you get to connect with people, as you try to get them in as quick as possible so they can see their loved ones. Also all my colleagues are nice and it's a real team environment: we make sure we're all good and we have each other's backs.
Going into 2022, I'm hopeful for some more stability and that I am able to stay on at Unity Health. Screening is a temporary job that's around as long as the pandemic is around. I hope to stay and maybe get my foot in the door, because I do enjoy it a lot and I've built a great rapport with people here. Besides work, I'm also hopeful for maybe a little bit of leisure time, as it's been a while since I've had a vacation or took some time off. It's been work non-stop, but I do love it.
-As told to Marlene Leung. This interview has been edited and condensed.