St. Michael's satellite dialysis centre in Thorncliffe Park has opened
April 14, 2020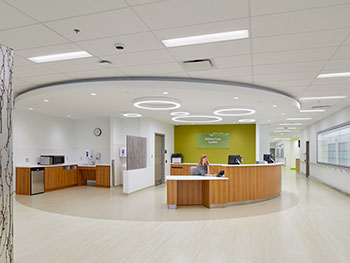 By Selma Al-Samarrai
St. Michael's Hospital opened its brand new 20,000-square-foot satellite dialysis centre in Thorncliffe Park on Monday, April 13, and with it, the opportunity for patients to receive dialysis care closer to home.
"Our new Kidney Care Centre allows patients the choice to receive this important treatment in a community-based setting," said Jonathan Fetros, Senior Clinical Program Director, Kidney and Metabolism program.
"We're really excited because this is our first expansion beyond our downtown site."
Joe Skulsky is 81 and has been receiving dialysis during night shifts at St. Michael's for just over one year. The new centre is much closer to where he lives so, this week, he will be starting dialysis shifts during the day.
"The new centre is easier for me to get to and it will allow me to sleep in my own bed at night," he said.
The new satellite location has 21 dialysis stations, six stations for home hemodialysis training, transition and support resources and general nephrology clinics.
The location for this new multidisciplinary care centre was selected specifically due to its central and convenient location, easy public transit access, sufficient street level parking, natural daylight and a back connection to the East York Town Centre mall. These factors contribute to patient and staff security and convenience.
"Not only will this improve access to specialized kidney care services for a priority neighborhood like Thorncliffe Park," said Fetros, "it will also add much needed dialysis capacity to the city overall."
About St. Michael's Hospital
St. Michael's Hospital provides compassionate care to all who enter its doors. The hospital also provides outstanding medical education to future health care professionals in more than 27 academic disciplines. Critical care and trauma, heart disease, neurosurgery, diabetes, cancer care, care of the homeless and global health are among the Hospital's recognized areas of expertise. Through the Keenan Research Centre and the Li Ka Shing International Healthcare Education Centre, which make up the Li Ka Shing Knowledge Institute, research and education at St. Michael's Hospital are recognized and make an impact around the world. Founded in 1892, the hospital is fully affiliated with the University of Toronto.
About Unity Health Toronto
Unity Health Toronto, comprised of Providence Healthcare, St. Joseph's Health Centre and St. Michael's Hospital, works to advance the health of everyone in our urban communities and beyond. Our health network serves patients, residents and clients across the full spectrum of care, spanning primary care, secondary community care, tertiary and quaternary care services to post-acute through rehabilitation, palliative care and long-term care, while investing in world-class research and education. For more information, visit www.unityhealth.to.