Unity Health respirologist earns support of Canadian icons in #ThisIsOurShot vaccine campaign
May 03, 2021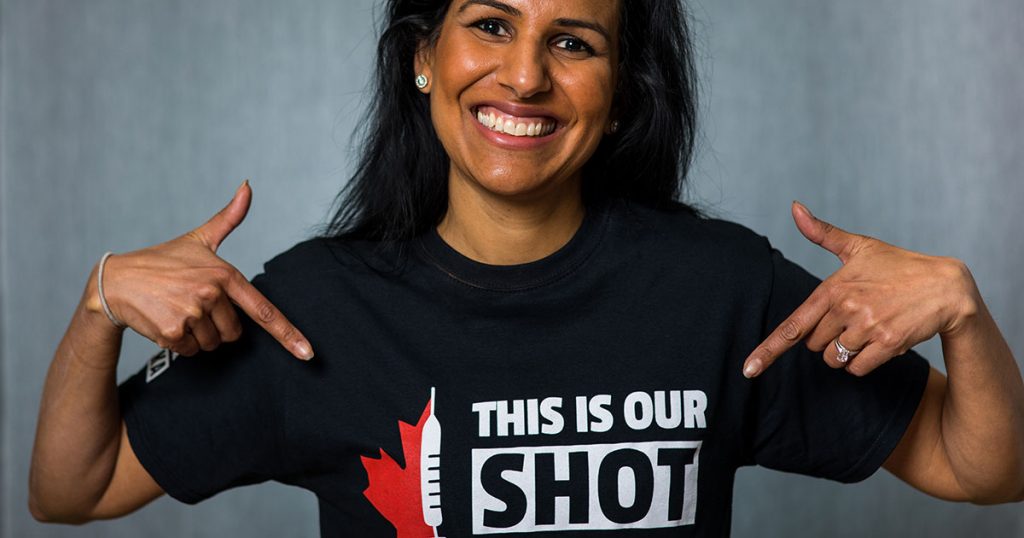 By Jennifer Stranges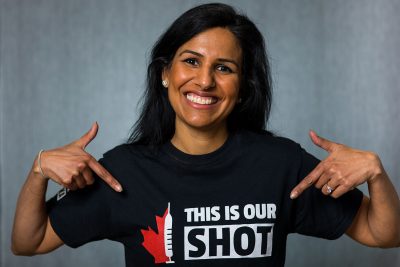 What do Chris Hadfield, Ryan Reynolds, Jann Arden and Michael Bublé all have in common?
They are among the many celebrities and Canadian icons who are teaming up to tackle vaccine hesitancy in a new national campaign.
Co-led by Dr. Anju Anand, a respirologist at St. Michael's Hospital, This Is Our Shot is a movement aimed to rally Canadians and encourage everyone to take the vaccine when it's their turn. The campaign, shared in over two dozen languages, has seen support from a slew of well-known ambassadors, including Olympians Hayley Wickenheiser and Clara Hughes.
As part of the campaign, Canadians are encouraged to purchase a This Is Our Shot T-shirt, wear it to their vaccine appointment, and post a picture of themselves that tags their friends and family and challenges them to do the same. All proceeds of the shirts will go to Kids Help Phone. The shirts and COVID-19 fact sheets are available in 27 languages.
Dr. Anand says vaccine hesitancy among Canadians is a real issue, and that the goal of the campaign is to shift away from divisiveness and to unify Canadians while building confidence.
"This campaign is a way to bring all Canadians back together. It's rooted in unity and hope."
Grassroots organizations involved in This Is Our Shot include the South Asian COVID-19 Task Force, of which Dr. Anand is a member, 19 to Zero, the Canadian Muslim COVID-19 Task Force, Black Physicians of Canada, Black North Alliance, the Latin America COVID-19 Taskforce and Siksika Health.
The pandemic has disproportionately affected racialized communities. With that in mind, the group is targeting their information to these communities in over two dozen languages.
"Sadly, COVID-19 has highlighted so many disparities and inequities and we need to address this for a long time even after COVID-19 ends," says Dr. Anand.
While some concerns are culturally-specific, Dr. Anand acknowledges there's a broader level of hesitancy unrelated to culture.
"You also have this universal need from all Canadians. I have friends and colleagues from all different ethnic and cultural groups that all have the same questions and fears. Really what this campaign is trying to do is unite all Canadians. There's been so much division unfortunately by race and by marginalization of vulnerable populations and equitable access – this is one way to bring everyone together and really have faces that every Canadian can identify with."
Of the momentum and attention the campaign is attracting, Dr. Anand says the reception makes her emotional and highlights what this country is all about.
"This is the Canadian spirit."