Unity Health's medical imaging team operates around the clock. Their impact is 'everywhere'
March 20, 2023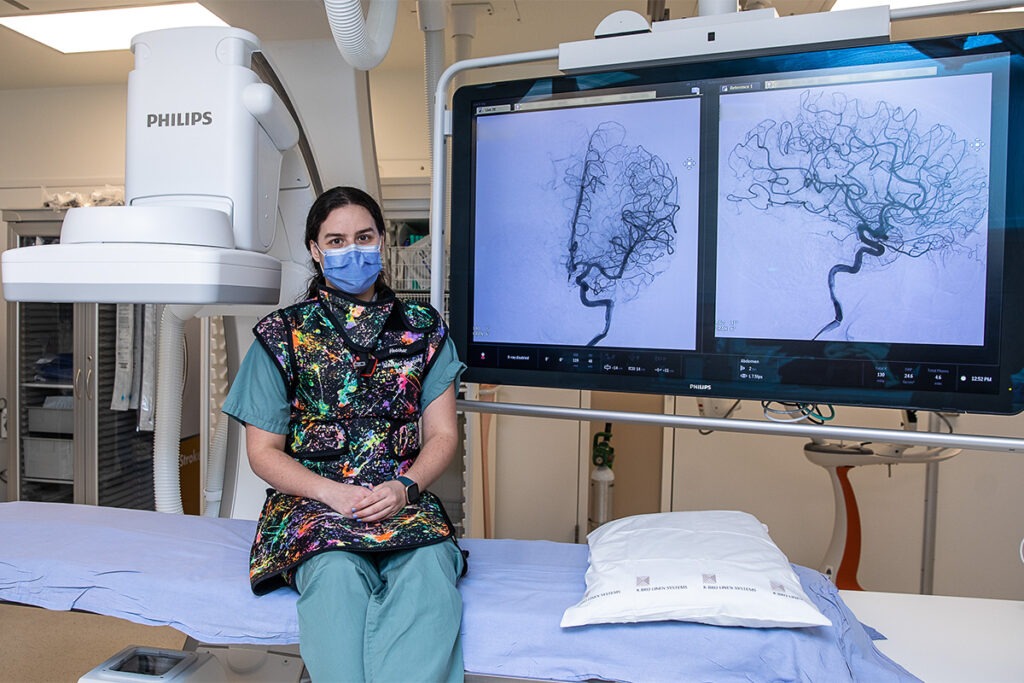 Across Unity Health Toronto's three hospitals, hundreds of staff are working around the clock to acquire and process images and that are critical to help diagnose conditions and complete medical procedures.
"Did you hit your head in a car accident? Imaging will help rule out a bleed in the brain. Can't walk after falling on the ice? Imaging will determine if you had a hip fracture. Did you have a stroke? Imaging plays a role so that the physician can see the clot in the brain and remove it," says Jeff Kerk, Unity Health Director of Medical Imaging. "The impact of our imaging team can be seen everywhere."
Roughly 300 staff members make up the Medical Imaging team, including radiologists, diagnostic medical sonographers, medical radiation technologists, RNs, IT staff, clerical staff and administrators.
The team includes Medical Radiation Technologist Heather Armstrong, who joined St. Michael's Hospital two years ago. She works with the interventional radiology team, focusing mainly in interventional procedures and CT scans. She was also recently trained to operate the hospital's portable MRI scanner – which was the first to be acquired by a Canadian hospital for clinical use.
"We inject a patient with contrast dye, and using machinery and X-ray equipment, we collect live images of the dye moving through the body," Armstrong says. "Physicians will look at these images to determine if there are any issues or problems such as clots or blockages."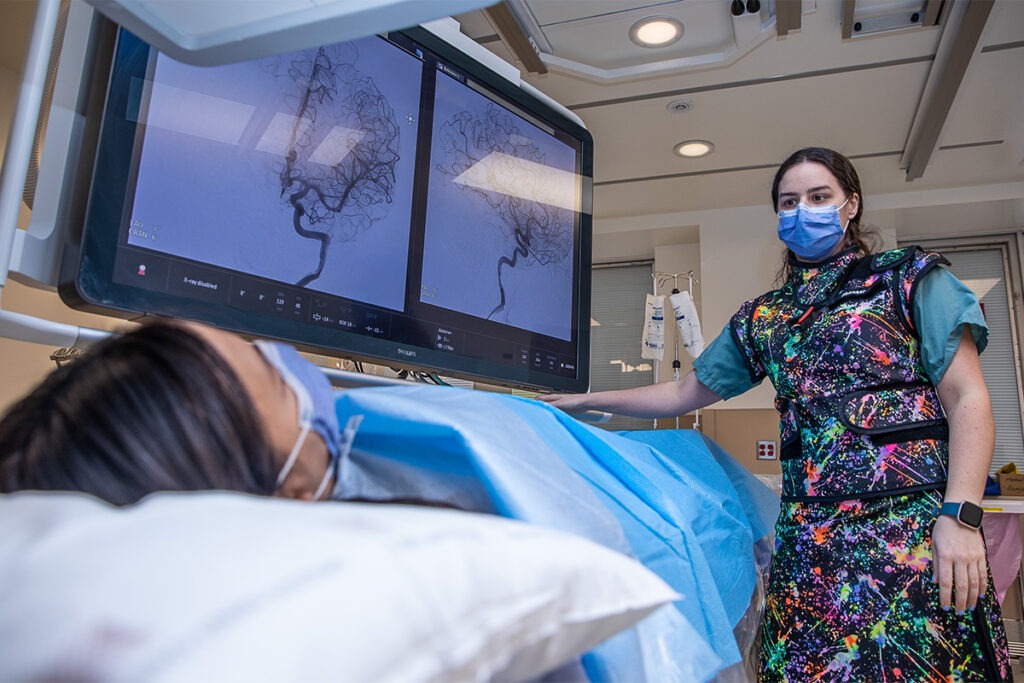 Armstrong and her colleagues provide interventional procedures for up to 10 patients a day, helping clinicians complete procedures ranging from inserting chemotherapy ports in cancer patients to biopsies to coiling brain aneurysms.
Working with the interventional radiology team at St. Michael's has meant joining a world-class team, she adds. "All of the doctors make sure to involve you. If you want to advance your career, they will find opportunities for you to do it."
Down the corridor on the third floor, Imaging Technologist Melissa Steele sees patients at the CIBC Breast Centre. Steele and her colleagues do about 80-90 mammograms per day, as well as roughly 20 ultrasounds. These images help physicians detect early signs of breast cancer.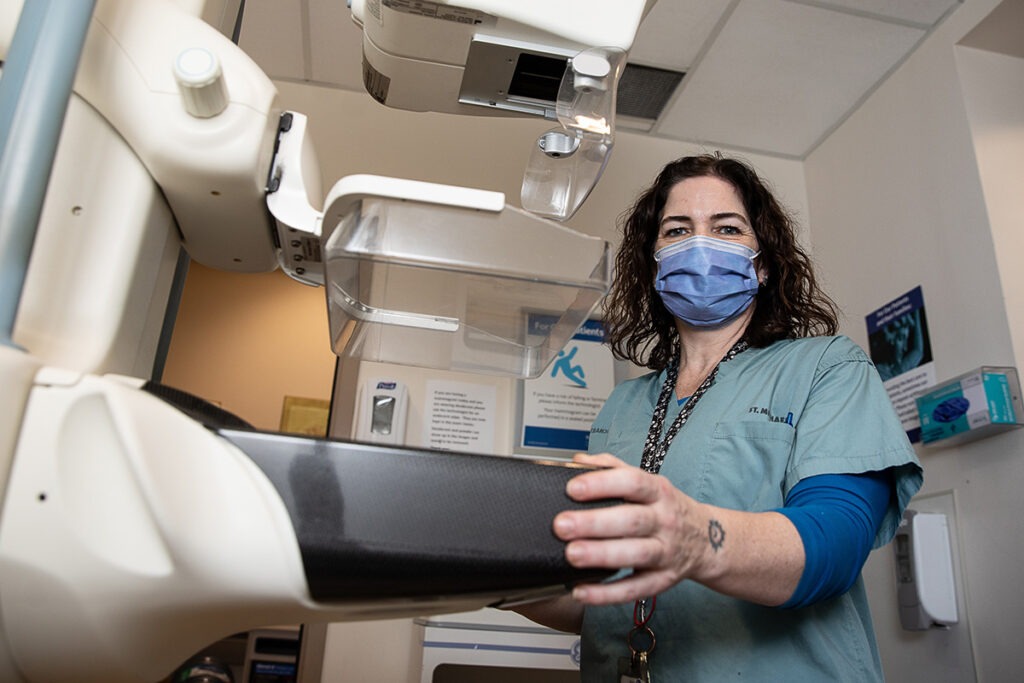 Steele joined St. Michael's 23 years ago after moving to Toronto from North Bay. She started out doing X-rays during the night shift. Within a year she joined the Breast Centre and has never left.
"I love the patient interaction here," she said. "I just really enjoy working with people and helping them out. Plus, the pace is fast, it makes the day go by quick."
The team at the Breast Centre is always ready to help each other out if something comes up or somebody needs extra support, she said. "We always go above and beyond."
A few kilometres west of St. Michael's, CT Technologist Cameron Simpson is busy at work at St. Joseph's Health Centre. Simpson, who has been at St. Joseph's for 22 years, is part of a dedicated imaging team that provides CT scans for patients.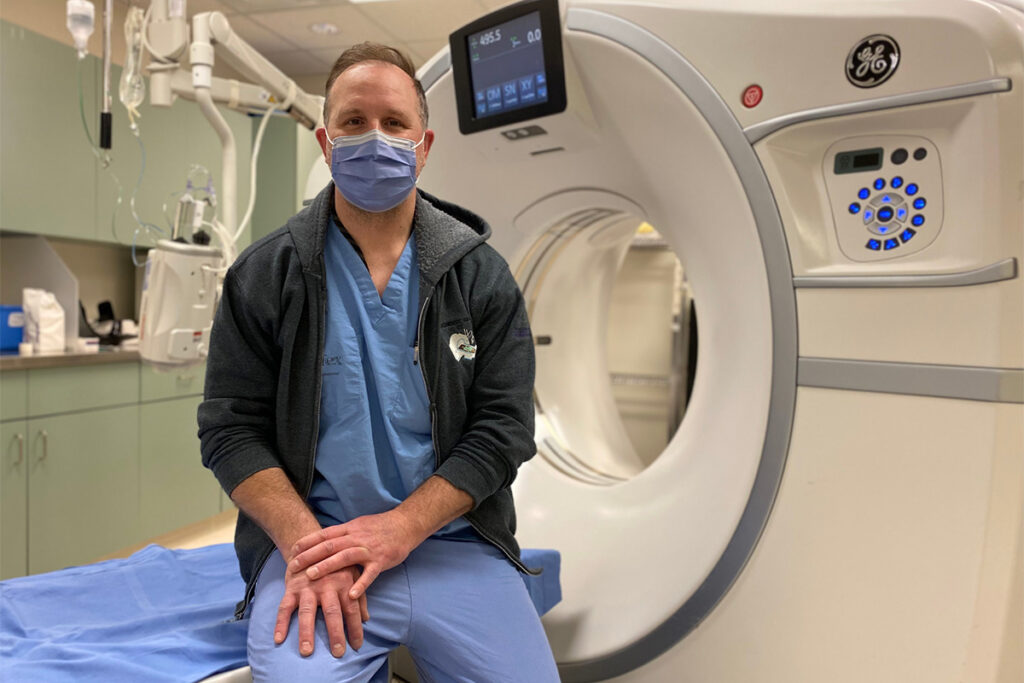 Approximately 60 per cent of the patients the team sees are inpatients, many coming from St. Joseph's Emergency Department (ED) – one of the busiest EDs in the city. The other roughly 40 per cent are outpatients who were referred to St. Joseph's for imaging, he said.
"On a busy day, we can see up to 100 patients," he said. "We provide critical support to the ED and keep it moving; it wouldn't be able to care for patients without our images."
Simpson said his favourite part of the job is interacting with patients and feeling like he's contributing to their care. He also enjoys working with the terrific and veteran team at St. Joseph's. "The majority of the full-time staff here each have more than 20 years of experience… put us together and that's close to 150 years of experience."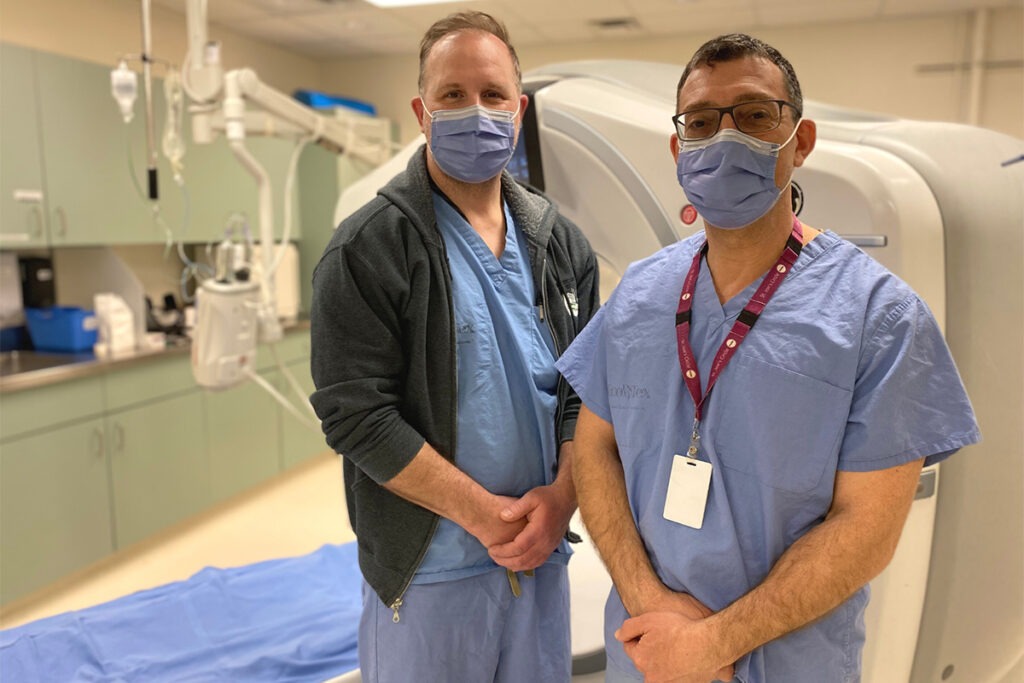 Meet a few other Imaging Technologists from across our network: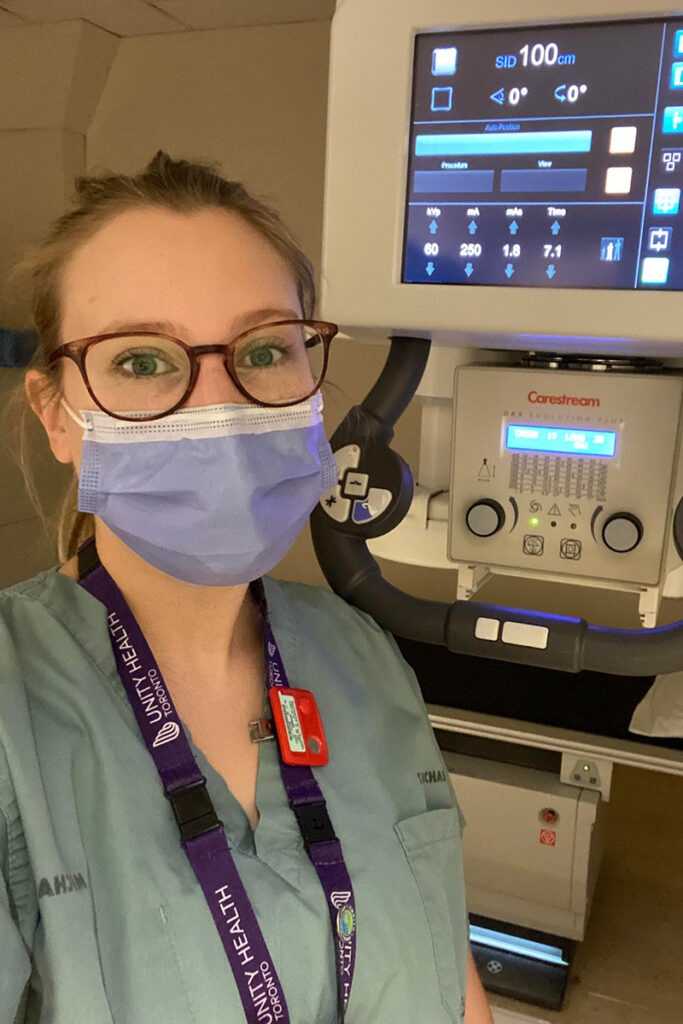 Name: Alexandra (Aggie) Moffatt, Medical Radiography Technologist at Providence/St. Michael's for two years
I work at St. Michael's and Providence, providing care to patients of all demographics. As an X-ray technologist you can see me throughout the hospital. From the Fracture Clinic to portable X-rays to the Emergency Department, I have you covered (with lead!).
Any advice to Imaging Technologists just starting out?
Learn from your colleagues. Each day I find I learn something new. This is a fun and exciting field to work in. It is never a dull moment working as an X-ray technologist!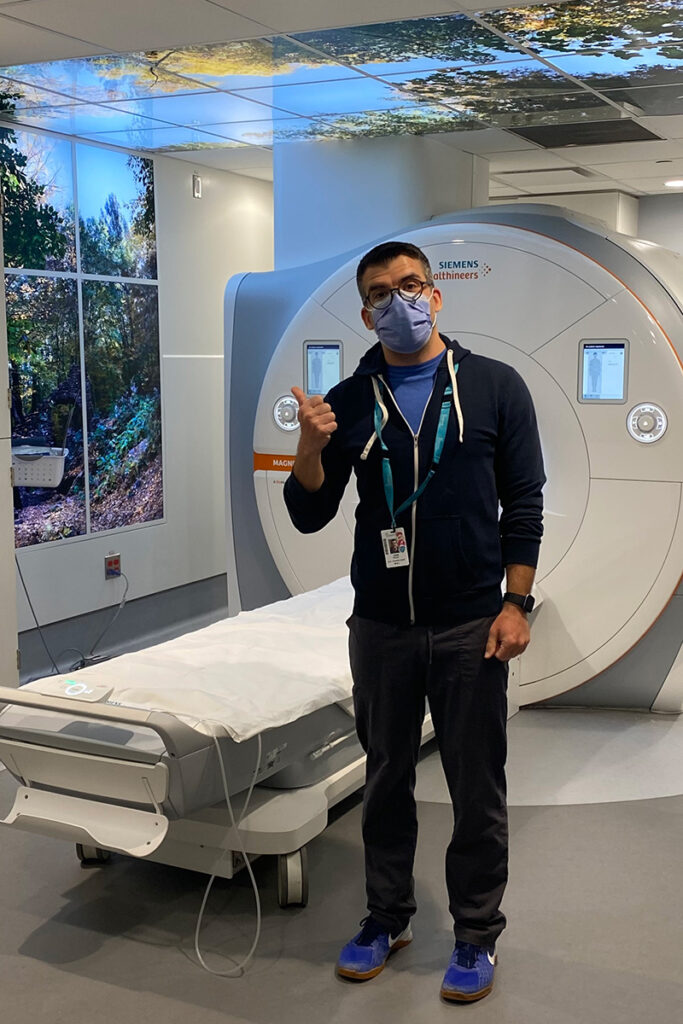 Name: Adam, MRI Technologist at St. Joseph's for two years
I am a diagnostic imaging technologist in the field of MRI. We scan a wide variety of outpatients and inpatients, with pediatric patients scanned on a case-by-case basis. I enjoy the blend of patient care and scanning. It can be a challenging work environment, but I find it very rewarding.
Advice to technologists who are just starting out?
Be willing to scan any case. Don't shy away if it seems difficult – often scanning those cases will help you grow quickly and expand your knowledge base.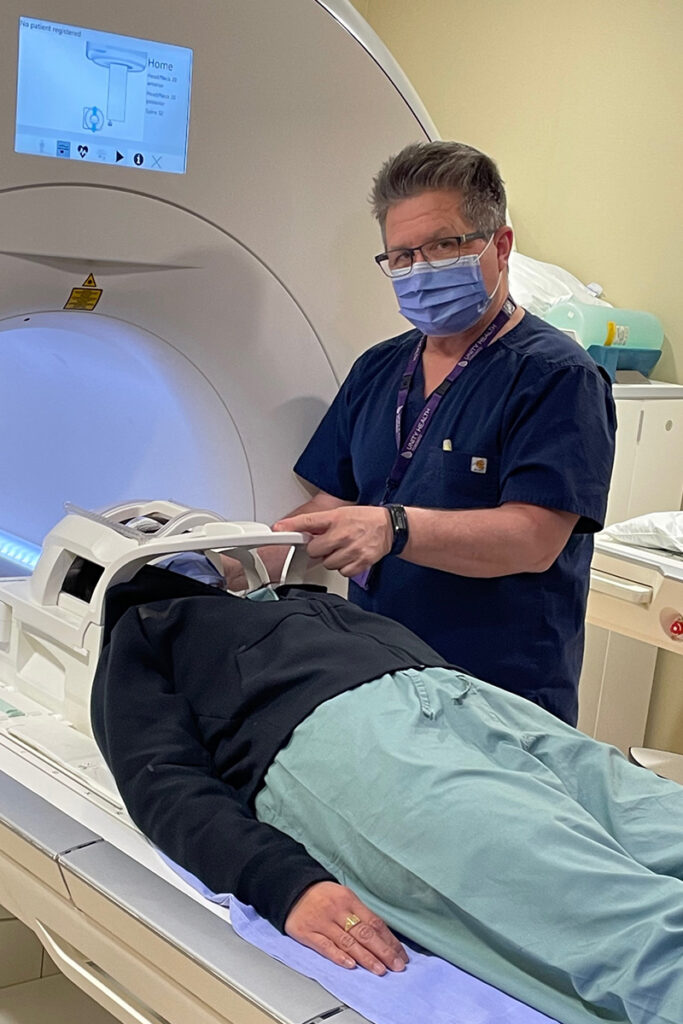 Name: Taras (Terry) Petrynec, MRI/CT Technologist at St. Michael's for 33 years
I was working in CT, but since I'd written the MRI certification exam years ago, I was encouraged to join the MRI team. My manager and team lead have been very supportive during this transition from CT to MRI. We used to have two MRIs running overnight, but this service was closed during COVID due to staff shortages. By joining the MRI team, I believe management was looking to bring MRI wait times down to a reasonable level. I work nights in MRI, and I mainly work with patients with Multiple Sclerosis.
What's your favourite part of the job?
My favourite part is helping people get faster access to an MRI compared to their experience during COVID. It's a privilege to serve this community and help patients in some small way on their journey to better health.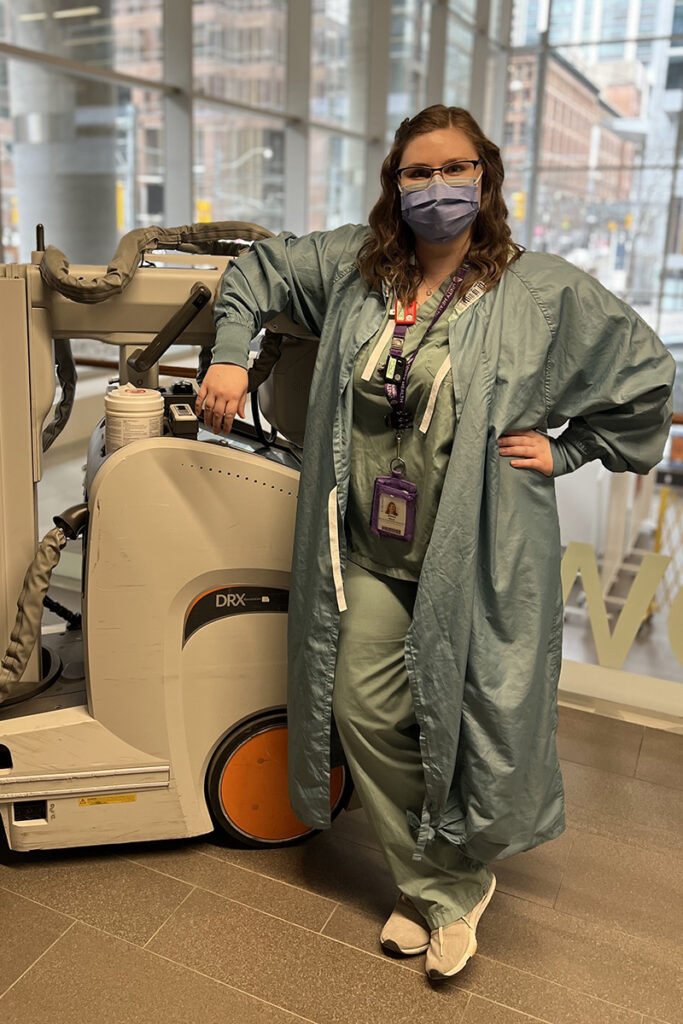 Name: Brittany Mauro, Medical Radiography Technologist – MRT (R) at St. Michael's for five years
We perform X-rays throughout the hospital, with outpatients, inpatients and clinic patients from our department rooms. We can also be found going to inpatients around the hospital with our portable X-ray machines. We can be found in the OR performing live imaging to aid the surgeons in a wide variety of surgeries, including orthopedics, urology, neurology and cardiovascular.
What's your favourite part of the job?
There's never a dull moment. We are always on the move and interacting with different health disciplines. I love having the opportunity to aid in patients' diagnosis, and provide them with a positive healthcare experience, no matter their condition. I also love that St. Michael's serves a diverse patient population — you never know who you may meet.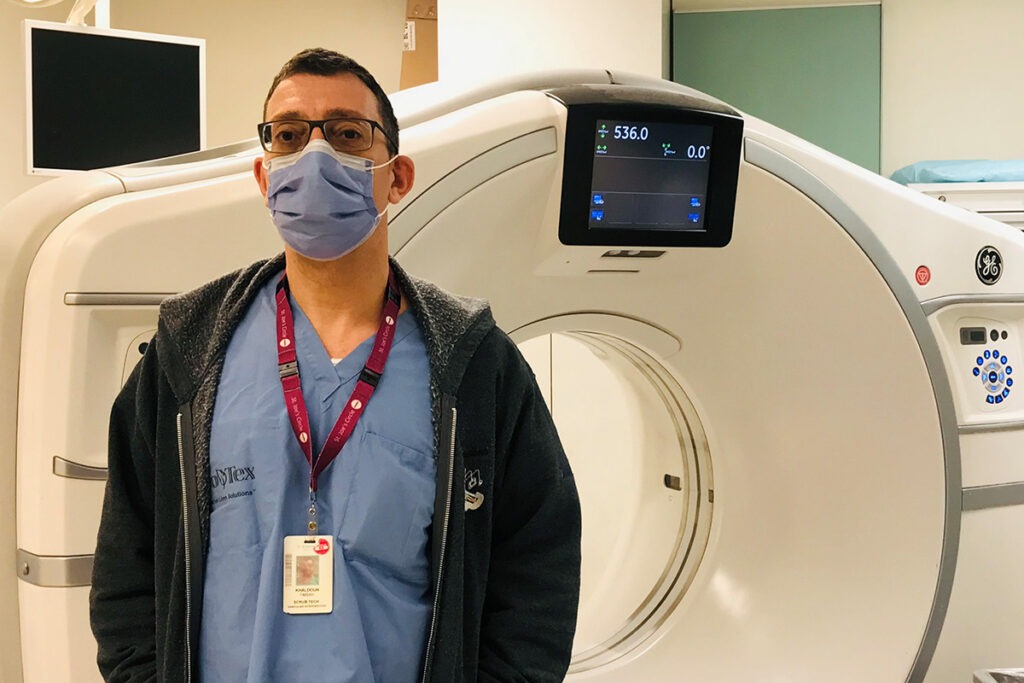 Name: Khaldoun Timsah, CT/IR Technologist at St. Joseph's for nearly 25 years
I work as a CT/IR Technologist and mostly work with geriatric patients. My favourite part of the job is the technological aspect of it. Every few years there are new upgrades to our machines and new machines, and this means an upgrading of our skills.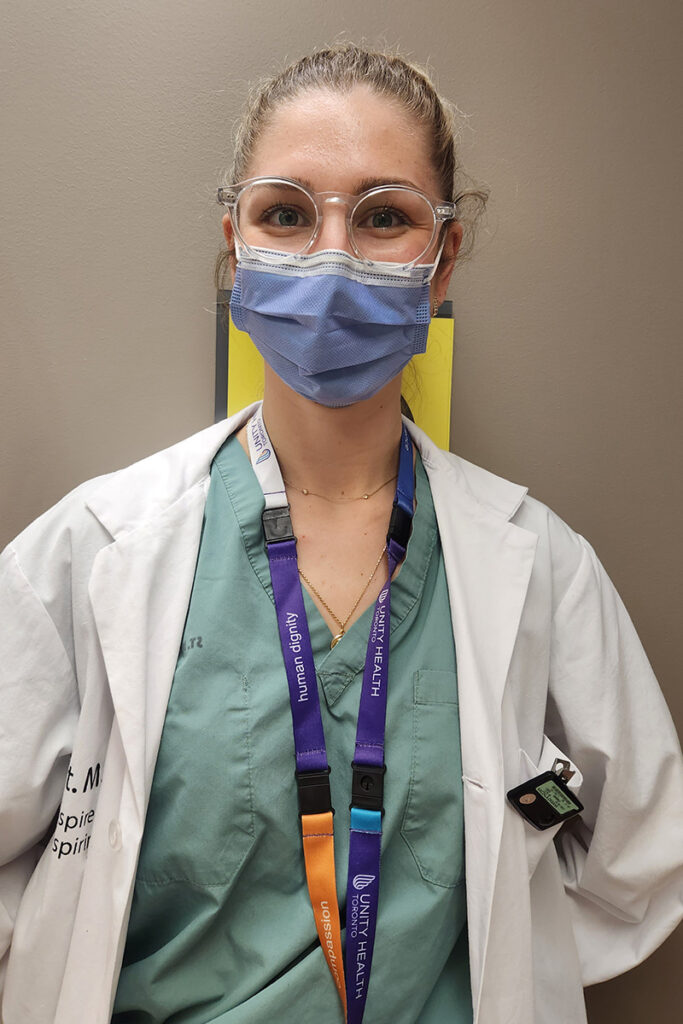 Name: Oksana Kaczala, Nuclear Medicine Technologist at St. Michael's for one year
As a nuclear medicine technologist, I perform functional imaging. Using a radioactive tracer injection, followed by imaging with one of our gamma cameras, we look at organ function – everything from the brain to the liver. Our main patient population is cancer patients and cardiac patients. We use imaging to discover any metastasis in the bones, as well as any coronary artery disease or ischemia in the heart.
Any advice to technologists who are just starting out?
I would advise them to take time with every patient and evaluate the scans with the radiologist. Sometimes a scan may look normal, but there can be surprises when you take the proper steps to investigate.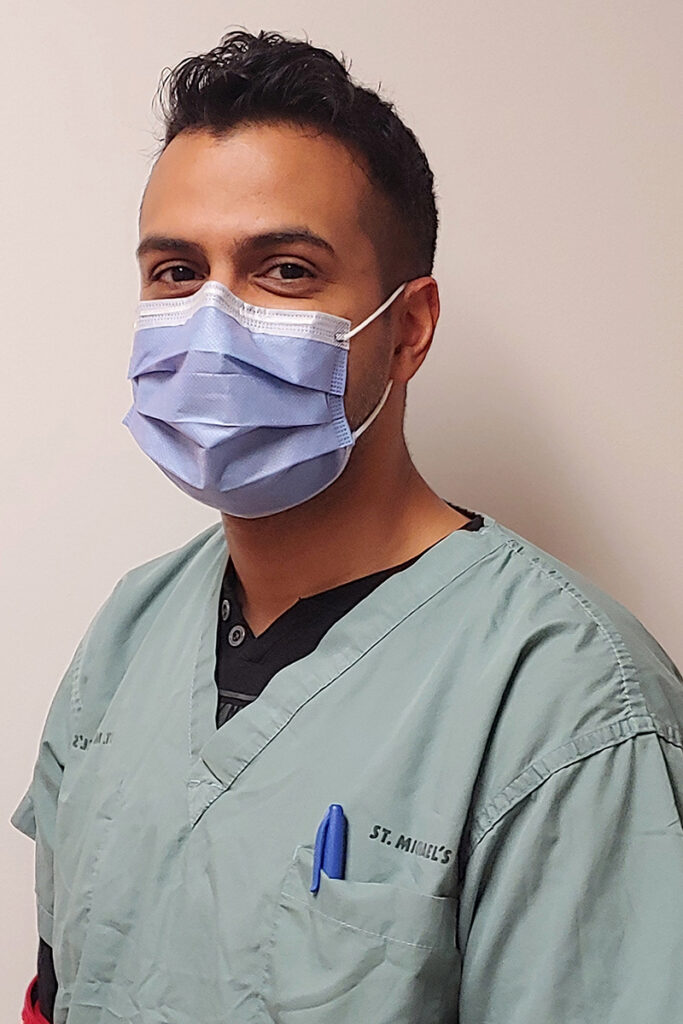 Name: Glenn Gabriel, Sonographer/Medical Technical Specialist at St. Michael's for six years
My sonographer role involves providing ultrasound to inpatients, outpatients and ED patients. These can be surgical inpatients, inpatients from various floors and outpatients via our numerous referring family physicians. We also have a pediatric ICU unit, where we do neonatal brain imaging.
Any advice to technologists who are just starting out?
Remember the patient at the end of the line. It can get busy and we can't forget that a patient is not just another number, they're a person whose imaging is very important to them, and we can make a difference in their lives. Remembering that allows us to empathize better, even when we're tired and stressed, and ultimately ensures we provide better care.
By Marlene Leung
Photos by Eduardo Lima and Marlene Leung