"A blessing": How the Providence Adult Day Program supports their clients and caregivers
November 02, 2022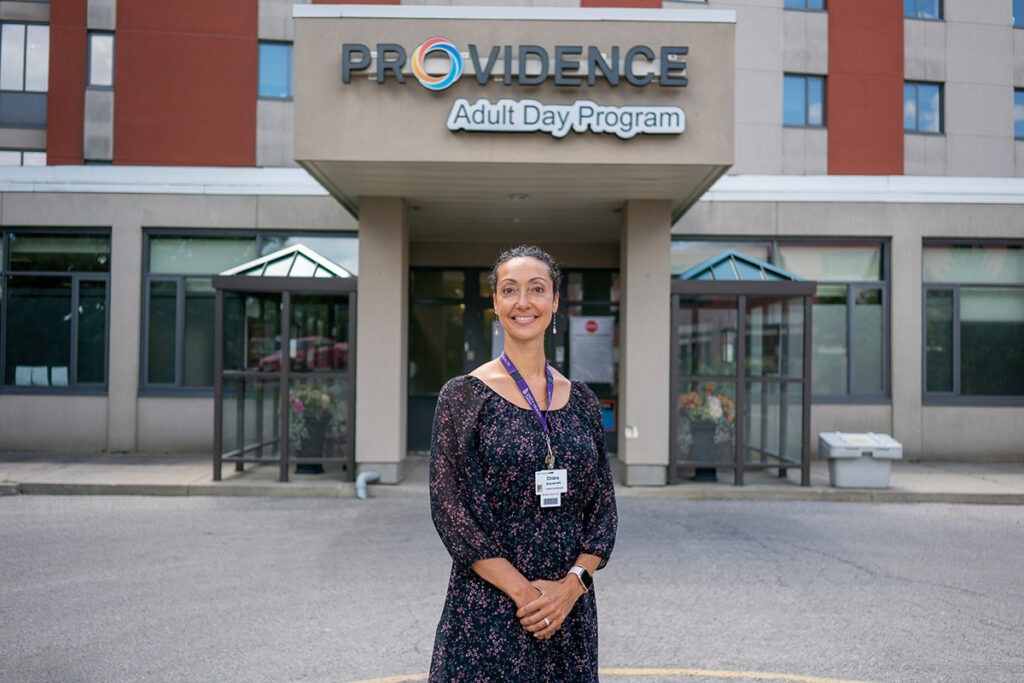 On Wednesday evenings, before bed, Jean Reid reminds her husband of 64 years what the following day will bring. It never fails to make him smile. Thursday is the day he spends at Providence Healthcare's Adult Day Program.
Curtis Reid was diagnosed with Alzheimer's in 2006, and began attending the program in 2012. Before March 2020 when the program was temporarily paused because of the COVID-19 pandemic, he would attend twice a week.
"He missed the day and going out because it was special for him," says Reid. "So now that they've started up again, I'm thrilled. He's thrilled."
The program is one of only two in Ontario that is open 24/7. The program serves approximately 45 clients with cognitive impairment or dementia. It offers social and recreational programming, as well as personal care and assistance. It also offers caregiver support through the Scotiabank Learning Centre, which provides resources, guidance and even referrals for individuals.
Chiara Campitelli-Thompson, Patient Care Manager of the Adult Day Program and Providence's outpatient specialized geriatric services, says the program helps to prevent cognitive decline for clients with activities and social opportunities. "The more stimulated, the more engaged, the more connected our clients are, very often, the healthier they remain."
"All of our programming is catered to the individual client," says Campitelli-Thompson. "If we had an individual who was deeply connected to their previous profession, their culture, or a life passion, then we would strive to incorporate their life experiences into a meaningful program."
It also provides service coordination, with each staff member having a caseload of clients to give one-to-one support and to touch base with their caregiver.
"They have a more personalized, intimate connection with one of our staff members to oversee the wellbeing of that particular client," says Campitelli-Thompson.
For the past two years, the Adult Day Program team has been hard at work finding solutions to safely reopen and provide the much needed care and services to clients and caregivers.
Campitelli-Thompson says in the early months of the lockdown, the team at the Adult Day Program was able to find ways to continue supporting their clients by providing telephone consultations, and later through virtual and one-to-one programming.
"Through these innovative solutions, our clients were able to stabilize and be re-engaged again, and then even more so as we reopened in-person," she says.
When lockdown restrictions were lifted the program team was able to safely expand their capacity. First, it reopened to small groups of two or three clients at a time. Then it increased it to larger groups of six clients at a time, and it continues to increase within infection prevention and control guidelines.
"We've had to use our space very creatively to make sure that we are able to maintain distance. Now we incorporate more hand hygiene practices into our activities and programming with clients," says Campitelli-Thompson.
The Adult Day Program is currently open at 54 per cent capacity, which enables the Reids to go in once a week.
"Caregiving is not easy. It's a lot of work, a lot of care, but having that one day that I have now is a blessing," says Jean Reid.
"Curt gets so much out of the one day at Providence as far as stimulation goes. Though he's not active physically or vocally, inside, he is still him. So he needs the company and stimulation of other people just as you or I do."
For Campitelli-Thompson, the next steps are to expand back to regular capacity. The program is special, and she'd like to see it make a full return.
While Jean Reid says Thursdays are important for her – to do groceries, to go to the dentist – she says she'd rather wait to add another day at Providence. "I would like other people to be able to have the same benefit that I have. It gives me a whole breathing space to rejuvenate myself."
When her husband returns home from the Adult Day Program, Jean Reid says he is so happy because he has enjoyed his day and being with people. "He's relaxed, he's happy, and it makes me feel good to see him so relaxed as well."
If you or someone you know has any questions about our Adult Day Program or the services we offer, please call 416-285-3803.
In Memoriam: Curtis Reid
By: Talar Baboudjian Stockton