After pioneering EVOQUE tricuspid valve replacement procedure, St. Michael's now offers treatment to wider range of patients
October 18, 2023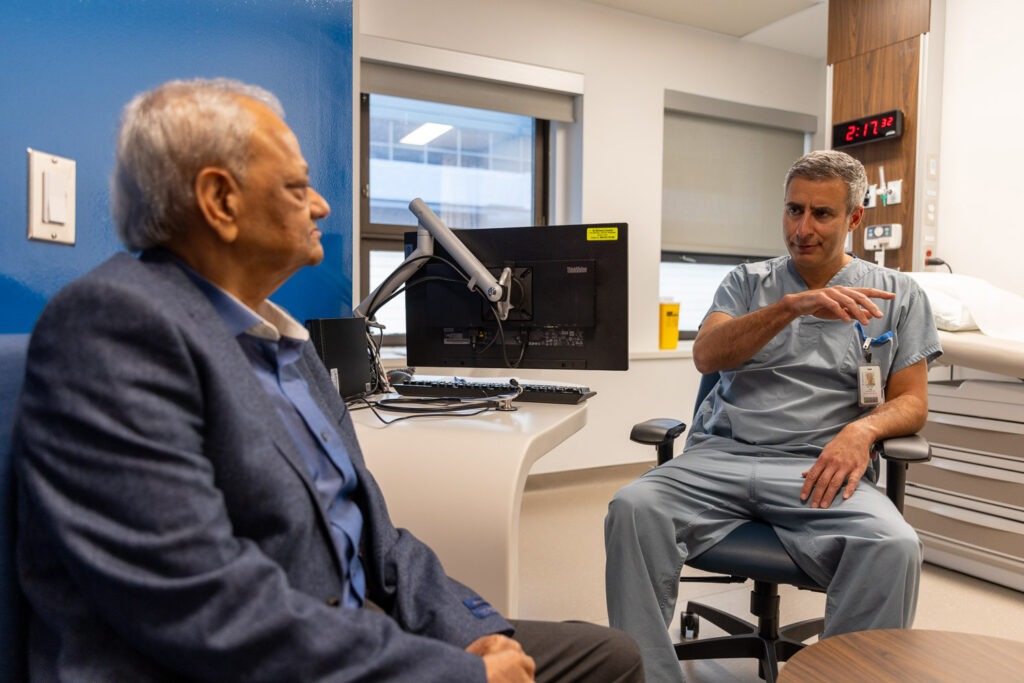 Sign up for the Unity Health Toronto newsletter, a monthly update on the latest news, stories, patient voices and research emailed directly to subscribers. If you haven't subscribed yet, you can do that by clicking here.
More than four years after pioneering a new heart valve replacement procedure, physicians at St. Michael's Hospital can now offer the minimally-invasive treatment to a wider range of patients.
In 2019, Drs. Neil Fam, Mark Peterson and Geraldine Ong performed the world's first catheter-based EVOQUE tricuspid valve replacement through the femoral vein, accessed through the patient's leg. Since then, more than 800 procedures have been performed worldwide. St. Michaels' Hospital continues to be the only centre in Ontario to offer this innovative procedure.
The tricuspid valve is on the right side of the heart that separates the heart's upper and lower chambers, and controls the flow of blood. When it becomes damaged or leaky, it forces the heart to work harder to send blood to the body. A leaky tricuspid valve can eventually lead to heart failure.
The femoral approach used by Drs. Fam, Peterson and Ong allows for a less invasive option for those unable to undergo traditional methods such as open heart surgery or thoracotomy, an incision between the patient's ribs. It also reduces the risk of complications, and has additional benefits such as decreased heart failure hospitalization, shorter hospital stays, and overall improved patient quality of life.
The first patient who got this procedure in 2019 at St. Michael's, Mir Hasan Ali, continues to do well, paving the way for many more patients to be treated successfully at St. Michael's and worldwide.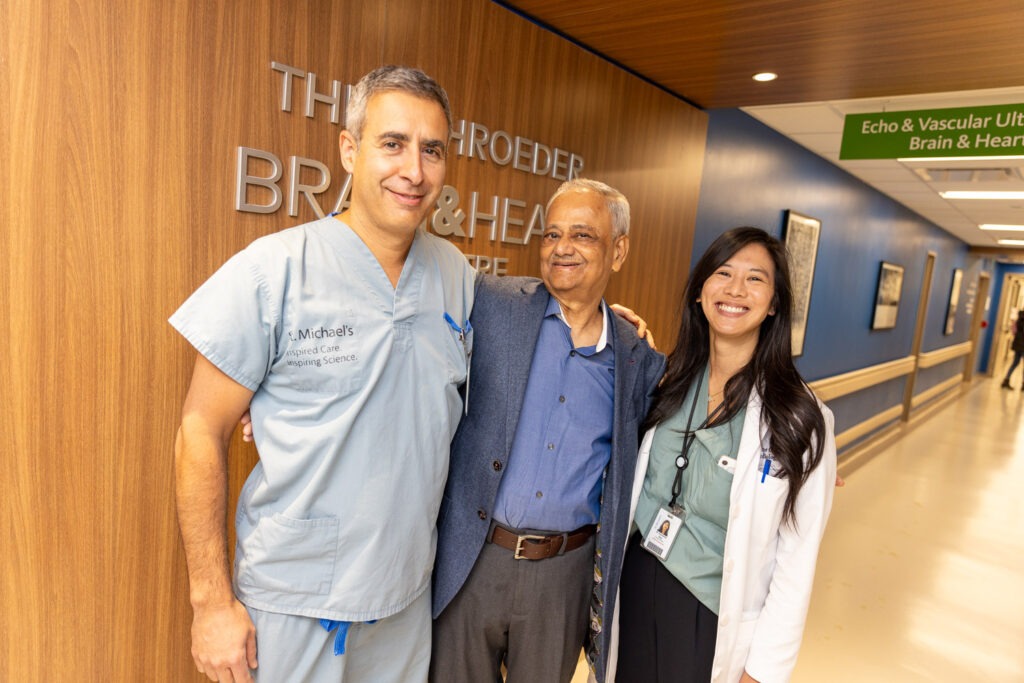 Tailored to fit all patients
At the time of Ali's procedure, it was not standardized and the tools used were limited, which reduced the number of patients that were eligible. Only two sizes of the EVOQUE tricuspid valve replacement system were available in 2019. Since then, the tools and technologies have evolved, and the valve is now available in five different sizes, allowing the treatment to be tailored to fit most patients.
"Now, the number of patients we turn away has gone way down because we have five different valves to work with," explained Dr. Fam, Interventional Cardiologist and Director the Structural Heart Program at St. Michael's. "The main thing patients should know is we now have many minimally invasive options for valve disease."
Since 2019, more studies and trials have strengthened the case for this less invasive approach, further building momentum, says Dr. Fam. Moreover, the Structural Heart Team at St. Michael's freely shares its knowledge and expertise with other centres around the world to benefit patients globally.
"It's exciting because we pioneered the procedure – did the first cases through the early compassionate use experience and taught other centres to do it. Now, its gaining momentum with nearly 1,000 successful cases worldwide and multiple different valves that give us a better toolbox," said Dr. Fam.
Dr. Ong adds, "It's an exciting beginning. This technology has shown promising results and I hope that it will help many patients improve their quality of life." For patients living with heart valve disease, there is now light at the end of the tunnel.
By Anastasia Poyaskova. Photos by Yuri Markarov.