Inspiring the next generation: Unity Health staff and physicians give high school students a glimpse at a career in health
September 28, 2023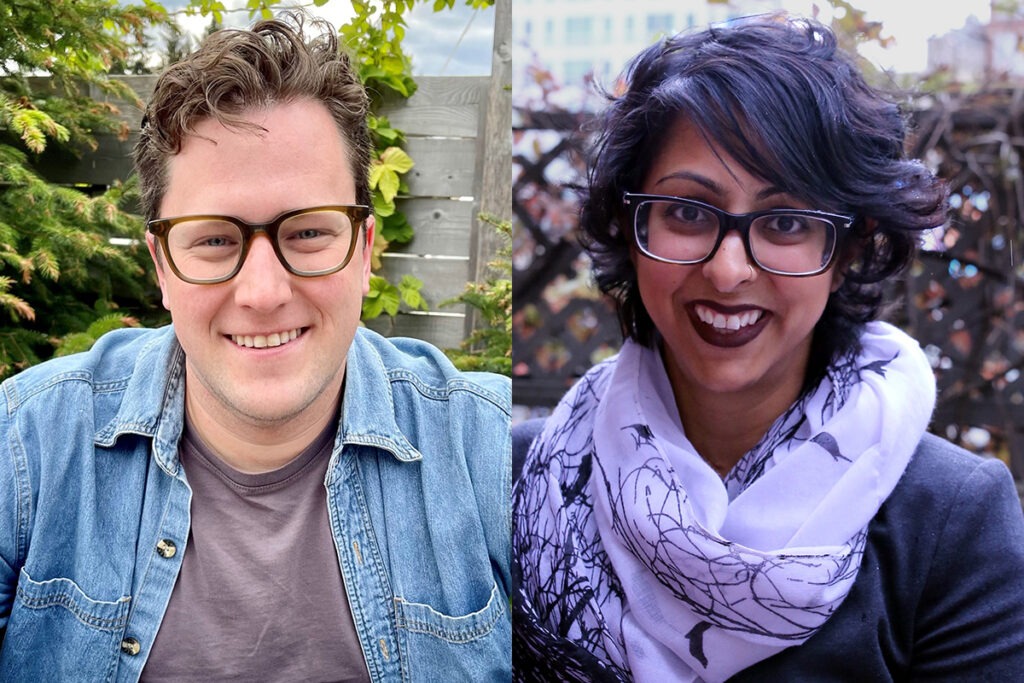 Sign up for the Unity Health Toronto newsletter, a monthly update on the latest news, stories, patient voices and research emailed directly to subscribers. If you haven't subscribed yet, you can do that by clicking here.
Dr. Ryan Giroux remembers how a high school field trip opened his eyes to a career in health care.
Growing up in rural Alberta, Giroux says when his Grade 11 science teacher took his class to a Rural Health Science Discovery Day in Edmonton, he suddenly became aware of the many different jobs in medicine.
"It really made me think, 'Oh this is something I can do'," says Giroux, a pediatric medicine physician at St. Michael's Hospital. "It inspired me to actually go down a career path in health care and it actually is quite impactful to have face time with people that may be your colleagues in the future."
Giroux, who is also Métis, says it's for this reason he didn't hesitate to put his name forward to support the mentorship of high school students in his clinic this past summer.
Through the month of July, Unity Health Toronto hosted 50 of the 108 high school students who were successful applicants to the University of Toronto's Temerty Faculty of Medicine Summer Mentorship Program (SMP). The program gives high school students of Indigenous or African ancestry a chance to explore health sciences from a variety of healthcare professionals and earn a credit towards their university and/or college applications.
"The program gives a valuable opportunity to these students to explore health profession careers," says Ike Okafor, Senior Officer, Service Learning and Diversity Outreach at the Temerty Faculty of Medicine. "We are grateful for Unity Health's commitment in working collaboratively to increase diversity in health care and inspiring the next generation of health professionals."
Unity Health had 100 staff from all three sites and across various health disciplines volunteer to support a student observer – a volume of individuals that hasn't been seen before to support this kind of experience, says Dragana Markovic, Manager of the Student Centre, Clinical and Integrated Education at Unity Health.
"I think it's a testament to our clinicians and to our Anti-Racism, Equity & Social Accountability (ARESA) team," she says.
"Which has really helped the organization understand the need to make improvements in equity and recognize the importance of providing this kind of opportunity for high school students of Indigenous and African ancestry."
Giroux, who leads the Compass Clinic, a multidisciplinary pediatric consult clinic that focuses on refugees, newcomers and Indigenous families, hosted two students and – with patient consent – they were able to see what it's like to work with patients and take histories, physical exams and counseling.
"They got to see what a half-day clinic looks like," he says. "Our patient populations in that clinic require a bit more time than other clinics, sometimes require interpretation, and require us to work in a trauma-informed and culturally safe way, so I hope they were able to see what that might look like."
Dr. Malika Sharma, a physician in the HIV Clinic at St. Michael's who also provided mentorship through the program this summer, noted the importance of this kind of program for students to think about how they can be part of improved health care experiences for all patients.
"I got some feedback that, particularly for racialized students, not all health care experiences have been positive ones, including with their own loved ones," she says. "So I think for some folks it was a nice opportunity to see some positive experiences, and also think about "Maybe I could be a part of that one day?"
Sharma says her advice to students interested in pursuing a career in healthcare is to continue to be curious and ask questions, maintain the connections made through opportunities like the SMP, and find other ways to get involved.
Both Giroux and Sharma also stress that the experience as a mentor was an opportunity to reflect on their careers and where they find meaning in their day-to-day work.
"It was nice to be able to kind of see a bit of excitement from the students of something that I find very normal," he says. "Sometimes I think we forget that at one point I was an undergrad student hoping to be a doctor and now I'm here."
"It was a nice reminder of how important and exciting the work is that we do and kind of gives a bit of that sparkle back."
By: Danielle Pereira