Code love: How two people found each other at St. Michael's Hospital
September 07, 2023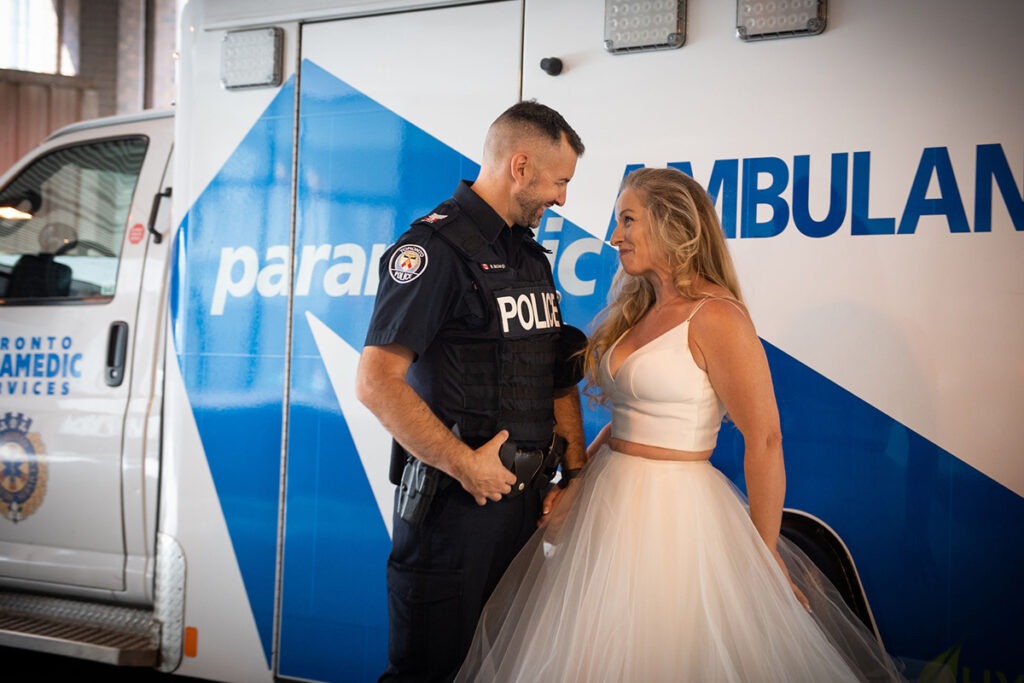 Sign up for the Unity Health Toronto newsletter, a monthly update on the latest news, stories, patient voices and research emailed directly to subscribers. If you haven't subscribed yet, you can do that by clicking here.
It's not something you see every day in the St. Michael's Emergency Department (ED). Under the fluorescent surgical lights, surrounded by hospital equipment, the sound of medical staff in the hall and the smell of antiseptic in the air, you'll find a beautiful bride in her poufy wedding dress posing with her handsome new husband.
It's not a common spot for a wedding photo shoot, but for ED nurse Alaina Cox and Toronto police officer Mike McVeigh, there's no better setting – as this is where their love story began.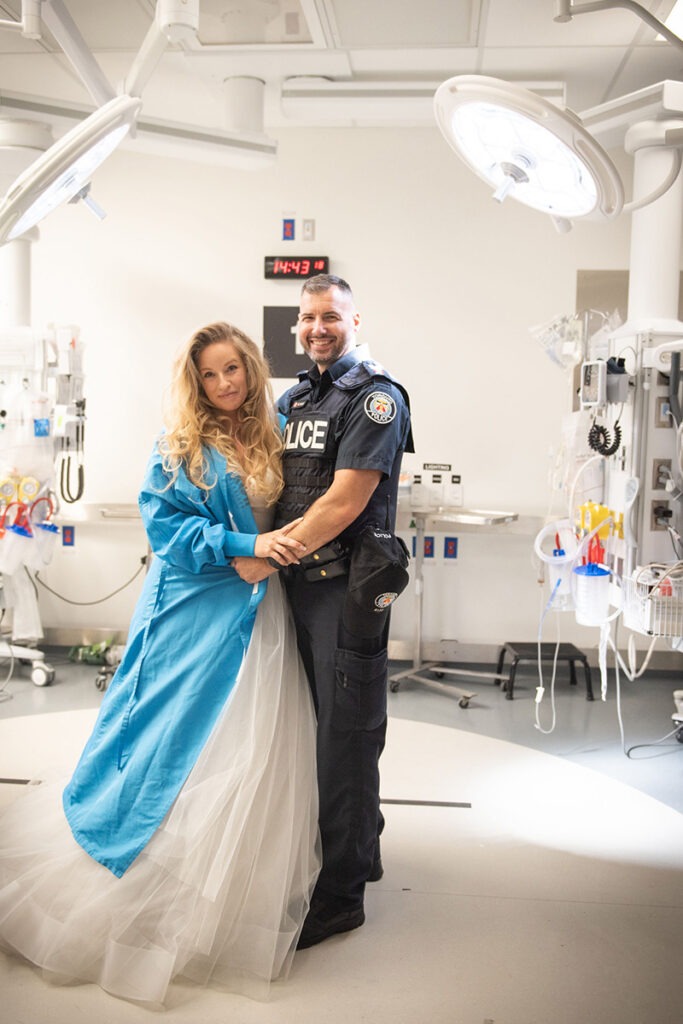 On July 15, 2011, McVeigh was on duty with 51 Division and was supporting an individual who was being taken to St. Michael's. Cox was working in the ED.
"We passed by each other by the elevators," says Cox of the day they met. "It was like slow motion. He looked back. I looked back. It was an immediate connection."
Smiling as he reminisces, McVeigh adds, "She was one of the few nurses who always had a trauma gown on. And it would sweep behind her like a cape – like a superhero."
On duty for his own superhero job, McVeigh needed help finding directions to the helipad, and Cox was happy to show him the way. They chatted a bit as they walked through the hospital, then parted ways to head back to work, both hoping to run into each other again one day.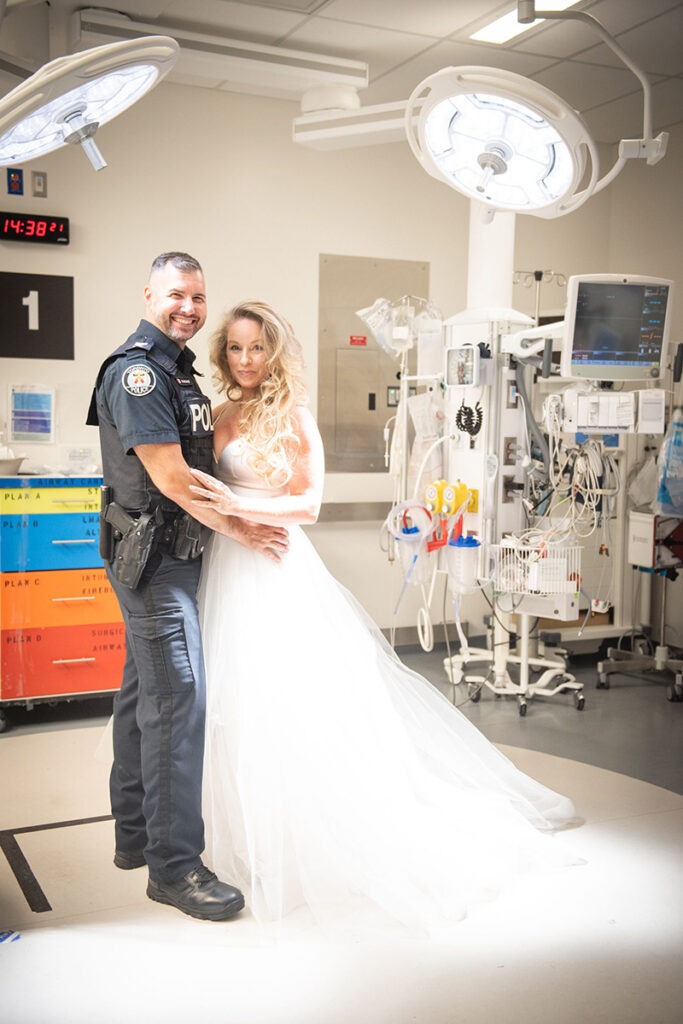 "I made a point to come back"
"I made a point to come back," says McVeigh of St. Michael's, adding that he would always make himself available when a person at work needed to come to the hospital. "I was here a lot."
About a month later, McVeigh's and Cox's shifts lined up again, and rather than leaving it up to chance, they decided to exchange numbers.
"I texted him before he left the department," laughs Cox.
The couple has been together ever since, tying the knot on July 15, 2023, exactly 12 years after they met in the St. Michael's ED.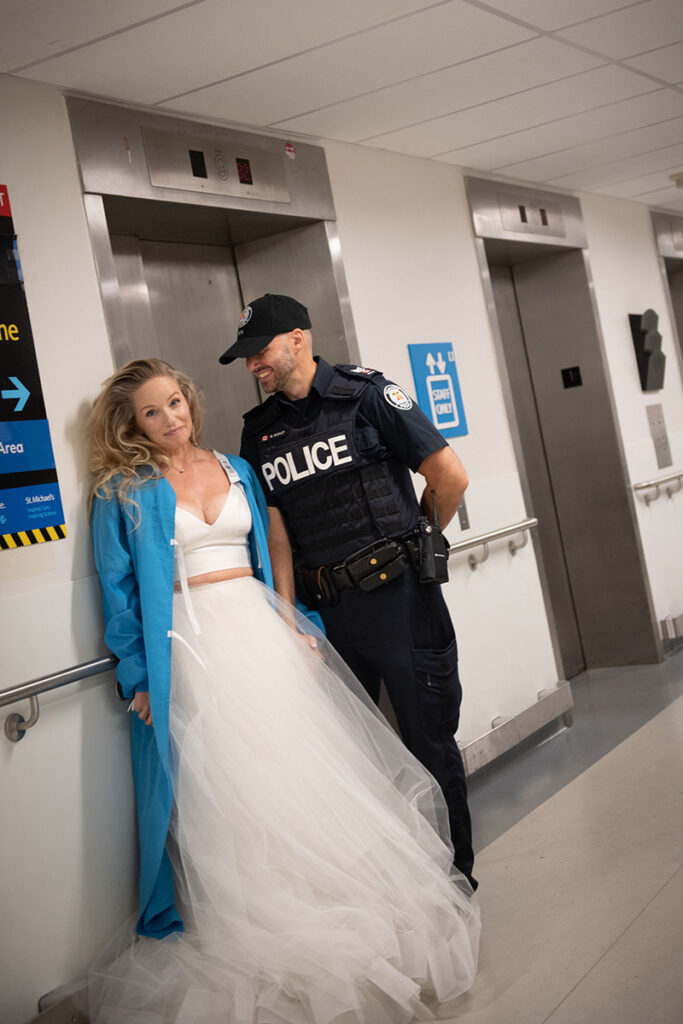 And while Cox and McVeigh's meet-cute location might not be the most conventionally romantic, their overlap in work, understanding of each other's day-to-day lives, and the personality traits they've cultivated from their respective careers have all contributed to the success of their relationship.
"He's one of the calmest people that I've ever met in my life," says Cox of her police officer husband. "Going home after a really stressful day at work, Mike's able to calm me down and make me feel better. It's just that understanding of what I do. It's so nice going home to him."
Of his ED nurse wife, McVeigh says, "Alaina's probably one of the most compassionate and caring people I've ever met. She's so family-focused and just goes out of her way to help pretty much anybody. The amount of love that she puts out, it's amazing."
Hearing her husband's sweet words about her, Cox says, "I'm super excited to spend the rest of my life with Mike."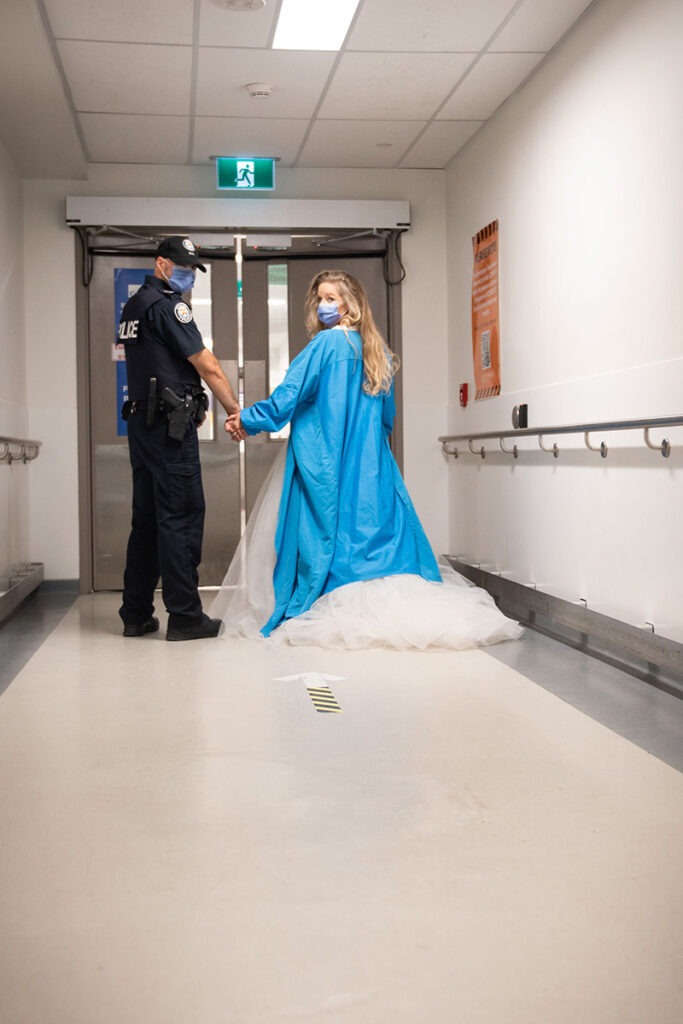 And while the duo look forward to their future — which will include travel, continuing to support each other's careers, and raising Wren, their seven-year-old French bulldog — standing in the St. Michael's ED, they can't help but look back in gratitude for their unique meeting place.
"We wouldn't have met if it wasn't for St. Mike's," says McVeigh while looking lovingly at Cox. "I'm just thankful for that."
By: Kaitlin Jingco