These people have been volunteering at Unity Health Toronto hospitals for over a decade — here's why
August 01, 2023
Entering a busy Toronto hospital as a patient or visitor can be tough to navigate. How will I find my way? Where can I purchase a 'get well' card? What if I get lonely during my stay? Volunteers at Unity Health Toronto serve in areas like navigation, retail operations, clinical support and more—in order to support people when they come to the hospital.
"Volunteers are here to meet people where they are and give them the help they need, the moment they need it," says Faye Roberts, Manager of Volunteer Services at St. Joseph's Health Centre.
Rita Sarunas, Volunteer Coordinator at St. Joseph's, says, "Our volunteers live our mission and values because they are compassionate and so many want to help within their community."
We connected with three of Unity Health's longest serving volunteers to learn more about the important role volunteering plays in their lives.
Lending a helping hand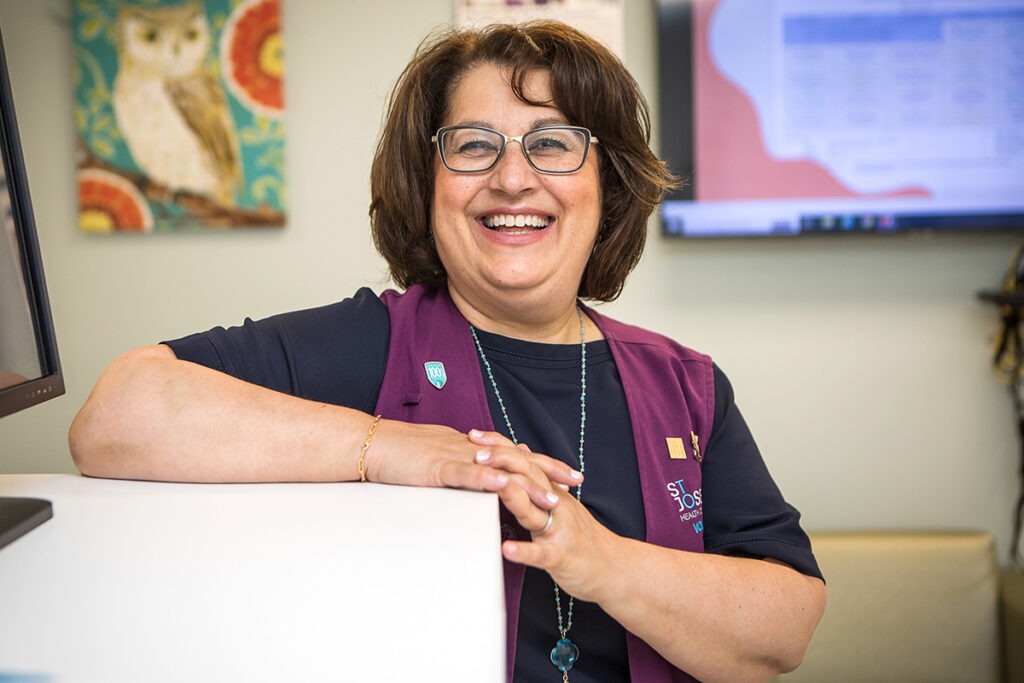 Domenica didn't expect to volunteer until she retired. When she became an empty nester and found she had more time, she took up volunteering on the St. Joseph's Health Centre oncology unit.
"I thought to myself, why am I waiting? I can re-do my schedule to offer one morning a week."
Domenica has been volunteering at St. Joseph's for 10 years. She supports patients with navigation and wayfinding, symptom documentation, answering questions and sometimes providing a light lunch for those in the treatment room.
Over the course of her service, she has made strong connections with the patients that visit the unit.
"You get to know their families, they get to know you," she says. "I really look forward to seeing them."
Domenica says the patients on the oncology unit inspire her, and seeing the same friendly volunteers is encouraging for them.
"I see really brave patients come in every day and I'm in awe," she says. "Oncology is a long-term treatment, and I think the continuity of seeing the same people must give the patients hope — or some kind of reassurance."
For Domenica, volunteering is about lending a helping hand.
"If you notice your neighbour needs a little help, just pitch in," she says, adding that helping patients and getting to know them in between treatments has been an enriching experience that she holds dear.
"I can't express enough how much I've gotten out of being a volunteer. I can't recommend it enough."
Smoothing things out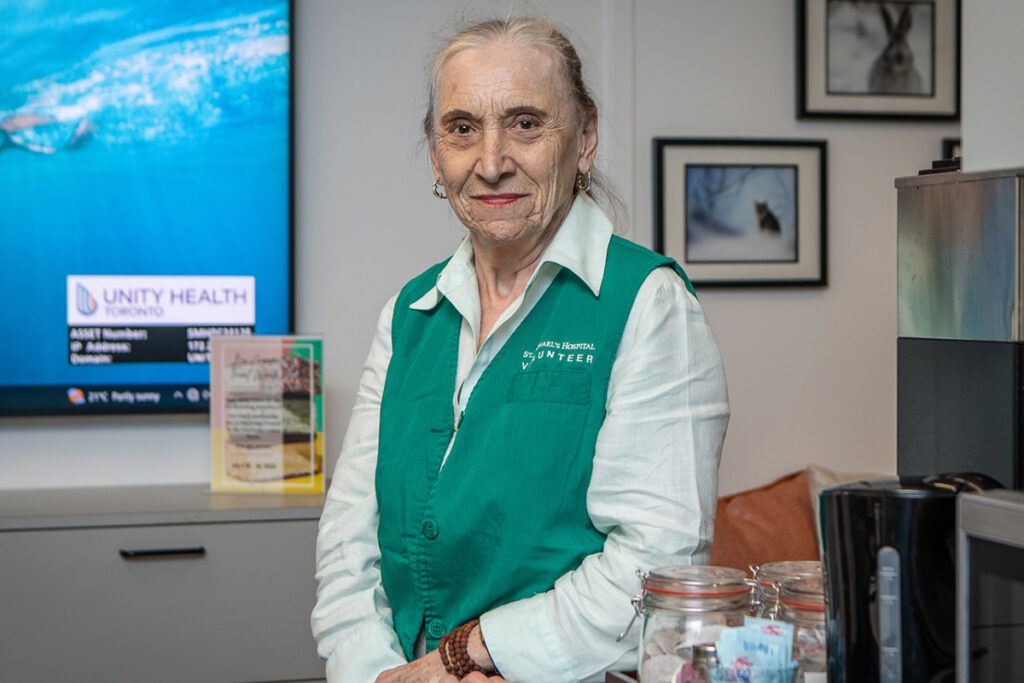 After 22 years, Ms. Stevens, who asked to be identified by her last name only, considers volunteering a vital part of her life. After seeing an ad in the paper for volunteers needed in the St. Michael's Hospital gift shop, she started serving on weekends and quickly developed relationships with the other volunteers.
"We started meeting and just clicked," she says. "The rest is history."
Her experience interacting with patients has been dynamic.
"When people are in the hospital, they're not exactly in a good place," she says. "And a smile and a kind word goes a long way."
Across the organization, she notes the impact of volunteer service on hospital operations.
"I think the volunteers fill the gaps," she says. "Having them to guide you somewhere, ask who you're looking for or bring you water — it makes things go a little smoother and in many instances, makes the experience easier."
Over the years, she has had many opportunities to get creative in helping families visit their loved ones in the hospital and has made many memories serving patients.
"You can pass an opportunity to help or you can take an opportunity to help, and I'd rather take it," she says.
"Patients just need somebody paying attention and being kind to them, and that's true across the board."
Over 10,000 hours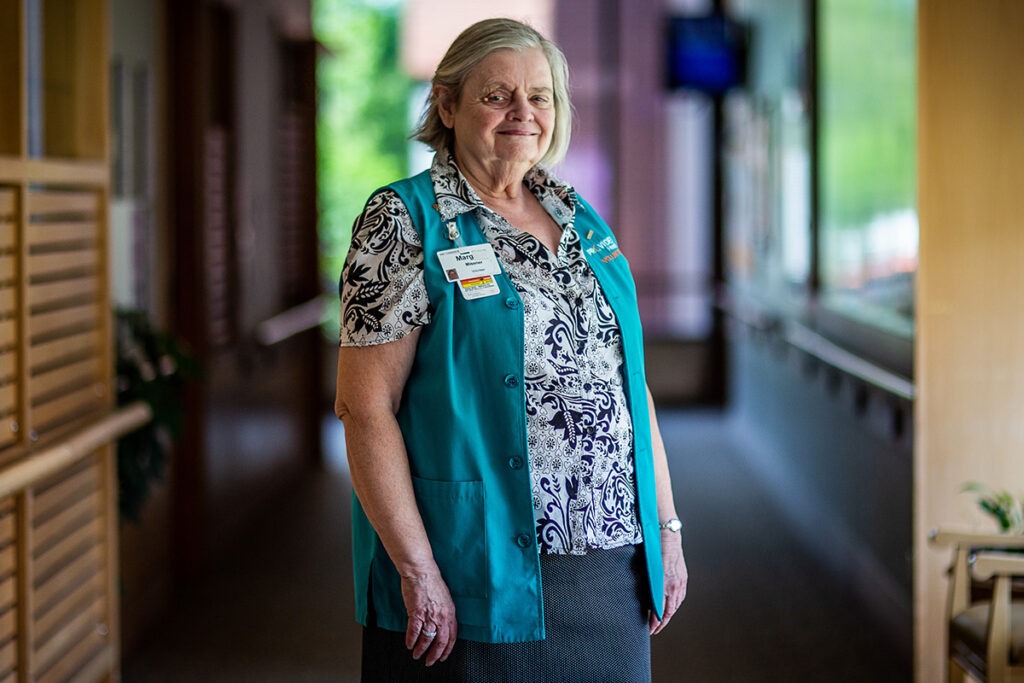 Marg Misener has been volunteering at Providence Healthcare since 2006. After serving at the gift shop and as a receptionist for Volunteer Resources, she started serving in merchandizing and invoice management, then in various duties in Finance. Prior to the COVID-19 pandemic, she took up office duties for the Occupational Health clinic and is now assisting Roberts in a new education and training project for Volunteer Services.
As someone accustomed to working with computers and administrative work, Misener's analytical mind served her well at the gift shop, where she says she had a lot of fun supporting merchandizing and inventory management.
"I liked the buying — going out and looking at different things and choosing which ones that we thought would sell," she says. "As well as the camaraderie with staff and other volunteers."
Misener has served over 10,000 hours as a volunteer, and says that it's the people she's worked with that have kept her coming back.
"I felt like I was contributing, like I was really making their jobs easier," she says. "The opportunity to be part of a family is my favorite part. It was fun to go to work as a volunteer."
If you're interested in volunteering at one of Unity Health's hospital sites, please visit Volunteer – Unity Health Toronto.
By: Kaela Tenn