This Unity Health team sterilized 16,000 surgical instruments in a month. Meet the people keeping patients safe
January 18, 2023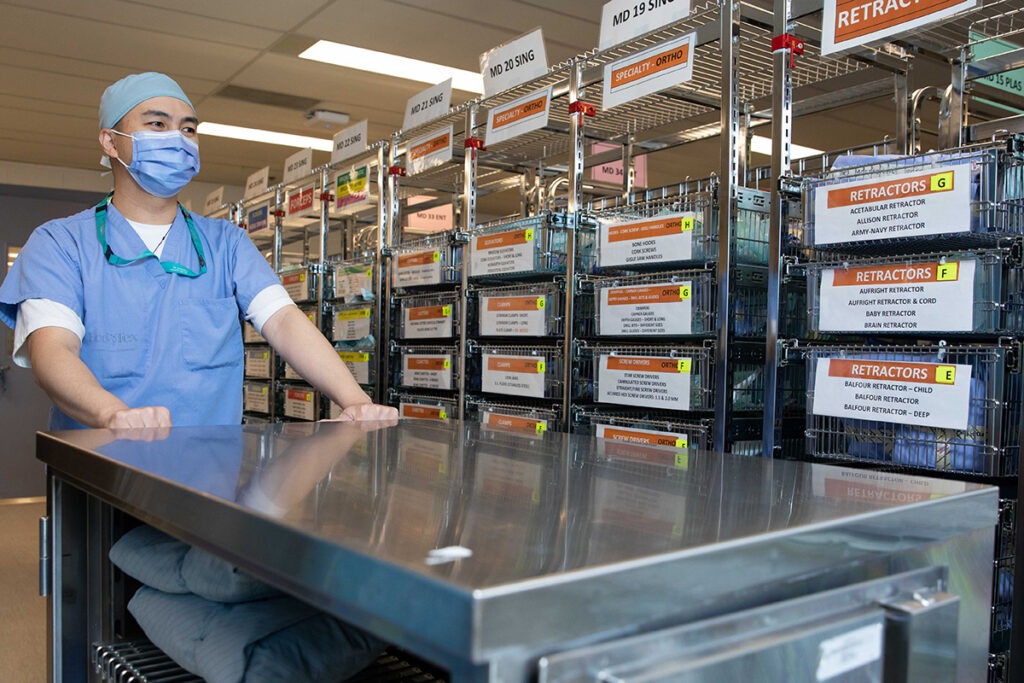 The MDRD team works behind the scenes providing clean, sterile, and functioning instruments for your procedure at Unity Health
When thinking of a medical procedure, we often picture a surgeon, nurse, or anesthesiologist providing direct care at the bedside. But how do the sterile instruments get there? How does the right device arrive at the right procedure at the right time? Who keeps them clean and safe to eliminate infections and complications? This is all orchestrated behind the scenes by the dedicated Medical Device Reprocessing Department, known as MDRD.
Across Unity Health, 112 staff make up MDRD located at St. Michael's Hospital and St. Joseph's Health Centre. At St. Joseph's 41 staff work around the clock Monday to Sunday supporting the surgical team and other clinical areas. Their primary role is to reprocess medical devices such as surgical instruments, endoscopes and anesthesia equipment and to provide education and guidance on safe storage of reprocessed devices. This includes collecting instruments from the units for cleaning and disinfection, sterilization, functionality inspection, safe packaging and storing and finally transportation of the sterile instruments back to the teams doing the direct patient care. For the year of 2022, they sterilized a total of 145,987 instrument trays and single instruments.
"The most important skills the team has is attention to detail and multitasking," says Ina Belu, Manager of MDRD, Cystoscopy and Surgical Infrastructure. Aside from manual and automated cleaning, the instruments undergo a detailed process of inspection at several stages during decontamination and pre-packing. "The MDRD team works behind the scenes to provide excellent quality of care and patient experience," she says. "What I like to say is that every successful surgery starts in MDRD."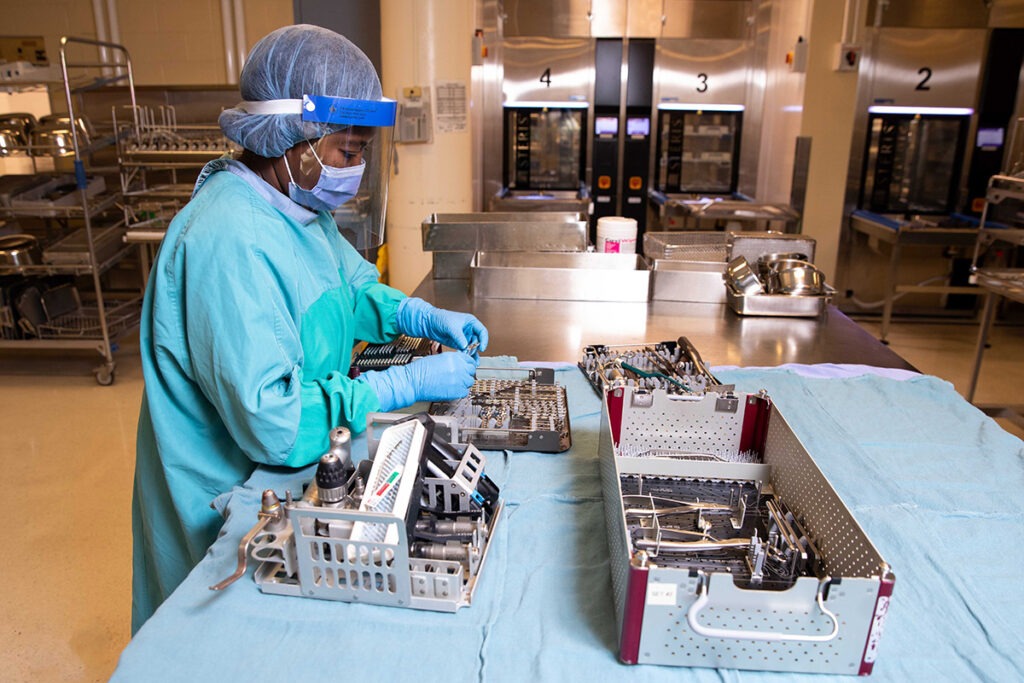 After a medical procedure, nurses and physicians at the bedside wipe or spray instruments to prevent bodily fluids from drying. From there, the MDRD team springs into action – either manually collecting instruments from the units or receiving them from a dedicated elevator directly from the operating room.
The first stop is the decontamination area for sorting and analyzing. Instruments are observed for any damage, and if necessary, they are taken out of circulation to be repaired or replaced.
"It's a very active job, you have to have good stamina," says Elizabeth Tesfay, a technician of 25 years whose area deals with soiled instruments from the OR after surgery. "You must have attention to detail and think critically to solve a problem right there and then."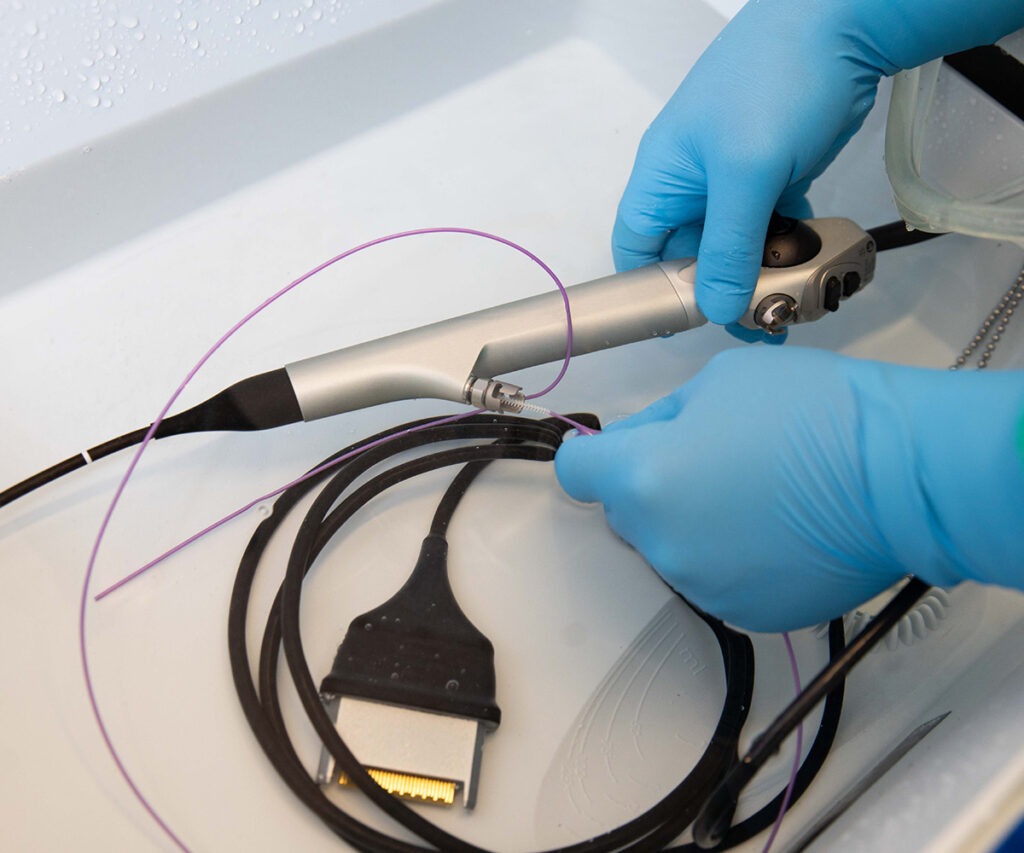 At the scope cleaning station, Ronil Supena submerges the instruments in an enzymatic detergent solution. He also brushes, rinses and performs dry and wet leak tests. These instruments are used for patient care in a variety of endoscopy, bronchoscopy and cystoscopy procedures.
All staff must be certified by an accredited college to learn and build the necessary skills required in reprocessing intricate medical devices. This ten-month program includes training on infection prevention and control, anatomy and physiology, microbiology, sterilization, decontamination and storage. "It's important for our staff to understand the reason they are doing their job – to protect the patients as well as to protect themselves because they are dealing with contaminated instruments," says Coordinator Chadi Hammoud, who also teaches in the MDRD program at Centennial College.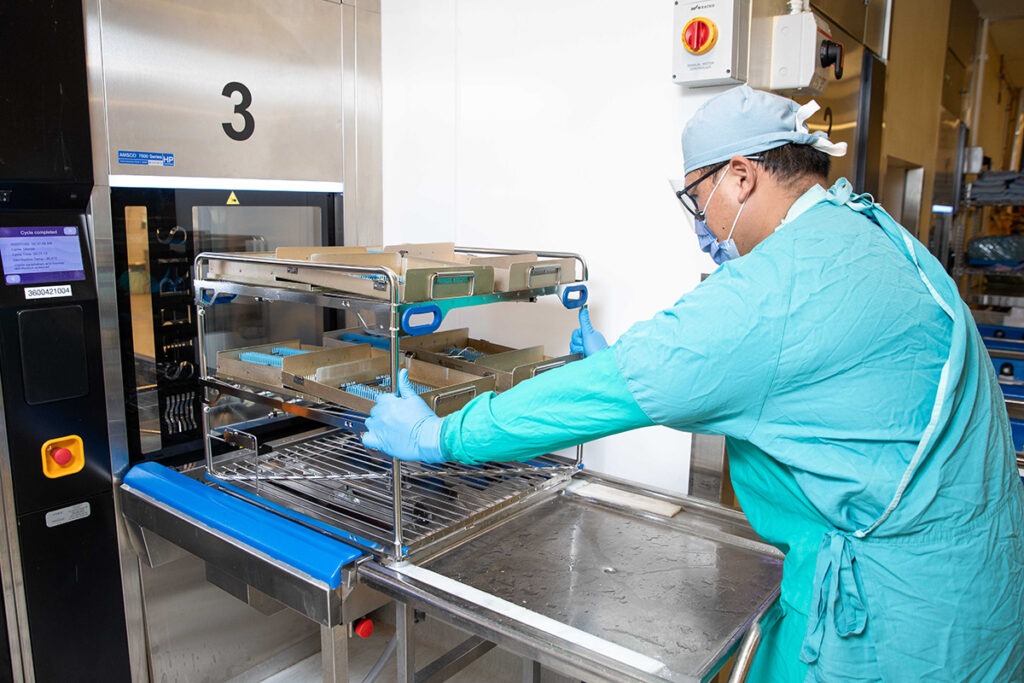 After manual washing, the instruments are loaded into the Caviwave Ultrasonic Cleaner, then into the washer disinfector which operates like a high grade dishwasher. Cycles take 25-30 min. Items required for the next day's procedures are prioritized.
Gary Zanty Lerpido loads delicate and small ophthalmology instruments, such as forceps used in cataract procedures, that require less pressure and a lower temperature. The team reprocesses each set frequently to keep up with the high volume of procedures – 12-18 per day – to ensure instrument availability on demand.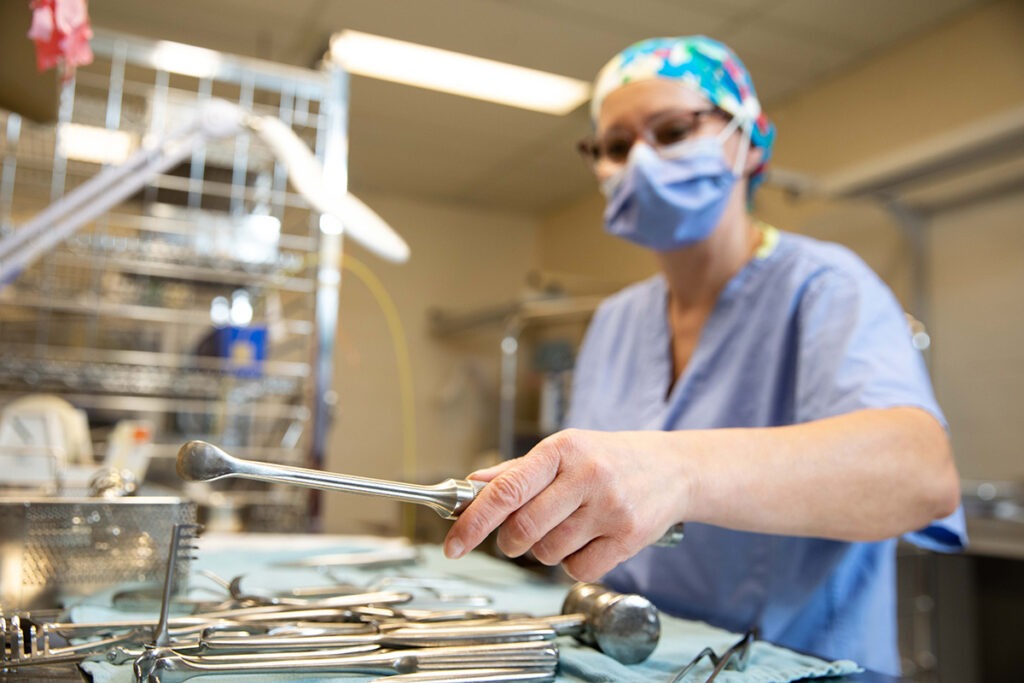 On the clean assembly side, instruments are distributed to different stations based on speciality including laparoscopic, general surgery, the birthing center and floor trays.
Danuta Pietraszkiewicz, MDRD Technician, works in the orthopedic section. "I check each instrument for cleanliness, functionality and arrange them in a certain way to facilitate procedure efficiency." Items include scissors, forceps and retractors.
Instruments are then sorted to specific shelves, assembled, and checked again for complete functionality and cleanliness.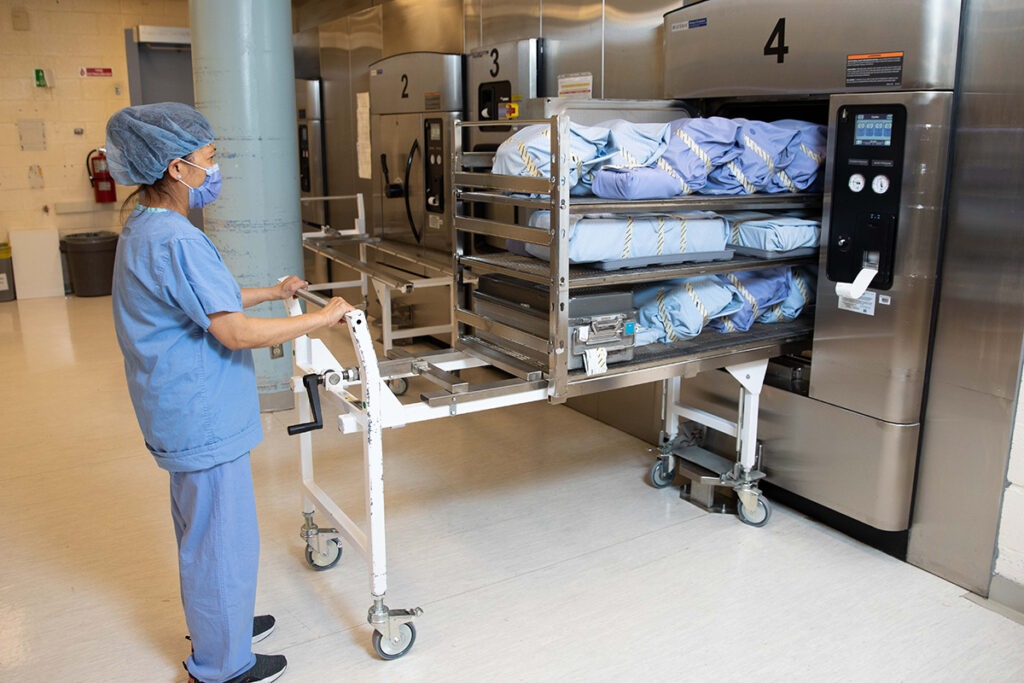 MDRD Technician Jean Amparado works the steam sterilizer where she follows strict protocols. Each instrument is documented and proper cycles and parameters are chosen for each load. This is usually four minutes of steam exposure at 270 fahrenheit followed by a 30 minute drying cycle. Eight to ten sterilization cycles are typically run each day.
Items are then removed and cooled down for at least one additional hour to avoid condensation which can compromise the sterilization. She will then perform quality checks of all packages to validate the sterilization process.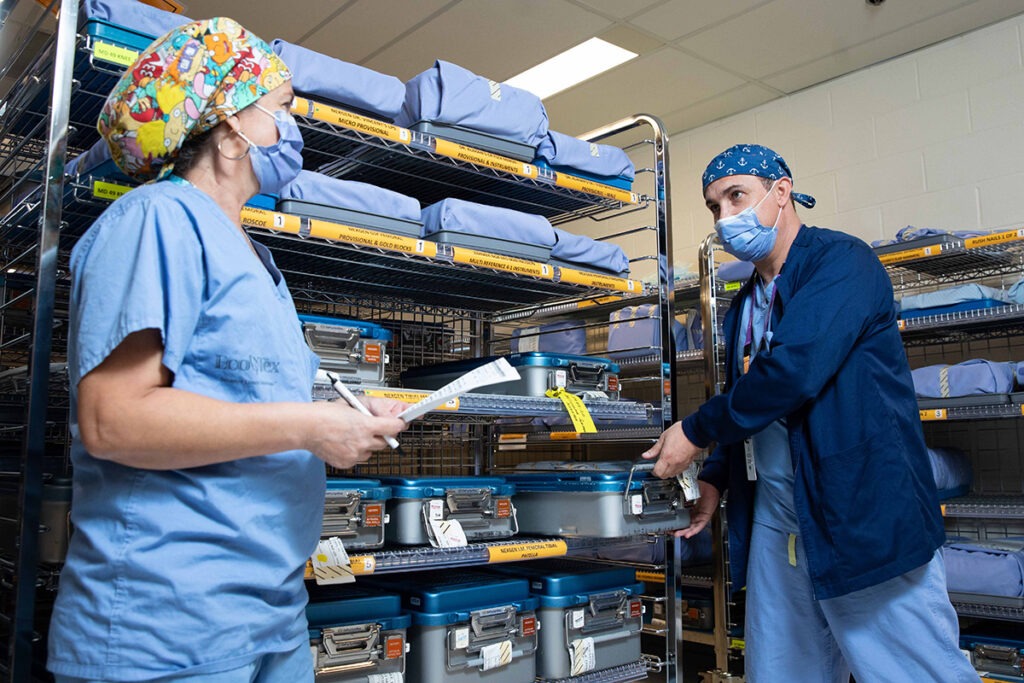 Sterile instruments are distributed to designated locations in the storage area. According to Hammoud, the delivery system wasn't always so organized and efficient. "When I started here as a technician ten years ago I can tell you the difference, it was like a jungle before. When collecting instruments for a procedure there were no set locations so you had to locate them by memory and sometimes you picked the wrong item."  
Rectifying this issue was a priority for Hammoud and Ryan Talledo when they became Coordinators. Every procedure has a list of supplies needed, called a pick list. They added locations to the list such as shelf one, cart two, and made it a one-way direction so staff didn't have to walk back and forth. "We save a lot of time now," he says. "It takes 15 minutes or less for case cart picking when before it could take up to forty-five."
Hammoud brings a wealth of background knowledge in health care to his role.  He was a nurse for 12 years and also worked as an endoscopy technician and clinical practice leader where he created policies and procedures for the surgical program at Scarborough Health Network.   
"As a nurse, our only concern was to receive our instruments sterile and ready, but didn't pay attention to where they were coming from," he says. Now that he is on the other side, he sees the value the MDRD team brings to operations. "My background helps me a lot because at the end of the day it's about patient safety."
For operating room procedures, MDRD Technician Neal Magana follows his pick list to gather sterile supplies from the shelves and drawers to load a unique cart for each procedure. Carts are then loaded into an elevator that travels directly to the OR.
The Operating Room is their largest customer, consuming 85 per cent of their work. They also support minor surgery, cystoscopy, the ambulatory care centre, fracture clinic, and family medicine among other departments.
Back in the 1970s when MDRD departments did not exist, nurses were left splitting their time between patient care and prepping instruments. "We are needed because we are 100 percent dedicated to the cleanliness of the instruments and to their functionality," says Luiza Viadoniga-Bojkova, a technician. "The nurses don't have the training or the time because they are dedicated to their patients."
Operations Leader Talledo agrees. "Our main priority on a daily basis is to make their work flow go smoothly. We make sure that all of the instruments we're reprocessing are safe to use for the patient."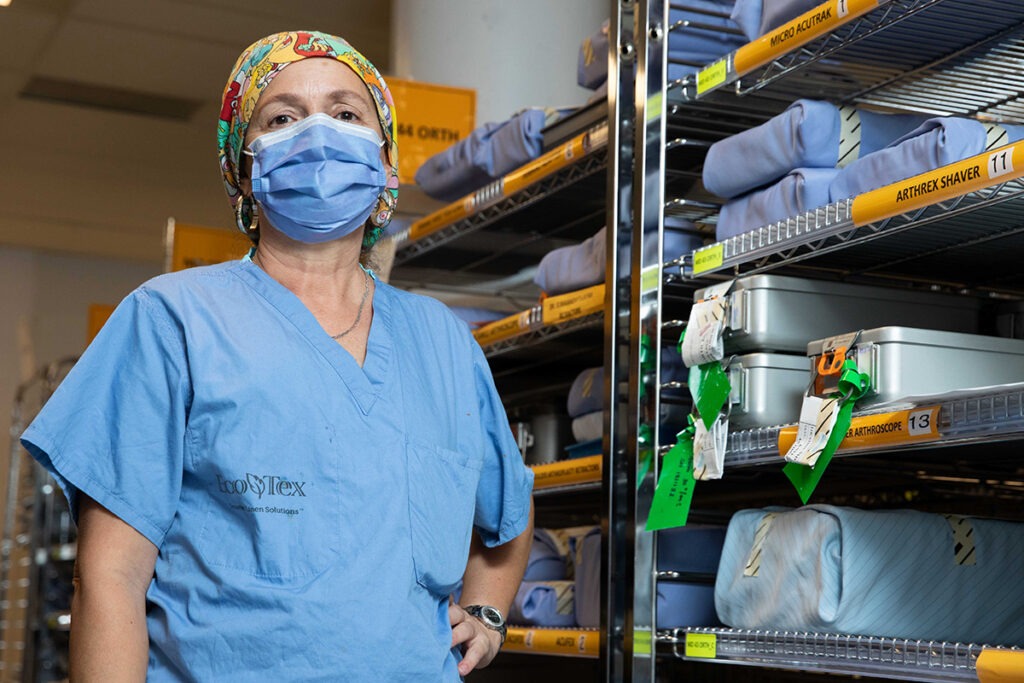 Viadoniga-Bojkova says she enjoys her job because she is a people person and has learned a lot. "You step in and do your best and that's rewarding. You make friends as well," she says.
"We are a family," adds Tesfay about her colleagues, who range from 30-70 years old and are a mix of different cultures. "Variety is good. You don't eat a mango all day, you know? You need mangos, oranges, bananas, pears. Mixture is always good…Despite our differences, we have one goal in life: the patients and what we do. We make sure that everything is done correctly, because at the end of the day, it's the patient on the table that matters most."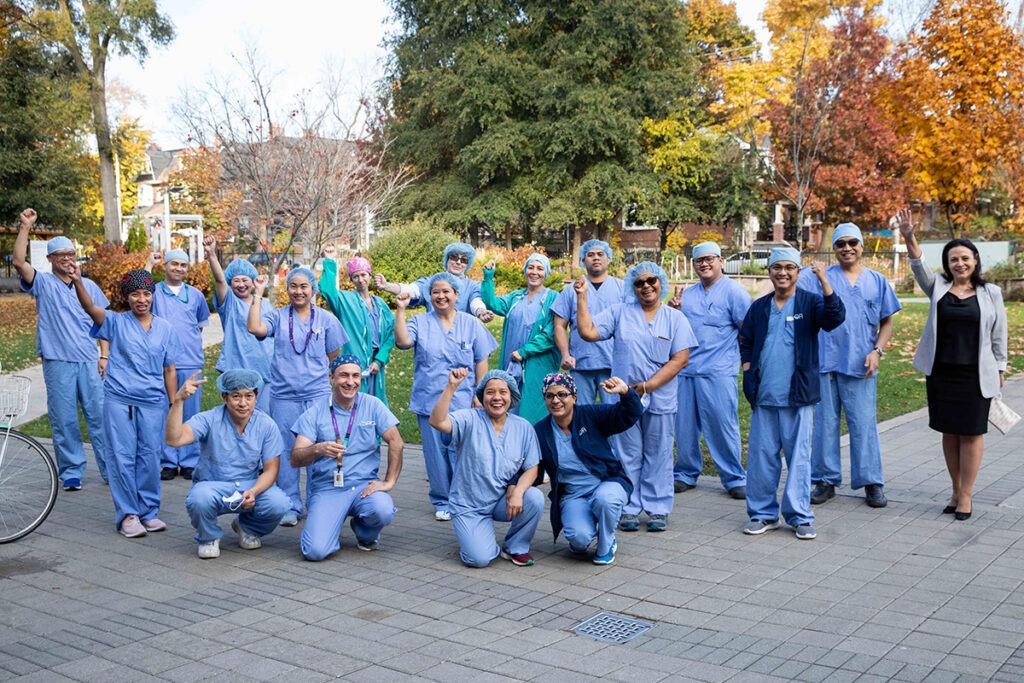 Story and photos by Katie Cooper