Filling the gaps: How Unity Health's programs support Toronto's homeless population
January 04, 2023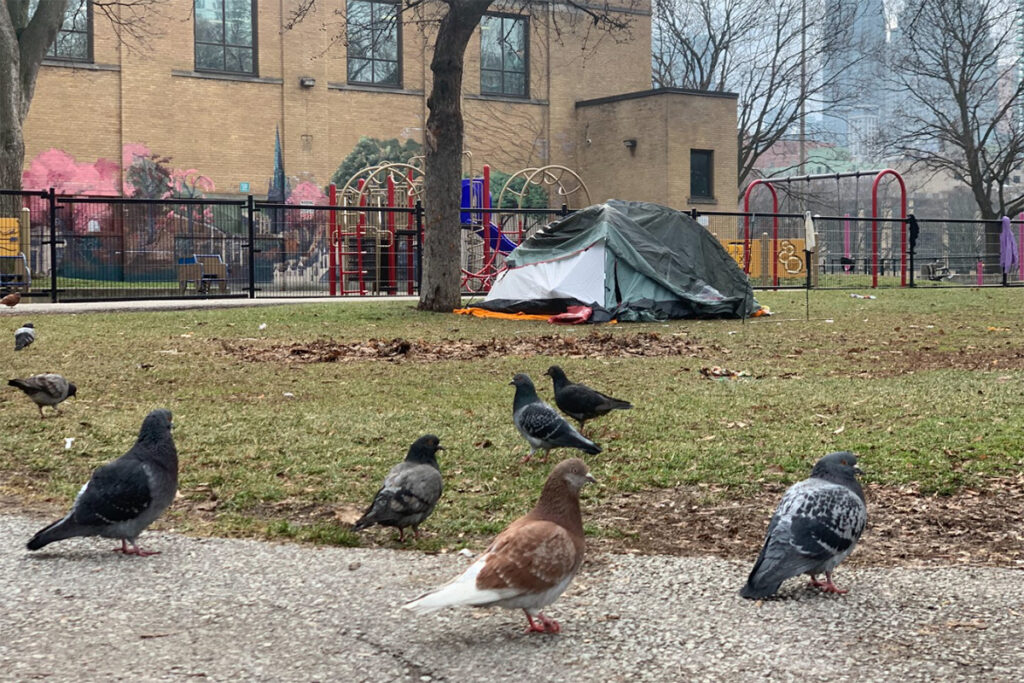 When Dr. Stephen Hwang joined Unity Health Toronto, he was drawn to the organization's longstanding commitment to helping those most in need. All three of the network's hospital sites were founded by the Sister's of St. Joseph, who were called to serve people who are disadvantaged.
"Unity Health has always been dedicated to serving people experiencing homelessness, and it's always been an area we've sought to find innovative ways to provide better care," he says.
Yet, as Hwang devoted his clinical care and research to caring for people living without permanent shelter, he noticed something else. Not only was the homeless population in Toronto growing in size, the needs of the population were growing as well. Living without shelter puts people at risk of many health challenges, but people who are homeless are also more likely to experience mental health problems and age-related decline.
Today, caring for people who are unhoused remains a core part of the mission at Unity Health – a value that informs the basis of research, education, outreach and clinical care. The network has also continued to expand its services to meet patients and clients where they are, particularly in the areas of mental health and geriatric care.
"Our services fill an important need for patients who often fall through the cracks," says Hwang.
Helping the homeless population as they age
Seven per cent of Toronto's homeless population is over the age of 65. That's why two Unity Health services focus on providing care to the aging homeless population.
Unity Health's Geriatric Homeless Outreach program provides geriatric care to older adults within the shelter system. This is important because geriatric syndromes, such as cognitive impairment, falls and functional decline, occur more frequently and at earlier ages in older adults experiencing homelessness compared to their housed counterparts.
"What is really important about this service is that it recognizes that aging impacts the experience of homelessness and that homelessness impacts health and aging," says Dr. Jillian Alston, a geriatrician who provides comprehensive geriatric assessments for older adults experiencing homelessness.
Dr. Alston says there is pressing need to address the crisis of rising rates of homelessness amongst older adults. The crisis, she says, is largely driven by a lack of affordable housing at a time when older adults are adjusting to fixed incomes, a lack of appropriate community supports to help older adults age in place and limited long-term care beds. At the same time, despite an increased influx of older adults, shelters are not traditionally designed to meet the complex needs of this population, she says.
The program is currently accepting referrals through a partnership with Scarborough Village Residence shelter and has received instrumental funding through the Slaight Family Foundation and is being evaluated by the Knowledge Translation team.
Project Dignify could be described as the psychiatric equivalent of the Geriatric Homeless Outreach program. Equipped with a geriatric psychiatrist, occupational therapist, registered nurse, homeless outreach counsellor, and operations leader, the team meets their clients where they are at in the community to offer geriatric psychiatric care and to address psychosocial issues such as housing, finance, primary care access, legal support, and substance use.
The program is also designed to be as diagnostically inclusive as possible, meaning older adults with comorbid mild to moderate dementia or experiencing other medical conditions are not excluded.
"We know that the proportion of the homeless population who are over 65 is growing. We developed our program to try to address this gap: to provide care for vulnerable older adults with housing and mental health concerns," says Dr. Michael Tau, medical lead of the program and geriatric psychiatrist.
Project Dignify is made possible by The Louis L. Odette Family Urban Angel Fund for Homeless People.
Supporting individuals who are homeless and have mental health issues
After being discharged from the hospital, people with significant physical and mental health-related barriers to being housed require support to access health resources in the community. CATCH, a partnership between LOFT community services, Unity Health Toronto and Inner City Health Associates, supports these individuals by providing access to a transitional case manager, family physician and psychiatrist. This team supports patients' access to medical care, mental health and addictions services, and other resources outside of hospital, with the goal of reducing preventable future hospital visits.
Dr. Gary Bloch, a family physician at St. Michael's, has been involved with CATCH since its inception in 2010. Bloch touts the program's unique interdisciplinary team, which includes two psychiatrists and a group of highly-skilled outreach care managers, as key to its success.
"This program offers holistic, wraparound support that engage with a full biopsychosocial approach to health and social needs," says Bloch. "It serves clients who often do not fit in with, or are rejected by, mainstream health and social services through a uniquely low barrier, flexible model of care."
The program is available for patients experiencing homelessness at Unity Health, UHN, CAMH and clients of the Good Shepherd Shelter who are in need of both mental health and physical health support. Some clients who meet criteria are accepted through alternate referral pathways.
Caring for those who are homeless and have acute care needs
One in five patients who visits the Emergency Department (ED) at St. Michael's Hospital is homeless. Dr. Carolyn Snider, chief of emergency medicine at St. Michael's, says these patients are less likely to navigate the health care system to follow up with outpatient appointments, and addictions or mental health support. They also have difficulties navigating the social systems that directly impact their health, such as housing and income support.
That's why the ED Outreach Workers program is considered so essential by physicians, nurses and social workers in the ED, says Snider. The program, which was developed with community partners and people with lived experience as part of the Downtown East Toronto Ontario Health Team, assigns an outreach worker to precariously housed patients who help the patient find a place to live and connect them to agencies who can help with food and financial support after they leave the ED. A large part of their work includes connection to longer-term resources such as family physicians and longer-term case workers.
The program, established in June 2021, has cared for over 200 patients, 145 of whom have received more in-depth, long-term support. The program is currently being evaluated for effectiveness.
"When a patient who is homeless is discharged from the hospital, there's a very high risk that their health care plan will fall apart, and that they will end up sick again and back in the emergency department or hospital," says Dr. Stephen Hwang, the originator of the Navigator program, director of the MAP Centre for Urban Health Solutions, and the lead scientist on the study evaluating the effectiveness of the Navigator program.
To prevent that outcome, each patient is assigned a homeless outreach counselor who is integrated in the inpatient unit. The counselor ensures that after discharge patients are able to sleep in a shelter rather than on the street, see their family doctor and specialists, get wound care and vital medications, and ultimately find permanent stable housing.
In November 2022, the Navigator program was expanded to St. Joseph's Health Centre, a hospital site at Unity Health Toronto located in Toronto's west end. "We know that hundreds of people experiencing homelessness are admitted to St. Joe's each year. We believe that the expansion will show that the Navigator intervention can have a huge impact in a wide variety of hospitals, including both community teaching hospitals and academic teaching centres," he says.
The Navigator program is funded through the generosity of donors to the St. Michael's Foundation. The research study evaluating the intervention is funded by the Canadian Institutes of Health Research.
Correction — Feb. 1, 2023: The ED Outreach Workers program has provided 145 clients with in-depth, long-term support. A previous version of this article said 75 clients had been provided long-term support.
By: Jennifer Stranges