Meet the team in charge of bringing joy to the people at Unity Health
July 04, 2022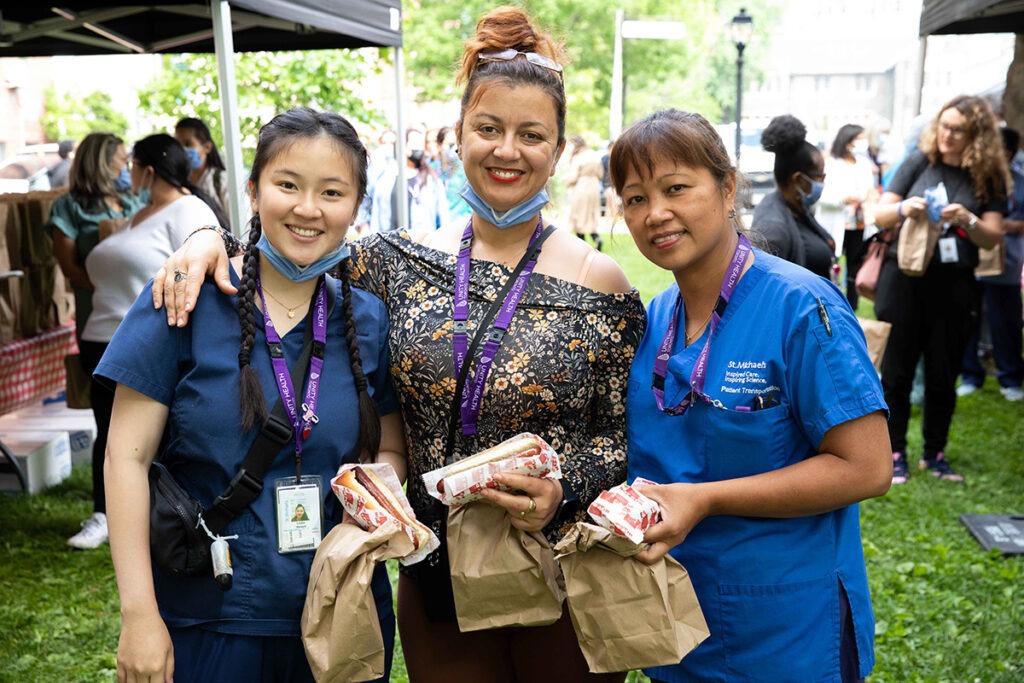 They do it all, from holiday celebrations to career development. Katie Cooper takes us behind the scenes at the annual People Appreciation Barbecue
A chance of rain didn't stop staff, physicians, learners and volunteers at St. Michael's Hospital from lining up in a park on an overcast morning in June. After a two year pause on the popular summer barbeque, the event's return brought on smiles, laughter and camaraderie.
"We want to make sure that everyone understands their value and worth," says Jeff Dionne, Director of Leadership & Organizational Development and Volunteer Services at Unity Health.
Since the integration of St. Joseph's, St. Michael's and Providence in 2017, Dionne's team of eight have overseen large celebration events across all three sites. That means three staff barbeques, three service recognition days honouring long-standing employees and three holiday events in December complete with gingerbread house competitions. His team has developed virtual thank you cards and draws for live event tickets throughout the calendar year. Beyond recognition, the team focuses on leadership and training – facilitating new staff orientation, providing employee development training, coaching and career management and tuition assistance for continuous learning.
"Some people like the big pomp and circumstance and the red carpet. Some people just want that pat on the back and their colleagues saying they're doing a great job," says Dionne.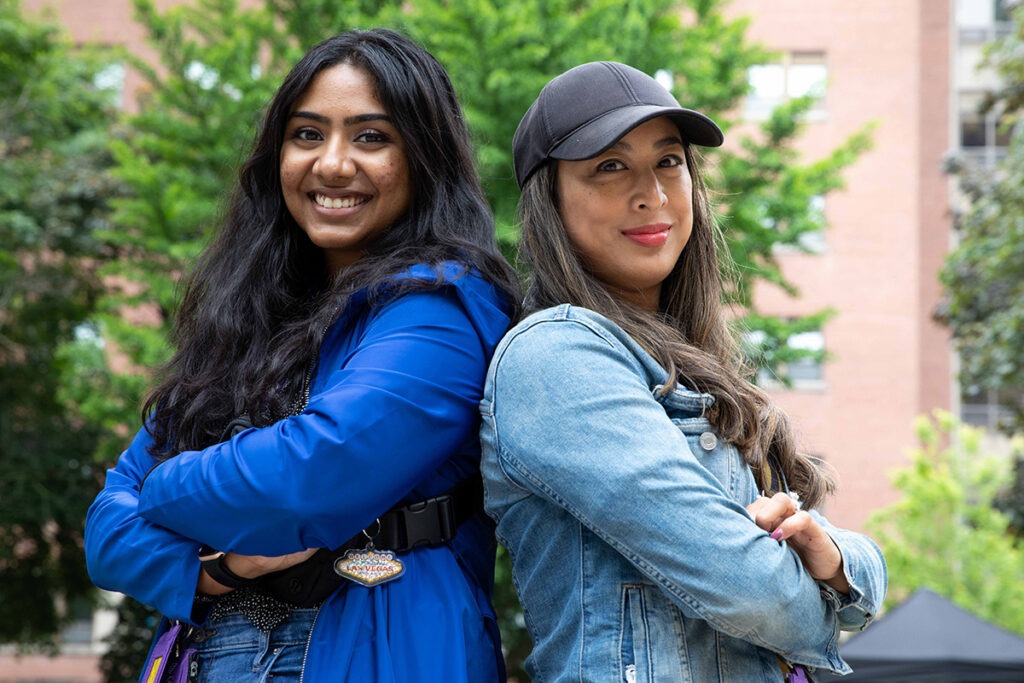 Tanya Sudarshan, Coordinator, and Hailey Garcia-Gonzalez, Leadership & Organizational Development Specialist, are the dream team behind bringing the People Appreciation Barbecue to life. It's a one-day event, but the behind-the-scenes planning has been ongoing since February.
"I think these recognition events reinforce how each member of our community is valued at this organization," says Garcia-Gonzalez, who has been at Unity health for 23 years.
Compared to the barbeques at St. Joe's and Providence, the St. Mike's site poses an extra challenge as it is held across the street at the Metropolitan United Church park. This added some items to their check list: a special event and noise permit from the city of Toronto, a booking with the church, confirming an external caterer, and filling out paperwork with Toronto Public Health to ensure food safety measures were in place. On the hospital side, they coordinated internally with housekeeping, AV and security.
Sudarshan has been with the team for just over two months and loves observing the satisfaction from employees when they are recognized. "This event is just a big thanks to all the people at Unity Health. It's so important to show appreciation to people because that adds to employee incentive and what makes you want to go to work every day. I honestly feel like you need these things to keep going, it's like a drive."​​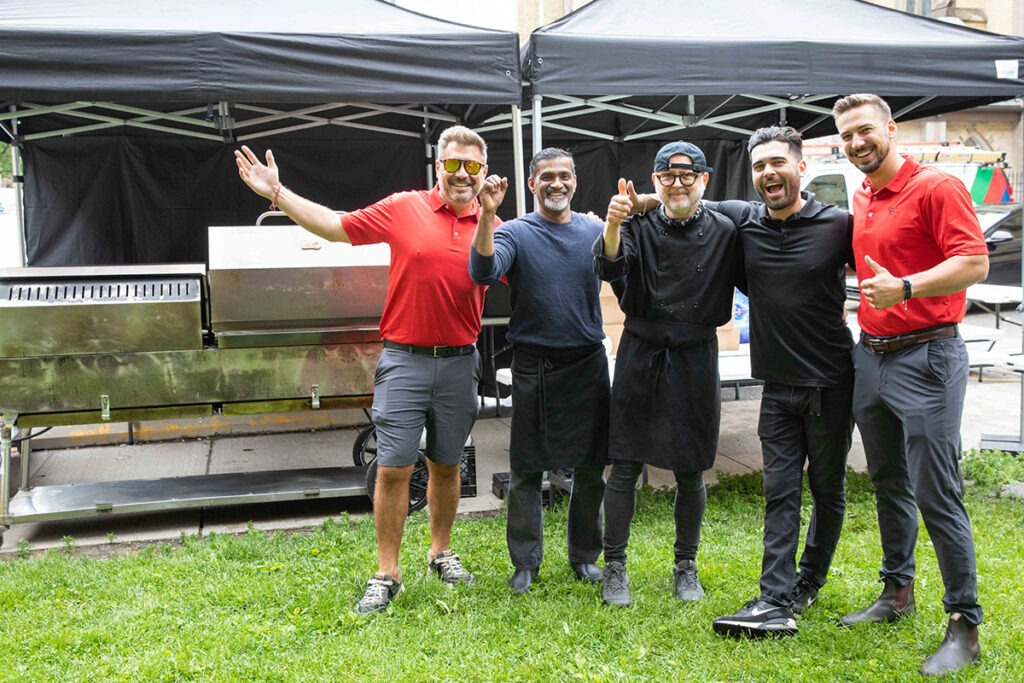 Owner Justin Siklis and his crew at Chef's Catering have been grilling and serving at the St. Mike's Barbecue for 20 years, with a two-year hiatus during the pandemic. They arrived at 7 a.m. to set up tables, tents and unload dozens of cases of drinks, chips, and hotdog buns from the truck.
"It feels great to be back, this is one of my favourite accounts," Siklis says. "I was actually born at St. Mike's, so I like to come out because I have a special connection with the hospital. It's nice to come back and feed the people who work here. Jeff and his team are very easy going and they trust us, which is important with a client-caterer relationship."
On top of seeing old friends, Siklis also enjoys the community aspect of the BBQ. "A lot of people in the area with housing issues or mental health issues come by for a hot dog and we don't turn them away. I like working with organizations like that."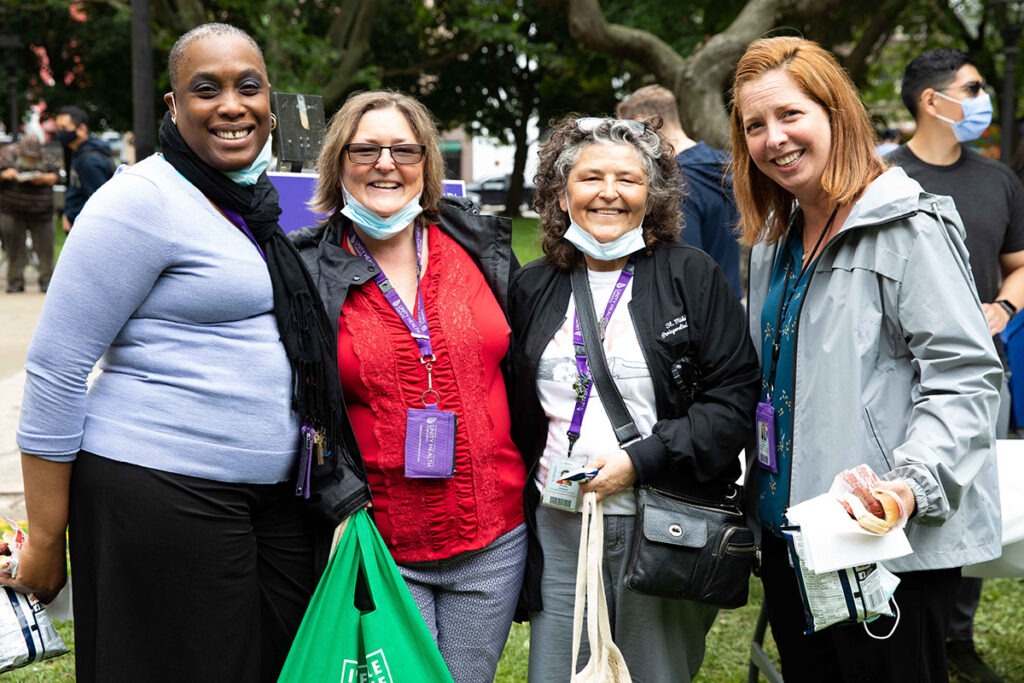 This is the 10th staff barbecue for Kim Jackson, who has worked at St. Michael's for 12 years, currently as the Administrative Assistant to the Director of Clinical and Integrated Education. "I'm always a little bit nervous about these big functions, but it is really good to reconnect with everyone and the vibe is just really upbeat and fun," she says.
When asked about why events like these are important, Jackson says: "It takes you away from the everyday work day and shows they appreciate what we do. Now that I work in the research building, I'm not seeing people that I normally would have at the main hospital. So here I can catch up with people. It just feels good and its community."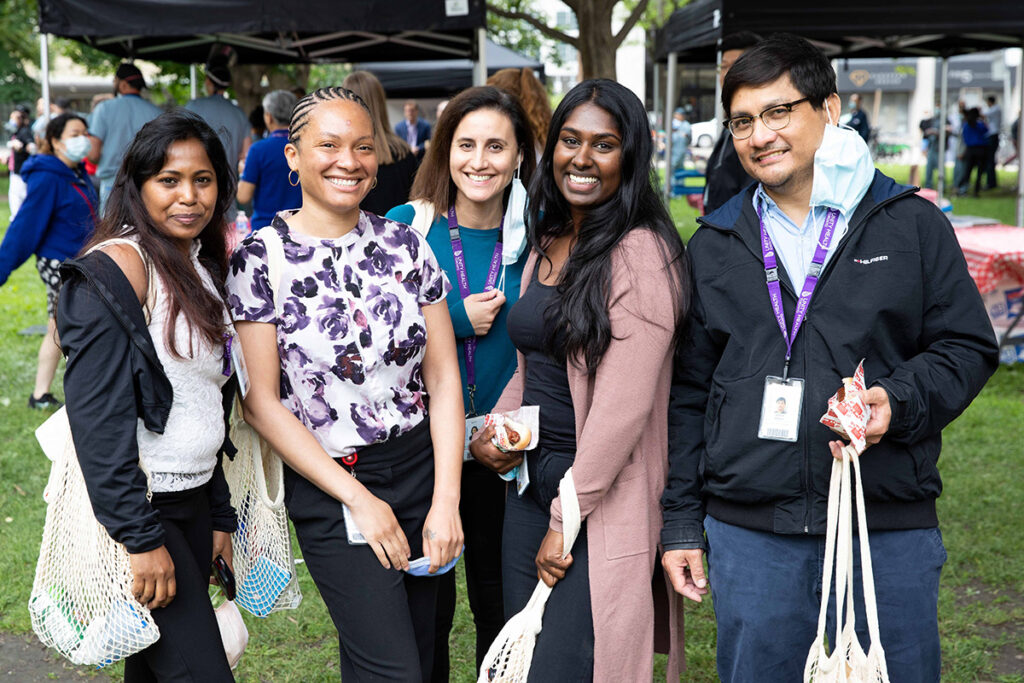 Research Coordinator Shaneisha Allen is relatively new to the St. Michael's family, starting three months ago in the MS Barlo Centre.  "This is amazing," she says. "It's greatly appreciated and needed for morale." Her colleague Sushma Pande agrees.  "It's great to participate here. It's always good to see co-workers in person."
Dionne says recognition is a core element to one's joy in work. "And we're not talking about a fluffy feeling," he adds. "It's about being in an environment where you feel safe to voice your concerns and physically safe from harm and also to have meaning and purpose in your work. To have a choice and autonomy in how you go about your work and that you are recognized."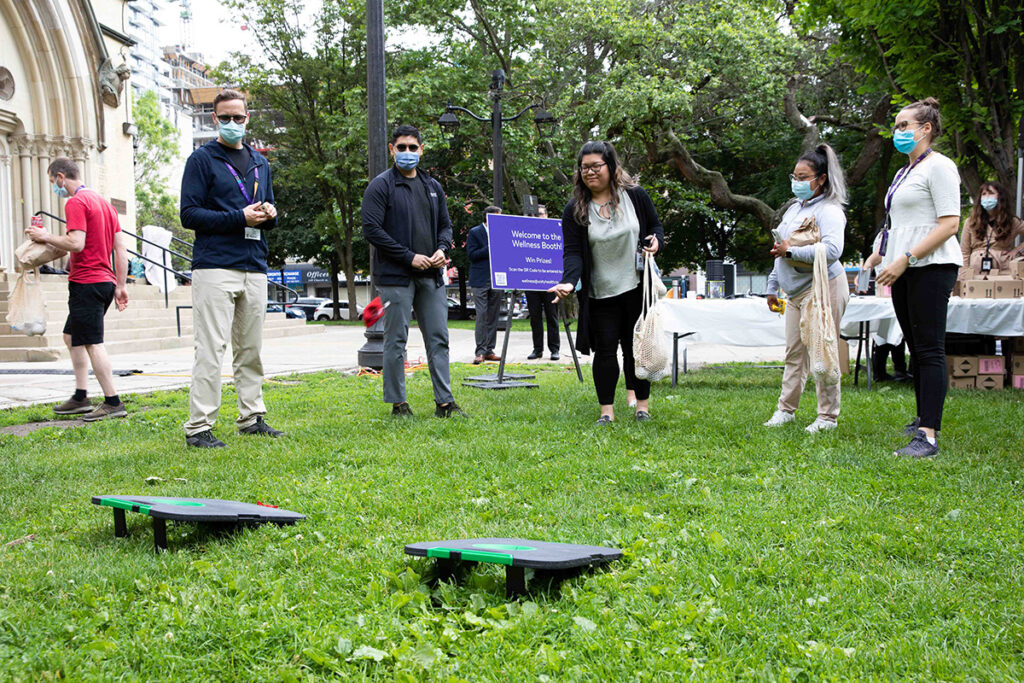 Beyond food, the event planning team wanted to create an experience for staff to stick around and mingle with colleagues. They partnered with the St. Michael's Foundation, Wellness team, and the Council on Anti-Racism, Equity and Social Accountability (CARESA) who set up information booths, handed out freebies, hosted games and a draw. There was also a photo booth to create fun memories from the day.
"I'm incredibly happy and surprised at how many people came by the Wellness booth," says Scott Kinnear, Wellness Coordinator, who was accompanied by his colleagues Andrew Haro and Chantal Sinclair. "We have wellness trivia, a lawn game of bean bag toss, and a fun little workout activity. So just lots of ways that people can have fun for a minute or two and interact with us."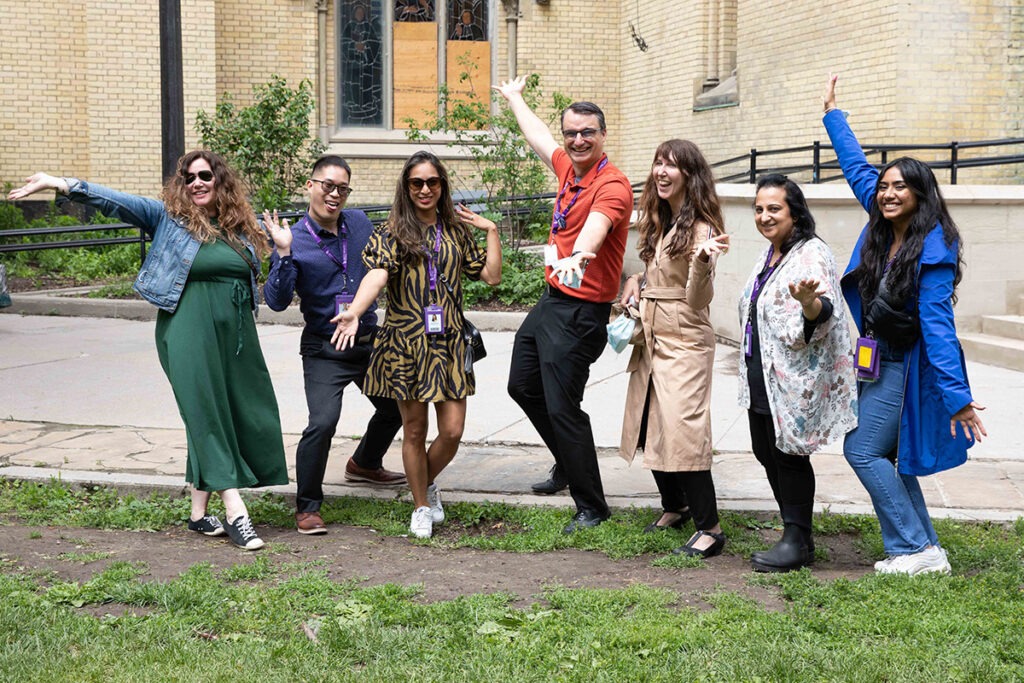 Garcia-Gonzalez says 4,000 beef hotdogs plus veggie dogs were handed out and swag went fast. "I think everyone left happy," she said.
"For those who don't know, I'm very proud to say I have the best team in the organization and you can quote me on that," says Dionne with a smile while looking back at the day.
He started at Unity Health 21 years ago as a student Respiratory Therapist and since then has worked in redevelopment, clinical management and education, spiritual care, and volunteer services. "Clinical and corporate people may have different needs, and each of those jobs taught me a new skill and allowed me to know so many people," he says. "Truthfully, I feel like each and every day I come to work to shape the culture and continue to make Unity Health the best place to work."
Two weeks later, the Leadership and Organizational Development team held another successful barbecue at St. Joseph's Health Centre, with Providence Healthcare's celebration to come later in the summer. "I think that because we're under such great leadership, it inspires us to do our best," says Garcia-Gonzalez. "All of our team, we just enjoy each other's company. We are really friends and colleagues, you know? So that's the perks of the job."
Gallery