Brightening spaces and spirits: Meet Unity Health's Environmental Services Cleaning team
May 26, 2022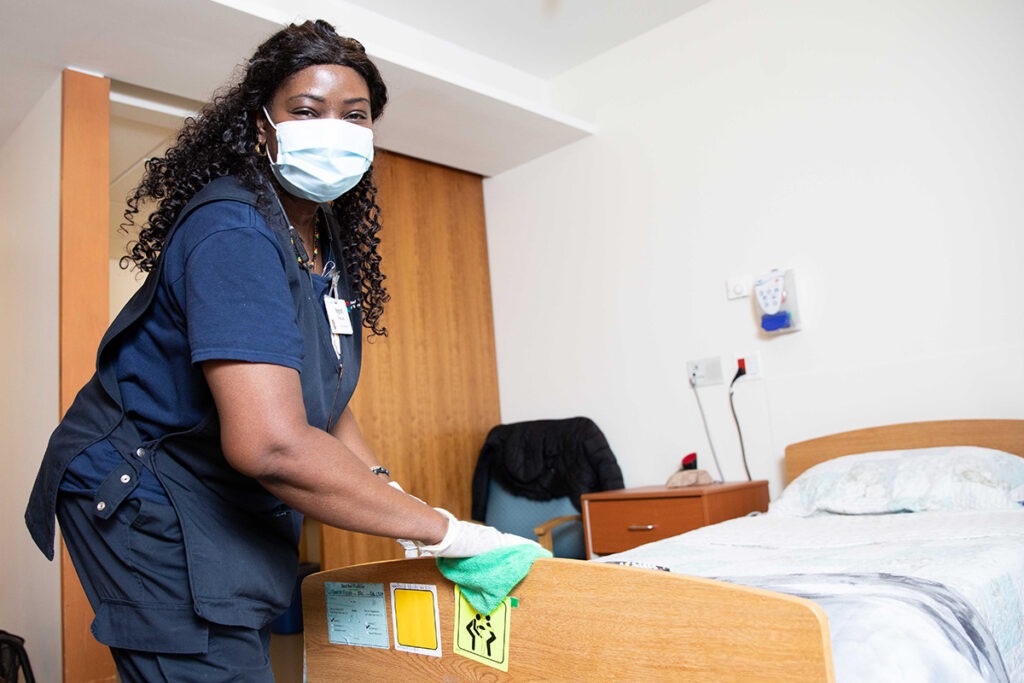 No news is good news for Unity Health's Environmental Services Cleaning team, who consider it a compliment when they don't attract attention. "Nobody walks by an empty garbage pail and says, "Gosh, it's empty!" says Heather Fletcher, Senior Director of Environmental Services.
They are a team of 500 cleaning staff across St. Joseph's Health Centre, St. Michael's Hospital and Providence Healthcare. On site seven days a week, they perform a 360-degree cleanse – wall to wall, ceiling to floor – of clinic spaces, patient rooms, public washrooms, lobbies, cafeterias, offices, as well as waste removal. Their work is rarely seen in action, but it benefits patients, residents and family members the moment they enter one of our buildings, whether it's clear glass at hands-free entrances, freshly mopped floors or vacuumed matts in the lobby. "The biggest thing is that they care and show up with a spirit of service," says Fletcher.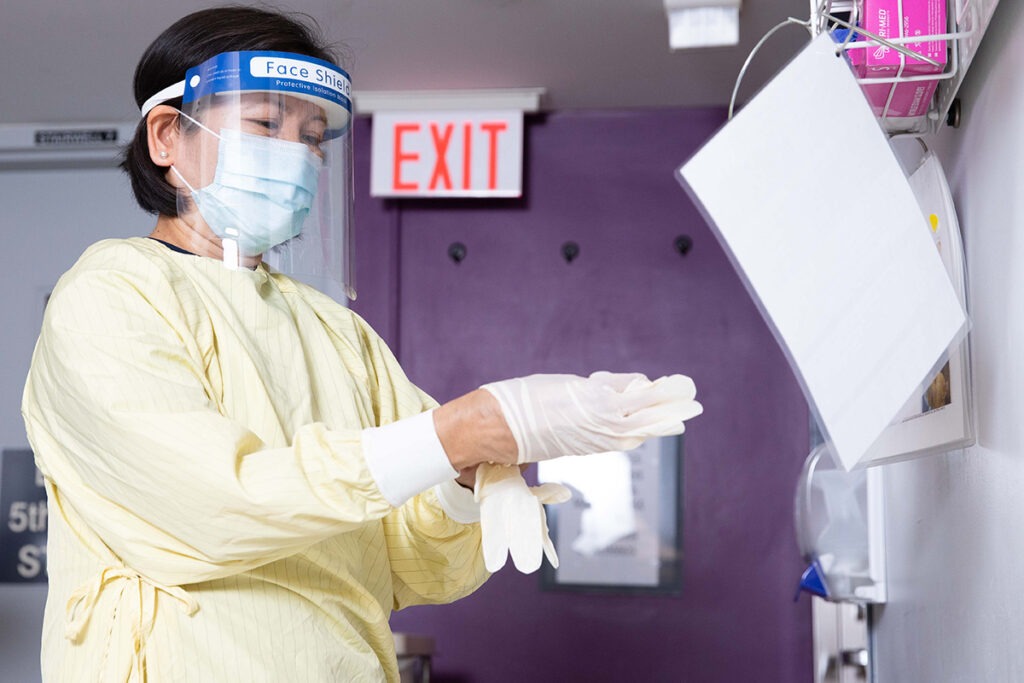 At Providence, which includes a long term care home, the amount of cleaning quadrupled at the start of the pandemic. Patient rooms and high touch points, including door knobs and elevator buttons, needed to be cleaned twice a day. Extra lunch spaces for staff were created to accommodate physical distancing, which created additional areas to clean. The team were on site daily and needed to be trained to wear PPE -masks, face shields, and gowns – along with their clinical colleagues. "They had to find strength in times of fear to come to work every day," says Support Services Manager Sharmie Budhu of the group of approximately 50 cleaning staff. "We have been so lucky to have the staff that we do. They are so committed and so strong."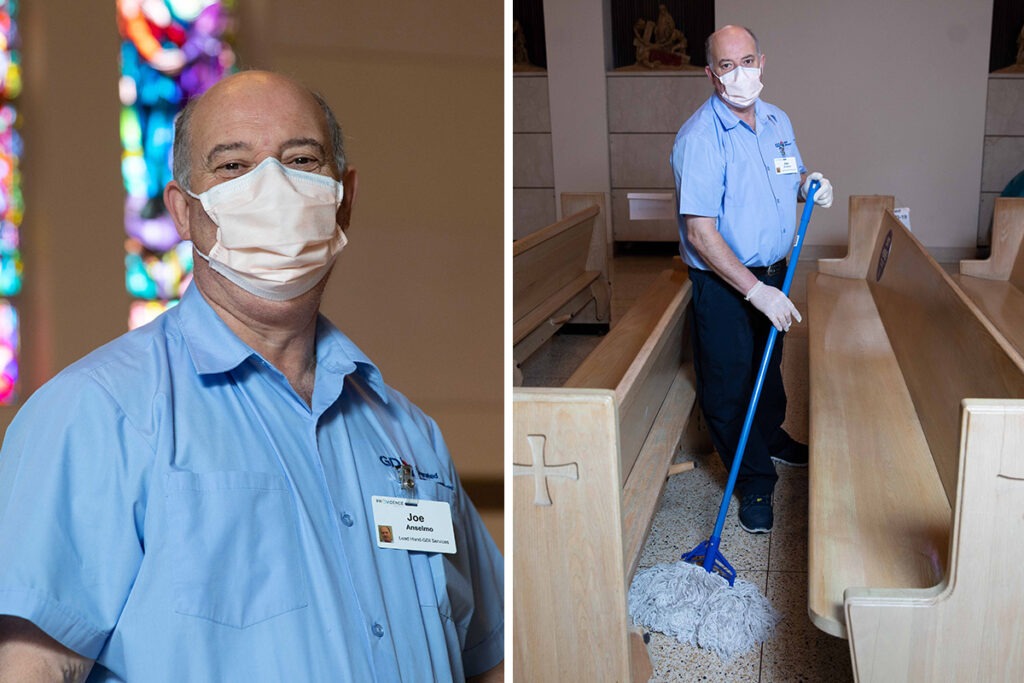 Joe Anselmo, Lead Hand at Providence, is often found on specialty projects all over the property, including regularly cleaning the Chapel. "Today I'm cleaning windows, tomorrow is carpets, next day is stripping and waxing the floors. It's different every day and it's a challenge.  That's what I like about my job." Anselmo has worked at Providence for decades and is no stranger to pandemics and PPE. "With (COVID) it's been going over two years now, and with SARS, it was three months. It was the same kind of thing but not as long, right?"  
Anselmo says that he keeps himself calm during stressful times by focusing on his task at hand. "As soon as you have your (to-do) list you're busy doing your job, and before you know the shift is over," he says. He hopes to retire in the next five years where he will leave behind a legacy of dedication. "I started here when I was 20 years old and I just turned 60. So, that tells you how long I stayed," he laughs.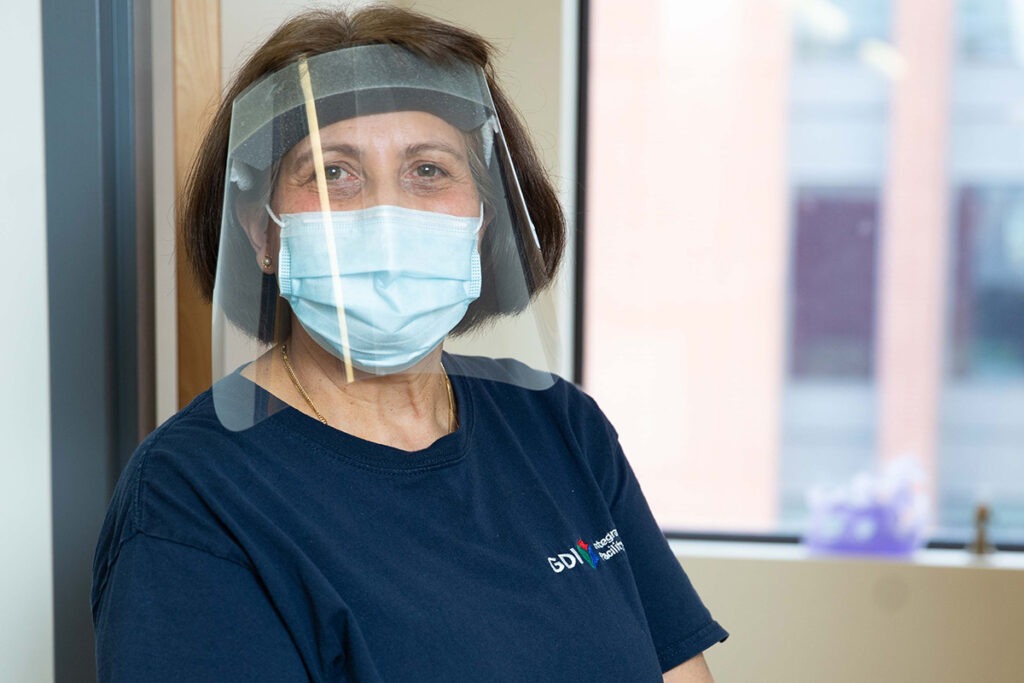 Maria Caldeira has been a cleaner on the Palliative Care Unit for four years, with a total of 34 years at the hospital, and her focus is patient rooms.
"It's very emotional to work on this floor," she says. She sees patients and families daily and she tries to lift people's spirits when she can. "I sing different songs like 'You are my sunshine.' Those little things, it makes a big difference."
"When I am off for a day and I come back, they go 'Oh, Maria, where have you been?'
Flora Salihovska, a ward aide, works alongside Maria during patient admission and discharges and says she appreciates Maria's sense of humour. "We help each other and that's what it's all about, teamwork," she says.
On the hospital side at Providence, there are 250 patient beds with an average length of stay of 27 days. Budhu's team surveys residents and patients each month and often receive feedback saying that the staff is polite and the level of cleanliness is wonderful. "I think they're the most kind and hard working staff that I have come across. They show a lot of patient-centered care in a very supportive way," she says.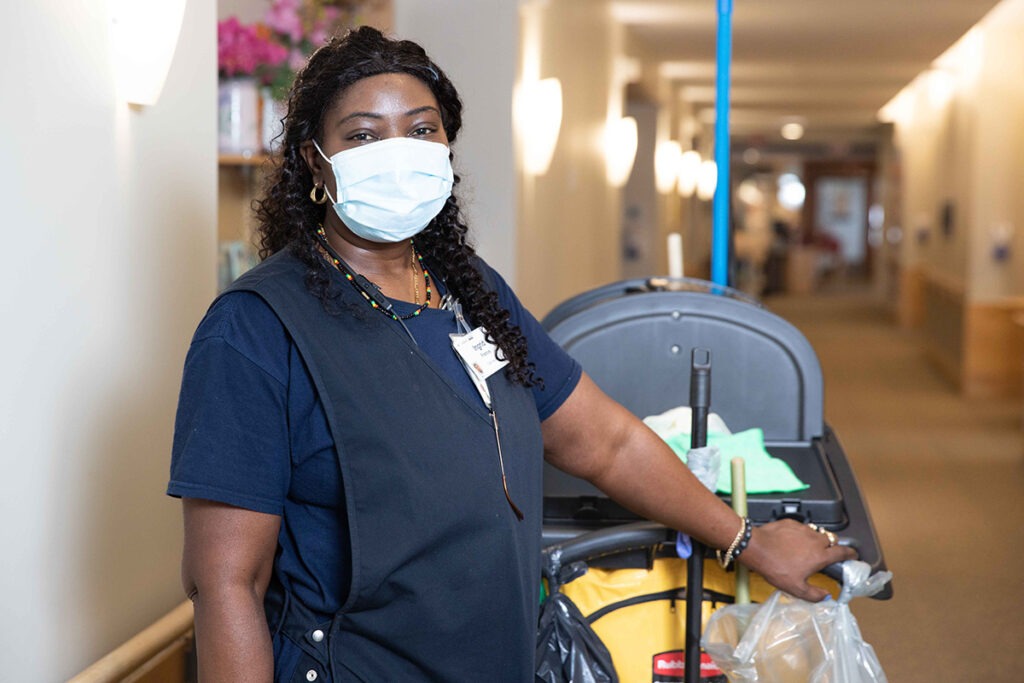 In the Houses of Providence, a long term care home with 288 beds, Ingrid Francis has been a housekeeper for the past seven years. "In the beginning, COVID was stressful but I wasn't afraid," she says as she recalls the frequency of room cleaning increasing from two to six times a day. "I make sure to take all my precautions and put on the proper PPE before entering an isolation room. My supervisor made sure everyone was prepared mentally and physically."
For residents at the Houses, this is their home, so on top of being sterile, there is special attention paid to comfort and making the space feel cozy.
"The cleaners have a relationship with the residents. They get to know their stories and know them as people, not just occupants of the building," says Fletcher. Francis agrees. "You are entering their space," she says. "I greet them and say 'Hi Mrs. so-and-so, I'm here to clean your room today. How is your day?' There is one lady who can not respond but I know that she hears me. I always interact with her and say 'Hi, how are you feeling today?'"
The resident rooms are filled with personal items such as fabric furniture, picture frames and china cabinets. When the first wave of COVID-19 hit long-term care, there were protocols for cleaning standard hard surfaces in hospitals but not for soft textured materials. Budhu says her team met regularly with the Infection Prevention and Control team (IPAC) for guidance. "IPAC assisted during all of the waves and outbreaks to identify types and frequency of cleaning needed and the approved chemicals." Beyond private rooms, the team also focused on sanitizing common areas such as entrance way door handles, light switches and staff lunch areas.
During hard days, Francis gets a boost when she is able to help a resident in need, such as assisting them with putting away laundry. On one such occasion she told Budhu it made her feel happy and proud. "The way Ingrid works, it is as if she was working with her family members," says Budhu. "A lot of our cleaners do not have loved ones here in Canada, so when they help an elderly person, they feel like they are doing a service to their own parents. That's what I hear a lot."
When asked about the best part of her job, Francis says she gets a lot of satisfaction from seeing a clean room. "When I pass by a room that I've cleaned, I'm like 'Wow — this is clean.' I like to know what I do is well done." Maria shares her passion for dedication. "I'm very proud of what I do. I try to do my best and when I go home I feel good."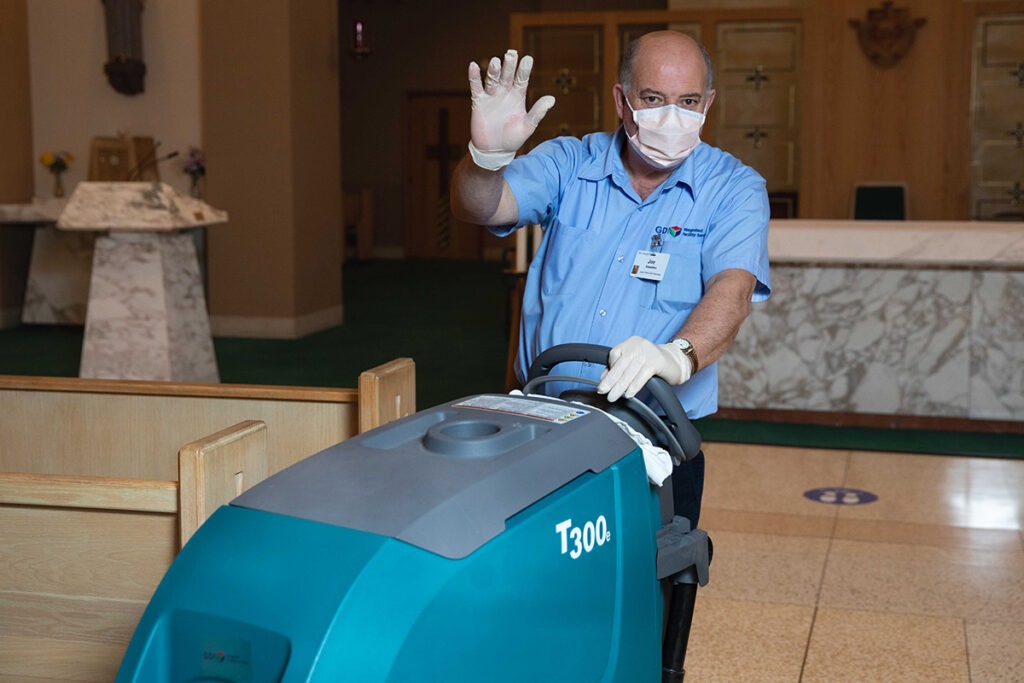 Reflecting on the past two years, Budhu says, "I think given the role that housekeeping played in this pandemic, they haven't been thanked enough. They are part of the circle of care and I'm most proud of them for stepping up." Although not providing direct medical care, the cleanliness of the space does impact the patient experience. "If my team decided one day just not to show up, the rest of the care would not happen," says Fletcher. "Patient rooms wouldn't get cleaned,  new admissions couldn't come in, and procedures would not happen. It would be more than just a slowdown, it wouldn't be able to function. They are invisible heroes."
By: Katie Cooper