'The staff on this unit are powerhouses': What a pediatric researcher learned when she pitched in at Providence
February 08, 2022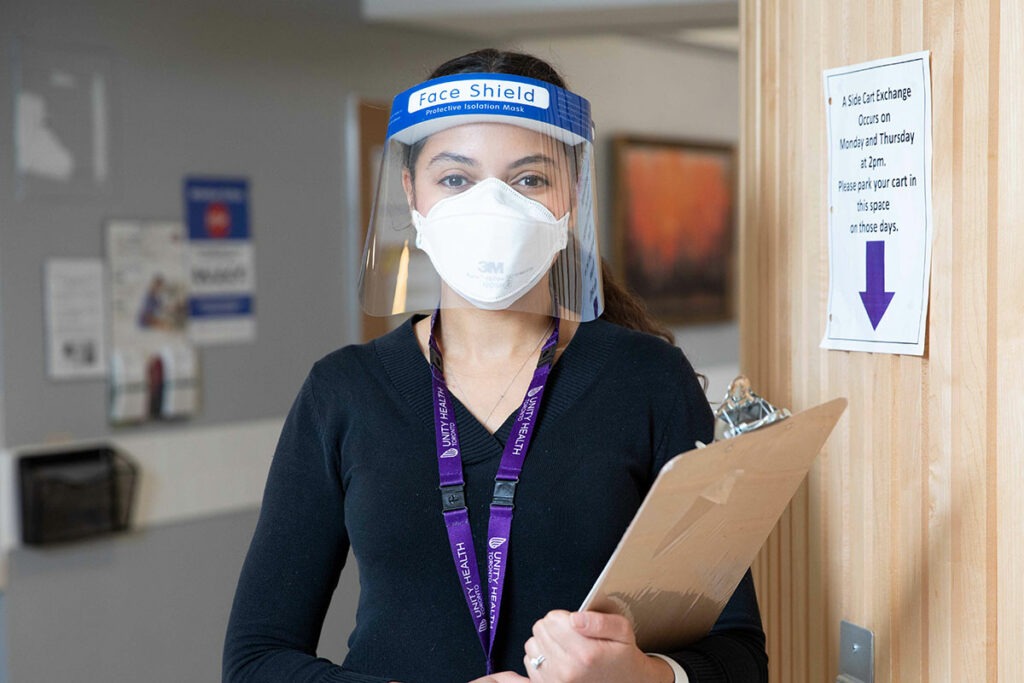 Julia Thompson is a Pediatric Research Assistant who normally works offsite at a community children's clinic. She's engaged in a study (TARGet Kids!) to examine nutrition and development in young children. In January, she was redeployed to Providence Healthcare to work as a Patient Family Liaison in the A4 Geriatric and Medical Rehab Unit, helping co-ordinate visits and providing patients' care partners with updates. She shares some of her impressions here.
Did you volunteer?
I did. All of my team members have children and additional life responsibilities so I thought it made the most sense for me to be redeployed as I have more flexibility in terms of transitioning, having different work hours, commuting somewhere new and so on.
What is your new role?
I provide non-clinical patient updates for Essential Care Partners (ECPs), who are substitute decision makers for patients. I provide them with any policy changes and reinforce mask wearing and hand hygiene during visits. I spend a lot of time on the phone speaking to ECPs to book in-person visits; we have about 5-12 in-person visits per day. I transfer calls to appropriate team members and contribute relevant patient communication to the inter-professional progress notes in the charts. For family members who can't come in because the patient is in isolation, I provide a daily phone summary of the patient's day and offer non-clinical updates (ex. Mr. Smith had physio at 11 today and did blood work).
What has the learning curve been like?
To be honest, I was a bit nervous about the change in assignment. From pediatrics to geriatrics, off-site research to hospital care, there's definitely been some big changes to what my day looks like! There's space for 35 patients on the unit (and all beds are always taken). I was not familiar with working in such a large interdisciplinary team but I've been enjoying it. In terms of patient interactions, it's been a new experience for me to work with patients with conditions such as dementia, Alzheimer's, hearing impairments, mobility limitations, and so on. Regardless of one's age or condition, being compassionate is really at the core of how the staff on unit A4 interact with patients. It's inspiring and heartwarming.
Has it increased your appreciation for staff in your new area?
Absolutely! The staff on this unit are powerhouses who work as a cohesive team to provide exceptional care to patients. It's truly never a dull moment here. The commitment to the extra PPE required when the unit has an outbreak, combined with the extra emotional support given by staff when Essential Care Partners (ECP) aren't allowed in for visits amazes me.
What skills do you bring from your home job that you have applied in your new role?
Although the patients I work with are much younger in age, I'm very familiar with working with patients and their families, and that experience has been helpful. In my home role, I'm part of a big team and those team-working skills have been great to apply to this new role. I've been able to use my communication skills speaking to families and patients in person and virtually. My knowledge of patient confidentiality and human rights/ethics has been beneficial when being responsible for so much patient information.
–As told to Laura Boast. This interview has been edited and condensed
Redeployment profiles