All together now
During Omicron, over 170 Unity Health Toronto staff joined the front lines as part of a redeployment effort. Here's how they have supported our teams
February 08, 2022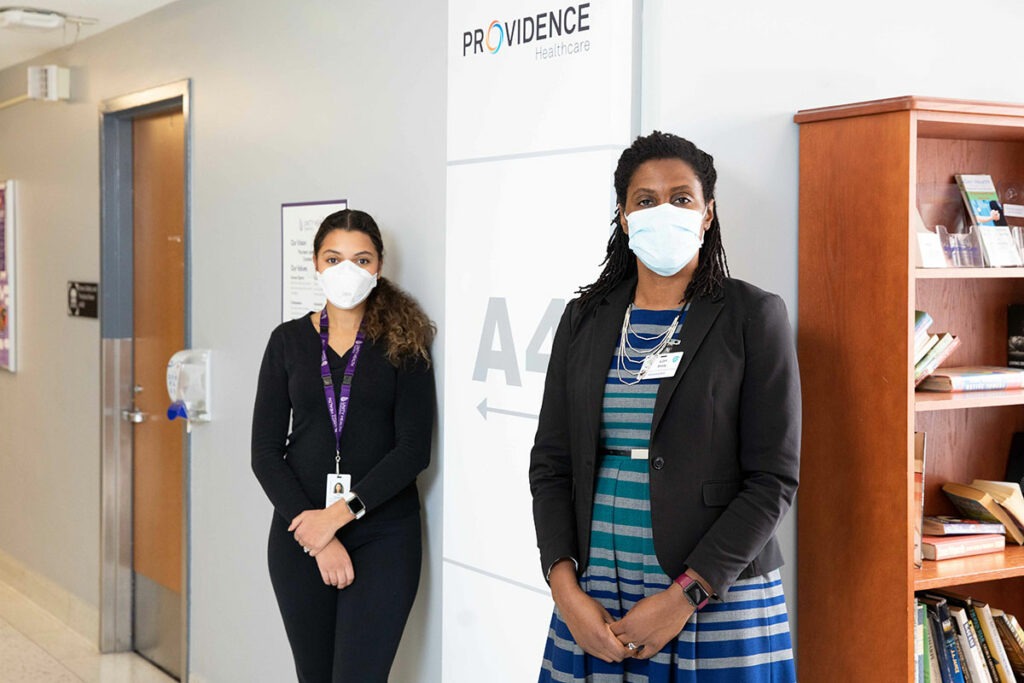 When Karen Ung, Manager of Research Administration at Unity Health Toronto, took a pause over the holidays and looked ahead to 2022, she hoped for a routine year – not just for herself, but for the 900 other employees who work in Research. The calm didn't last.
By January 11, COVID-19 case counts were soaring across Ontario, along with pressures on St. Michael's Hospital, St. Joseph's Health Centre and Providence Healthcare and other hospitals across the province. Emergency Departments and ICUs were strained as they took on not only local patients, but patients transferred from other hospitals.
As patients were arriving, staffing levels were hit by the highly contagious Omicron variant. Some staff were testing positive despite being fully vaccinated. Many more had been exposed to the virus in the community, and in line with a robust hospital policy to protect staff and patients from transmission, couldn't come on site until they were cleared.
Lori Brady, Senior Clinical Program Director Clinical Programs at Providence Healthcare, describes the moment this way: "It was the sheer volume of staff getting COVID-19 or being exposed to it and having to stay off, combined with existing staff fatigue from previous waves, and the need to facilitate patient flow across the system. We needed help fast."
To help meet the staffing challenge, Unity Health Leadership made the difficult decision to redeploy staff where needs were greatest. It wasn't the first time in the pandemic that Unity Health had to redeploy staff. But Senior Director of Human Resources Manson Locke says it was the first time they needed so many different parts of the organization to support the effort.
"We knew that our clinical programs didn't have the people resources to go it alone," he says. "We needed teams from non-clinical areas to step up to support our patients."
The response was immediate. While redeployment was mandated, many staff volunteered to take positions in a wide range of roles, including contact tracing, lab and testing capacity, distributing PPE, supporting clinical leadership and helping patients connect with their families.
"It was really quite an imaginative process," says Dale Clement, Vice-President of Clinical Programs at St. Joseph's Health Centre. "We looked at everybody's skills, and found unique ways they could support patients and staff."
The redeployed staff came from teams that play a vital role at Unity Health hospitals but aren't normally in patient-facing positions; Education, Research, IT and Organizational Development all made major contributions. Project managers, IT operators, and others quickly found themselves stationed screening visitors at the door, helping with contact tracing, or supporting laboratory staff, calling patients' families – doing whatever was necessary to serve patients and support clinical teams.
Unity Health Vice-President of Education Beverly Bulmer says Education staff contribute to the care clinical teams provide every day. But for those who were redeployed to help on the front line itself, the experience was eye opening. She says: "Our redeployed staff really got a sense of what our patients are experiencing, and appreciated the opportunity to understand the complexities of a clinical environment better."
Of the 200 redeployed staff, almost one-third (60 employees) came from Research. Research employees work in a broad range of areas from labs to clinical research to policy and community research. Throughout the pandemic, many worked from home. Redeployment would change that – as staff were sent to work in front-line positions at the hospitals.
"It was incredibly stressful because of the impact on staff's personal lives and for many redeployed staff who would have to work in an unfamiliar environment, like an ICU," Ung says.
She helped leaders in Research, including Dr. Ori Rotstein, Vice President of Research and Innovation, make difficult decisions on who to redeploy. Their goal was to have as minimal an impact as possible on each team. First, they identified research that could not stop.
"There are lots of experiments that can't stop or involve patients receiving an active study drug," Ung explains.
It was a big ask for the scientists: they would have to reprioritize experiments and pause some research to free up a potential 10 per cent of staff for redeployment across Unity Health. Not only did Scientists agree, but some – like Dr. Janet Parsons – stepped forward and volunteered for redeployment. She works at the Applied Health Research Centre in the Li Ka Shing Knowledge Institute.
Trained as a physiotherapist, Dr. Parson also happens to be former front-line hospital staff. So when the call came, she answered. On January 17, Dr. Parsons was redeployed as a Patient Family Liaison (PFL) in Ward 4M, a busy General Internal Medicine Ward at St. Joseph's Health Centre – her community hospital.
"I was so happy when I got the assignment," she says. "I'd wanted to help anyway, but it's so nice to be able to help your neighbours."
She instantly felt at home with the 4M team – "they were so welcoming" – and in her role as a Patient Family Liaison (PFL), helping patients set up eVisits with loved ones. Much of her job as a Scientist involves making phone calls and talking about the patient experience and the family experience, so it was a natural fit. She adds that patients who haven't been able to see their family and friends due to visiting restrictions are really grateful: "It feels so good to be able to do something concrete."
Jacqueline Wiley, a Patient Care Manager at Providence Healthcare, testifies to the value of redeployed staff in the Patient Family Liaison role. She witnessed redeployed staff literally jumping on phone lines after two hours' orientation to field calls from anxious family members so front-line caregivers could attend to patients.
"They've been so valuable in providing extra time and attention to some of our patients who are not able to use the phone by themselves or could use an extra friendly visit for social stimulation," she says. "For family members, who otherwise would have been calling and calling, often not getting an answer on the other end, (the PFLs) have literally been a lifeline. "
Sonya Canzian, Executive Vice-President of Clinical Programs, says the contribution of all staff who have been redeployed has been felt by staff, patients and families, all across Unity Health's three hospital sites.
"It was all hands on deck and all hands on deck everywhere," she said. "That's something to celebrate."
Redeployment profiles
By: Laura Boast