New palliative care unit at St. Joseph's designed to improve patient, staff and family experiences
January 04, 2022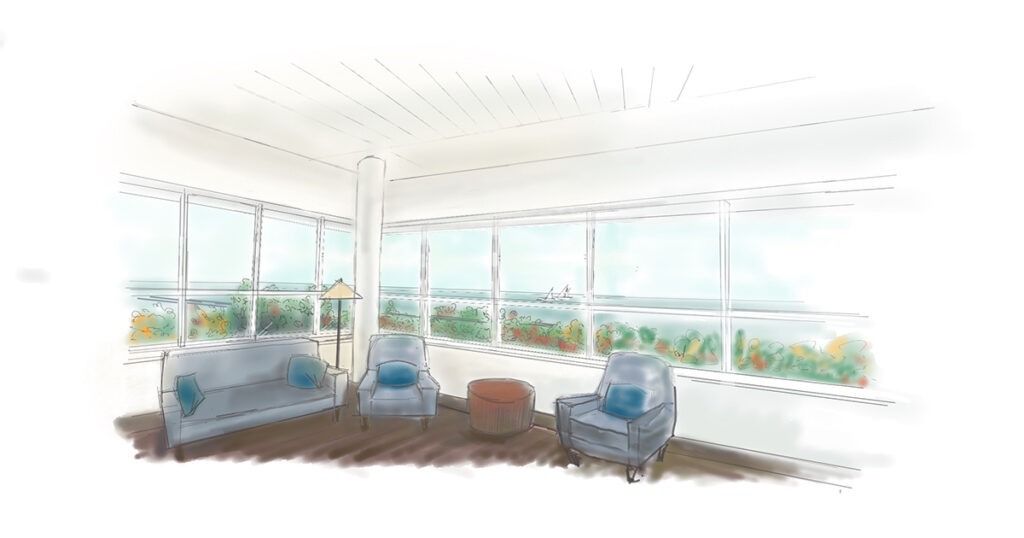 St. Joseph's Health Centre will be home to a new palliative care unit with cozy, cottage-inspired finishes, parts of which overlook Lake Ontario.
The unit, named the Lake House Palliative Care Centre, was made possible by an $11.6-million donation from Hans Koehle, in honour of his late wife, Audree Koehle, who received palliative care at St. Joseph's in 2015. The gift is thought to be one of the largest donations to palliative care in Canadian history.
"The Koehle family wanted a space that made patients feel empowered, comforted and supported in their final days," said Maria Dyck, President and CEO of the St. Joseph's Health Centre Foundation. "The family's special place was their cottage, which they called the lake house, so it only seemed fitting that we give this new space the same name."
The 15,000-square-foot unit, which is expected to be completed this summer, will offer 10 large, private patient rooms to accommodate patients' care teams and loved ones. The unit will feature a kitchen, dining area, work space and education centre to support patients' families.
Dr. Jennifer Hopfner, Division Head for Palliative Care at St. Joseph's, said that this consideration for patients and their families is what will set the space apart.
"Our philosophy for end-of-life care is about comfort, symptom management and supporting the whole family," she said. "This new unit gives us the space and amenities to do that. We have a great palliative care program at St. Joseph's but we've never had a dedicated space for palliative care."
This unit is also being designed with staff and physician experiences in mind. Large patient rooms will allow interprofessional care teams to gather comfortably, while work stations directly outside the patient rooms will create more efficiency during rounds.
These design considerations are intended to improve education and specialization by providing clinicians with more space to collaborate and share ideas. Dr. Hopfner said that she's looking forward to the dedicated expertise that will develop when the care team starts operating in this new environment.
"At this time, there's no dedicated multidisciplinary care for patients receiving palliative care, which means that providers are constantly shifting their focus, depending on the patient's philosophies," she said. "There are a lot of nuances with end-of-life care. It's a different skillset that we'll be able to nurture in our new centre."
The final piece of the unit is an outpatient clinic for patients who choose to receive palliative care at home. The clinic team will offer pain and symptom management, advanced care planning and support for patients who choose to transition from hospital to home and vice versa.
Dyck says that she can't wait to see it complete and is grateful to the Redevelopment team at St. Joseph's for making this space a reality.
"Palliative care is one of our areas of focus at Unity Health and another way that we're delivering our vision – The best care experiences. Created together ­– at St. Joseph's," she said. "The Lake House Palliative Care Centre will be a special unit for a lot of people and it means a lot to us."