'I'm really happy now': Kids roll up their sleeves at St. Joseph's COVID-19 Vaccination Clinic
Appointments still available for children aged 5-11 every day of the week
December 06, 2021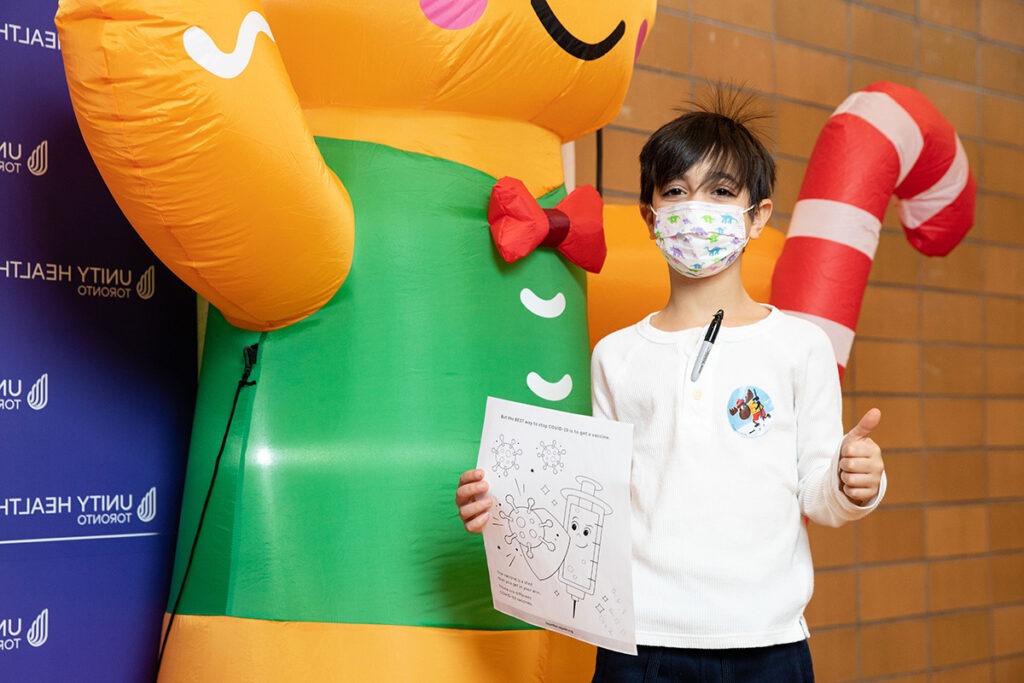 In a room filled with colouring sheets, stickers and inflatable holiday decorations, seven-year-old Domenico rolls up his sleeve to receive his first dose of the Pfizer-BioNTech COVID-19 vaccine. It's a moment several months in the making. Like many children between the ages of five and 11, Domenico has been waiting patiently for his turn to get vaccinated.
"I was kind of scared coming here, I thought the needle might hurt," he said. "But it was quick. It didn't hurt at all. I feel good and I'm really happy now that I'm vaccinated."
On Nov. 19, Health Canada approved the use of the Pfizer-BioNTech COVID-19 vaccine in children aged five to 11. Ten days later, Unity Health Toronto's COVID-19 Vaccination Clinic at St. Joseph's Health Centre reopened to provide vaccinations to children in this age group.
The decision to reopen the clinic was made based on the hospital's standing in the community, said Santina LeBrun, Operations Lead for the St. Joseph's COVID-19 Vaccination Clinic.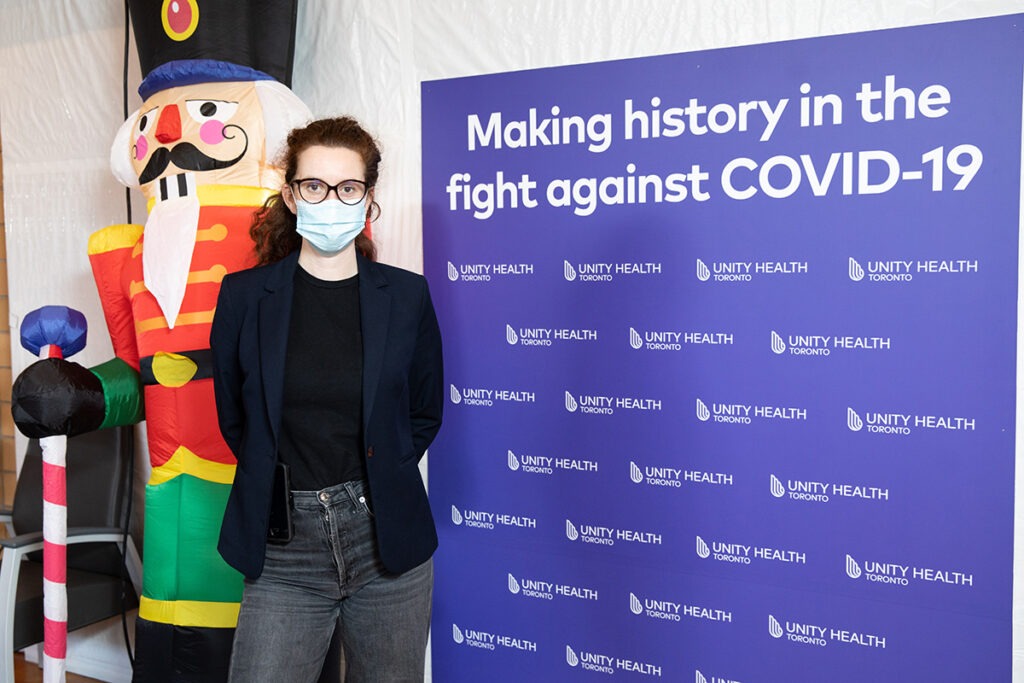 "Families in our west-end community turn to St. Joseph's when they need care," she said. "It only made sense that we reopen our clinic to continue to serve the needs of our community. And it feels really nice to be able to help the kids in our neighbourhood and the rest of our catchment area."
Though the clinic team at St. Joseph's has administered more than 65,000 doses of the COVID-19 vaccine to adults and youth aged 12 and older, LeBrun said that they wanted to make sure that the space felt kid-friendly. As soon as provincial officials announced that shipments of the Pfizer-BioNTech vaccine were on their way, the clinic team mobilized to get everything ready.
"These children have had other immunizations in the past but there are different factors at play here," said LeBrun. "It's been an anxious couple of years. We've seen so many children get swabbed here for COVID-19 and that can be a really traumatic experience. Our goal was to brighten up the space so kids feel safe and comfortable from the moment they arrive."
At the front doors, children are offered masks with dinosaurs or smiley faces. Inside the clinic, vaccination bays are fitted with colourful privacy curtains and filled with stickers, courtesy of the Pediatric Department at St. Joseph's. Colouring sheets are handed out to children to enjoy during the 15 minutes that they're asked to wait for symptom monitoring following their vaccinations.
Towards the exit, a large selfie wall is bordered on each side by eight-foot-tall inflatable holiday decorations, courtesy of the St. Joseph's Health Centre Foundation.
"When we announced that the clinic was reopening, so many teams across the hospital reached out to see how they could help," said LeBrun. "What you see is the product of a really big collaborative effort."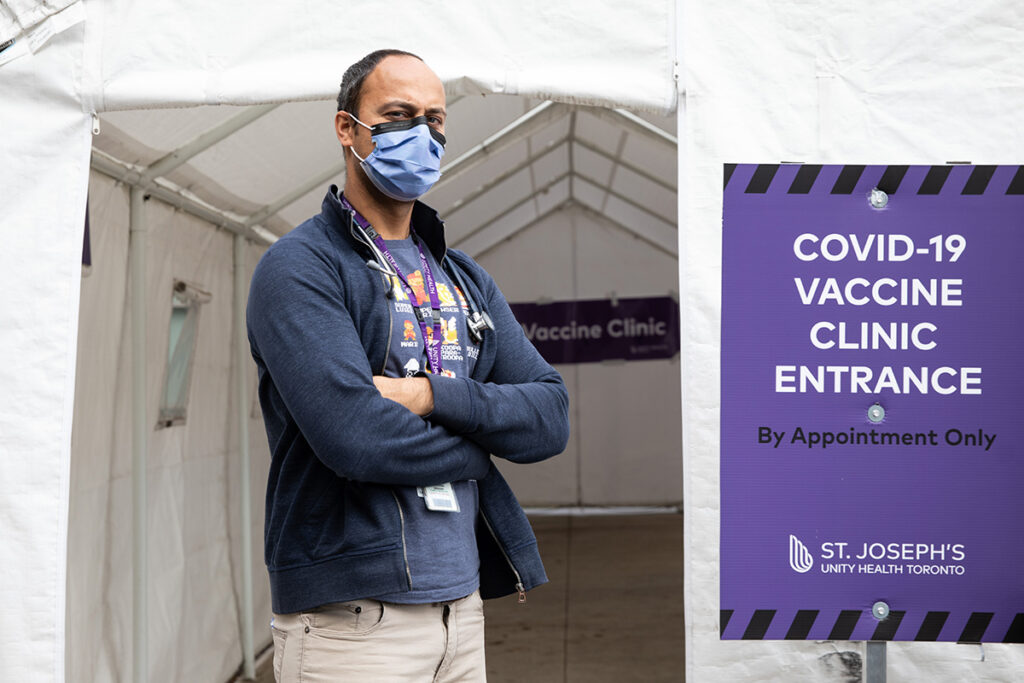 In addition to modifying the space, the vaccination clinic team also participated in education sessions to learn how to mitigate anxiety and manage needle phobia. Dr. Rajesh Girdhari, Family Physician at St. Michael's and vaccinator at St. Joseph's, said that the key to vaccinating children is to move quickly.
"When I vaccinate adults, I spend more time completing documentation before administering the vaccine but with children, I move to get the needle into the arm as quickly as possible," he said. "The longer the child sits in the chair, the more anxious the child becomes."
As a family physician and resident of the west-end community, Dr. Girdhari said that getting an opportunity to vaccinate children at the St. Joseph's clinic has been amazing. As a father of two young children who recently received their COVID-19 vaccinations, he said that it's even more special.
"Children have had a challenging couple of years," he said. "For my own kids, being at home and not in school last year was really hard. Being back in school this year has been the best thing that happened to them during the pandemic and getting vaccinated is our best chance to make sure that continues. I'm hopeful that with vaccinations, our kids will be able to get back to having normal lives."
To book an appointment for children aged five to 11 at the St. Joseph's COVID-19 Vaccination Clinic or for more information on eligibility, please visit our COVID-19 vaccination clinic page.
Gallery
By: Anna Wassermann