Order of Canada appoints Dr. Sharon Straus, physician-in-chief and scientist at St. Michael's Hospital
December 29, 2021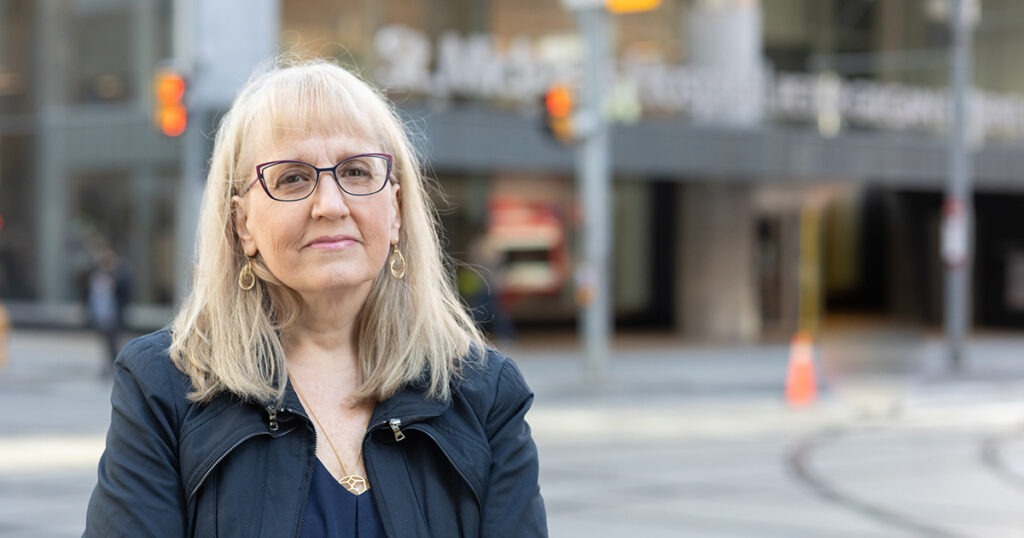 Dr. Sharon Straus, physician-in-chief at St. Michael's, whose research has been instrumental in highlighting how to optimize patient care and systems such as acute care and long-term care, has been appointed to the Order of Canada.
The Order of Canada recognizes outstanding achievement, dedication to the community and service to the nation and celebrates all sectors of Canadian society, honouring those who have enriched the lives of others and made a difference to this country.
Dr. Straus is an accomplished scientist, physician and advocate who has focused her work on the equitable treatment of populations. As a geriatrician who has long been focused on providing the best care possible for older adults, the past 20 months have brought a new sense of urgency to her work.
With her research this past year, which has included examinations of the transmission of COVID-19 in congregate settings for older adults, and reviews of the best approaches to care in long-term care, Dr. Straus has led the way in improving the lives of those who have been hardest hit by COVID-19: aging populations. In June 2020, she coauthored a report on behalf of the Royal Society of Canada on COVID-19 and the future of long-term care, calling out key elements of the COVID-19 crisis in long-term care and outlining recommendations to reform and redesign a system whose longstanding fractures were highlighted by the pandemic.
Dr. Straus says the Order of Canada is dedicated to her parents.
"We didn't have lots of resources growing up – my dad worked multiple jobs to make sure we had opportunities and could go to university," she said. "My parents taught us that we have a duty and a responsibility to society to make things better."
Family set her on the path to medicine. At a young age, Dr. Straus' mother took her and her siblings to visit their great-grandfather at the home he lived in for aging veterans. Dr. Straus remembers the constant coughing from the former soldiers, including her great-grandfather, who had been gassed in the First World War at Ypres. She remembers some were missing arms or legs.
"I enjoyed hearing their stories. My love for older people grew from there and I wanted to make sure that older adults are seen as valuable, resourceful and incredible members of our society."
Dr. Straus completed her clinical training in internal medicine, and then followed her goal to care for older people by specializing in geriatric medicine.
From there, she went to the United Kingdom to complete her research training and became fascinated not only with research, but also with taking research and implementing it into practice. According to a series of articles published by The Lancet, about 85 per cent of research investment is 'wasted' and not put to use.
"That's where the Knowledge Translation Program came about," said Dr. Straus, who now directs the program at the Li Ka Shing Knowledge Institute. "It's about ensuring research gets disseminated, and if it needs to get implemented in practice and policy, then it gets implemented."
Having co-authored more than 500 articles, from research focused on the gender gap in academic institutions to analyses of the reports and recommendations on long-term care in Ontario, Dr. Straus' work has created waves and offered decision-makers evidence to drive change. She holds a Tier 1 Canada Research Chair in Knowledge Translation and Quality of Care. She is also St. Michael's first female physician-in-chief.
Despite these personal achievements, when you ask Dr. Straus about her proudest accomplishments, she lists off the names of mentees who have found success in their work.
"When Dr. Andrea Tricco was awarded a Tier 2 Canada Research Chair, when Dr. Jennifer Watt received the CIHR Rising Star award, and when Dr. Argie Veroniki won the Polanyi Prize – that means the most for me to see."
In the Knowledge Translation Program, Dr. Straus has fostered a culture of mentorship where scientists continue to mentor one another throughout their careers.
"She's breaking down barriers and bringing women with her," said Dr. Tricco, director of the Knowledge Synthesis Team in the Knowledge Translation Program, who is one of Dr. Straus' mentees.
"She has taught me the importance of mentoring with an equity lens to use the privilege that I have in society and in my career to bring people up with me. She's really taught me to pay it forward."
With this work, and her hospital leadership, Dr. Straus is an important influence at Unity Health.
"She is a valued voice and a powerful leader in our institution," said Dr. Tim Rutledge, president and CEO of Unity Health. "I look at the pandemic as one example of how she has contributed to our hospital and institutions beyond our walls. Not only was she on the ground with physicians and frontline staff mapping out strategies for our units and delivering the best care to patients, her research team has also continued to tackle important questions around COVID-19 and interventions in congregate care settings.
"I want to congratulate Dr. Straus for this well-deserved honour. While I am thrilled, I am not surprised, as she has left a lasting imprint with her work."
Dr. Straus said her goal is to achieve what her parents taught her to do: make things better for those around her.
"Our legacy is our impact on others. What people remember about you is the lives you touch. I hope my legacy will be that others will have more opportunities and choices."