"I see a light now": How The Forgiveness Project Toronto used artistic expression to help individuals with substance use disorders
November 09, 2021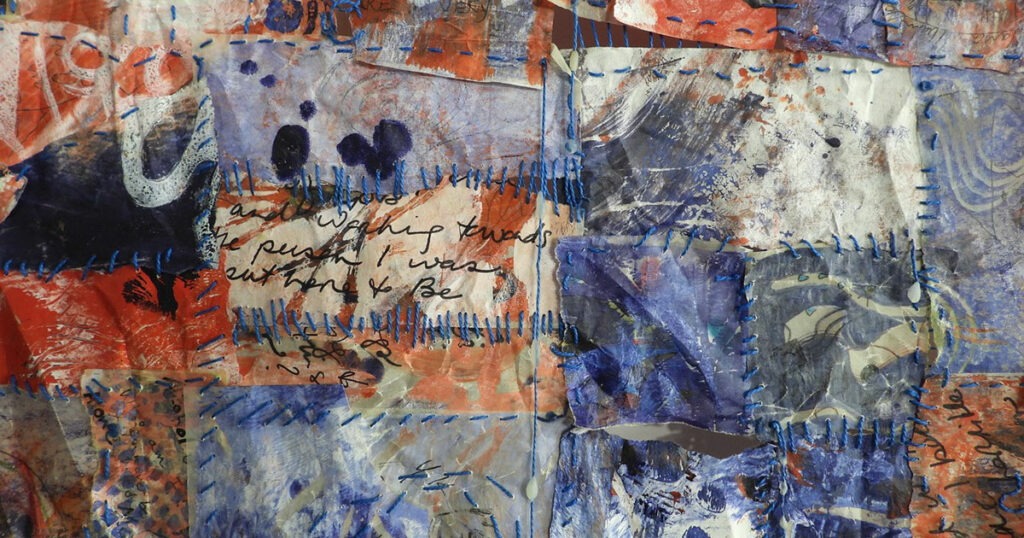 Before the pandemic began, Robyn Alexander, addiction counselor at St. Joseph's Health Centre, and Loretta Faveri, a local Toronto artist, joined forces on a project that used artistic expression to help heal individuals with substance use disorders in their recovery.
The project, called The Forgiveness Project Toronto, ran weekly two-hour virtual modules over the course of eight weeks in the spring of 2021. The project was funded through a grant from the Ontario Arts Council and was a partnership with St. Joseph's. Each module focused on a different theme, such as shame, forgiveness, compassion and joy. The co-facilitators paired therapeutic group discussions with mindful meditation and art making, allowing participants, all outpatients in St. Joseph's Addiction Medicine Service, to process the discussion through journaling, doodling and printmaking on special sheets of Japanese paper.
When the COVID-19 pandemic forced people to isolate at home, offering this program on Zoom was a gift for participants. Each of the participants received a hand-constructed box full of supplies they would need, including sheets of Japanese paper and tools for printmaking.
The participants were encouraged to write about anything, write in circles, create mandalas and doodle, among many other exercises. Then, they would use a gel press to paint layers upon layers over top of what they had written.
By the end of the eight-week session, each of the eleven participants contributed nine torn and stitched squares to create a hand-stitched paper tapestry that reflects the healing process.
"The art work consists of layers of journaling, doodling, automatic writing and print art which represents the layers of life," said Alexander. "The art was the expression of the emotion that arises due to past pain, shame and trauma. The real turning point was when the art work was ripped up in a ceremonious way, showing the capacity to tear through past shame and create something completely new."
Alexander explained that the torn art was then stitched together by the participants in a new way, representing the participants' journey from shame to forgiveness. "The thread used to stitch all the art together again signifies the collective strength of the group to build something new together out of the past."
The tapestry is on display at the Craft Council in St. John's, Newfoundland and Labrador, until November 12, as part of Faveri's "Art of Forgiveness" show. The art will then be shipped back to Ontario, where it will become a permanent display at St. Joseph's.
Marika H., a participant, said the program gave her an avenue to explore feelings that surface in recovery.
"For me, one of the markers of addiction is that you hide and isolate," she said. "I'm over one year sober, and this project gave me an avenue to explore shame, vulnerability and all the feelings that can come up in recovery and weigh heavily on a person. I was able to express how I felt, how I lived and how I want to be free."
The project provided participants with a safe space to express their feelings and connect with one another in an authentic and natural way.
"You could write anything and then make your decision to veil it with the paint so that the words were for you only," Marika H. said. "I could be free to express the pain or joy I felt in the moment…The journals and the art were our own private healing, but now, with the art on display in St. John's, we were given the chance to put our feelings out into the world as well."
In typical recovery modalities, pain, shame and trauma are often guarded and are difficult to access, explained Alexander. By building a place of safety, the participants used this creative outlet to release their feelings and work towards healing and recovery in a way that would not otherwise happen.
"When we think about shame, the very thing it needs to live is darkness and secrecy. It's amazing to think that these things were, at one point, so shameful that people couldn't even imagine speaking it aloud, but are now part of an art installation in St. John's and are working as an inspiration for other people and their healing," said Alexander.
In Alexander's 26-year career working in addiction and mental health, The Forgiveness Project is the first initiative she has participated in where she's seen incredible growth and shifting in such a short amount of time. She hopes that they will be able to continue this project for more patients in the future.
"I'm extremely proud to work at a hospital like St. Joseph's that's open to community collaboration and practices such as mindfulness and expressive art. It's been a truly remarkable experience working with Loretta and the participants," said Alexander.
When Marika H. reads over her journals from the summer, she is reminded of the impact The Forgiveness Project had on her.
"I'm grateful that the project left me with the tools I need to continue to work on my healing because finding forgiveness for myself is an ongoing process. I see a light now, and through art and writing I have found a very important key to helping me heal, grow, learn and move forward."
By: Jessica Cabral