News Makers: Week of October 2-8
October 08, 2021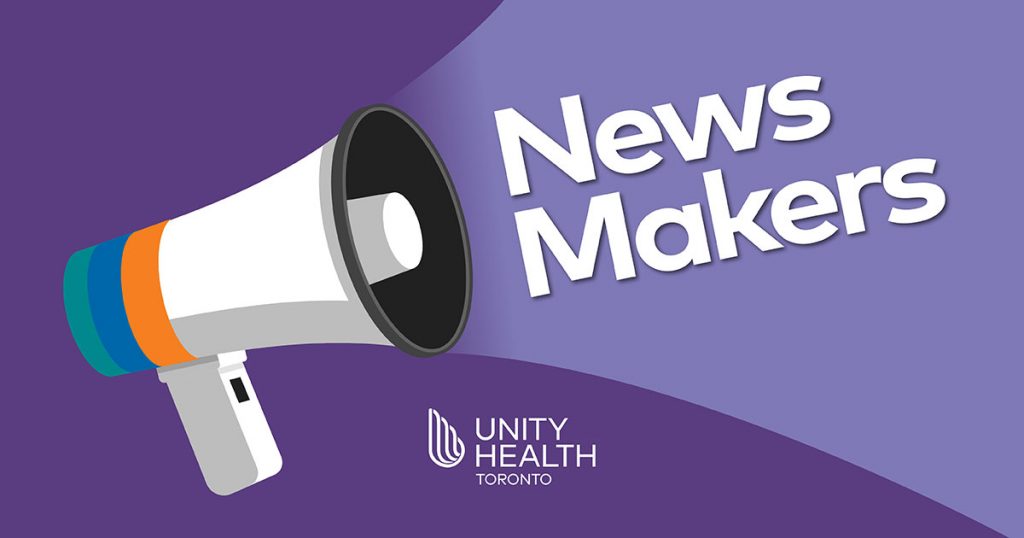 Each week, journalists turn to Unity Health Toronto's experts and programs to help make sense of our world. In case you missed it, here's a recap of the headlines for the week of October 2-8.
St. Michael's Hospital opens new Multiple Sclerosis clinic
CTV News Toronto on October 7, 2021
Feature of BARLO MS Centre; interviews with Dr. Jiwon Oh, patient Ardra Shephard
The new BARLO MS Centre at St. Michael's Hospital is designed to offer coordinated care for patients living with MS. Dr. Jiwon Oh speaks with CTV News Toronto about how the new clinic will advance MS care, education and research.
'Long COVID' is painful, expensive – and so far, impossible to cure
The Globe and Mail on October 8, 2021
Interviews with Dr. Fahad Razak, Dr. Anna Banerji, Dr. Ashley Verduyn
An estimated 10 per cent of Canadian adults infected by COVID-19 will have long-term, potentially debilitating symptoms. Dr. Fahad Razak of St. Michael's Hospital, Dr. Anna Banerji of St. Joseph's Health Centre speak to The Globe and Mail about Long COVID, and Dr. Ashley Verduyn of Providence Healthcare highlights the hospital's multidisciplinary approach to rehabilitation when it comes to caring for Long COVID patients.
Ontario to roll out rapid testing for unvaccinated students in COVID-19 hot spots
Toronto Star on October 5, 2021
Interviews with Dr. Irfan Dhalla, Dr. Anna Banerji
Rapid antigen tests are a valuable tool, but are not a silver bullet and shouldn't lead to a false sense of security, say Dr. Irfan Dhalla and Dr. Anna Banerji in the Toronto Star.
Coping with blood cancer treatment during COVID-19
The Globe and Mail on October 5, 2021
Interview with Dr. Lisa Hicks
The pandemic has been especially challenging for cancer patients, Dr. Lisa Hicks tells The Globe and Mail. She says the pandemic has crystalized how important family members and caregivers are to the cancer experience.
New data shows that homelessness is a women's rights issue
The Conversation on October 6, 2021
Opinion piece co-authored by Dr. Jesse Jenkinson
Lack of access to housing has gendered causes and effects, and gender equality in Canada depends on fair access to adequate housing, writes Dr. Jesse Jenkinson and her co-authors in The Conversation.
Social workers are essential workers, too
Healthy Debate on October 8, 2021
Opinion piece by Shelley Allen
Social workers are integral to all parts of the health-care system, writes Shelley Allen, professional practice leader in Social Work at Providence Healthcare. To ensure that people can recover from the impacts of the pandemic, Ontario needs to strategically deploy social workers to key settings, she writes in an opinion piece in Healthy Debate.
This is why I got vaccinated during my pregnancy
Today's Parent on October 1, 2021
Interview with Dr. Tali Bogler
In this Today's Parent story, Dr. Tali Bogler discusses the safety of COVID-19 vaccines during pregnancy and the importance of including pregnant people in clinical trials.
Trick-or-treaters should head out cautiously this year, experts say
CTV News on October 7, 2021
Interview with Dr. Anna Banerji
How can kids safely trick-or-treat this Halloween? Dr. Anna Banerji weighs in and says the decision ultimately comes down to what kind of risk the parents are willing to accept.