Journey to recovery after COVID-19 at Unity Health Toronto
September 15, 2021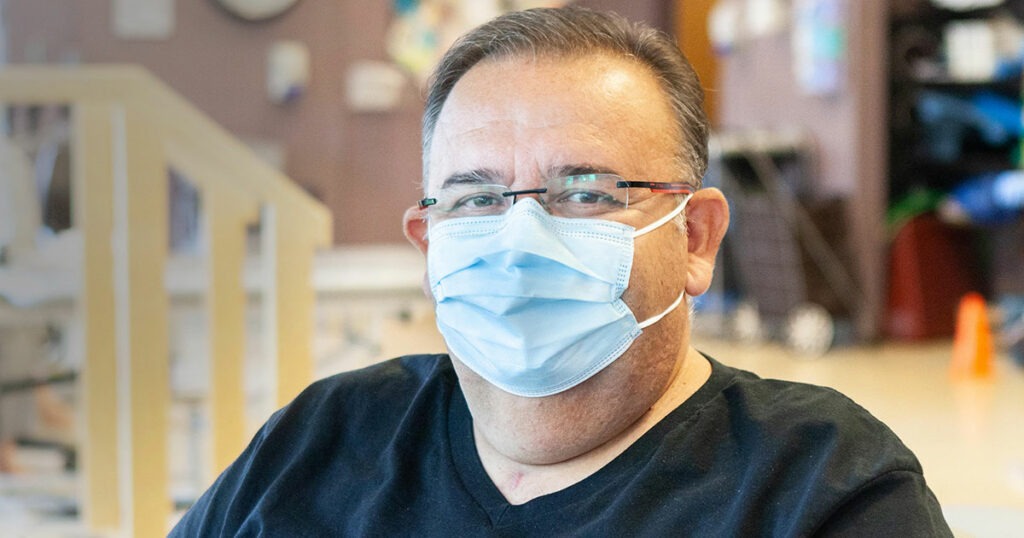 The pandemic has changed many people's lives, especially for those who contracted COVID-19. Recent evidence has showed that about one in three individuals who have had COVID-19 will develop Post-COVID Condition and experience symptoms such as fatigue, chest pain, loss of smell, muscle pain, headache, anxiety and depression that can last for months or possibly longer.
This year for Rehabilitation Day, Unity Health Toronto is showcasing our new Outpatient Post-COVID Condition Rehabilitation Program at Providence Healthcare to support patients' in journey to recovery.
Meet Jaime:

When Jaime arrived in the Emergency Department suffering from COVID-19, he says doctors gave him a 30 per cent chance of survival. He spent 50 days in a coma. "It was terrifying," says the 53-year old Scarborough resident.
Eighteen months after his ordeal, Jaime is receiving physical therapy at Unity Health's Outpatient Post-COVID Condition Rehabilitation Program at Providence Healthcare.
At Providence, patients are linked to a wide range of treatments that take a custom approach to patient care. Services provided by the interprofessional team include, physical therapy, occupational therapy, social work, speech-language pathology, and dietetics. Patients are also connected to customized specialty care including physiatry, respirology, geriatric, psychiatry, cardiology and more to support each patient's path to recovery. 

Jaime's path has been long and difficult, but he didn't given up hope. "My steady recovery has been really encouraging." With the support of his healthcare team and family, Jaime has been working towards regaining his independence and processing his trauma. 
The Outpatient Post-COVID Condition Rehabilitation Program is part of Unity Health's three-year Post-COVID-19 Condition strategy to help patients receive the rehabilitative care they need and reduce the hospital or emergency room visits. The strategy includes:
Creating an inter-professional and holistic model of care to support patients experiencing Post-COVID Condition;
Developing an approach to expand the model of care across our hospital network, working collaboratively with our partners in the community we serve;
Contributing to the growing body of research and understanding of Post-COVID Condition, with a view to knowledge transfer and exchange to support the system; and
Creating a program which supports reducing unnecessary emergency department visits and facilitates patient care within a community setting.
Our goal is to expand this program to better support an estimated 34,000+ individuals in the Greater Toronto Area who may be suffering from Post-COVID Condition.

Unity Health's strategy is another example of how our incredible teams continue to identify and create solutions to address gaps in the care experience for patients in our communities.
By: Priscilla Hsu