Celebrating Pride at Unity Health Toronto
June 17, 2021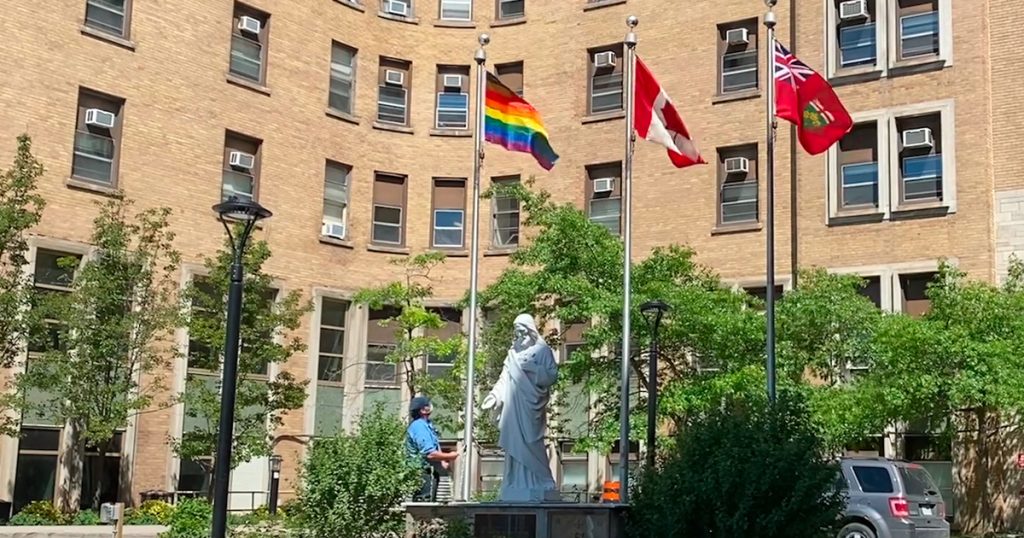 In recognition of Pride month, all Unity Health Toronto sites have raised a Pride flag outside of main entrances for the month of June in celebration and solidarity with 2SLGBTQ+ staff, physicians, learners and patients. The flag raising is one of several initiatives that our Council on Anti-Racism, Equity and Social Accountability is organizing and promoting for Pride month.
Unity Health Toronto is a place where everyone belongs, is welcomed and is celebrated. We believe diversity is our strength, and that everyone is worthy of dignity and respect. Discrimination against 2SLGBTQ+, particularly in healthcare, is an unfortunate reality. We must acknowledge that this discrimination is rooted in institutional marginalization against 2SLGBTQ+ peoples and is an ongoing, active process today. Our goal is to provide the best care experience to everyone who interacts with Unity Health and as a Catholic organization, our values affirm that we stand in solidarity with 2SLGBTQ+ staff, physicians, learners and patients. Today, we take a first step by being accountable for our own histories and becoming a leader for others to follow.
We recognize that allyship does not begin or end with raising a flag for Pride. As far as we have come, there is still more work to do. Pride month is an opportunity to reflect on what we can all do to better support reconciliation and inclusivity for the 2SLGBTQ+ community. It is everyone's responsibility to ensure our colleagues and patients feel safe, welcome and celebrated. As Unity Health, we are committed to listening to 2SLGBTQ+ communities and using their voices for transformational institutional change. We acknowledge and apologize to any of our 2SLGBTQ+ peoples and patients who have been waiting this long. We value you and your contribution to what makes Unity Health a safe, nurturing, and inviting space.
In recognition of this moment at Unity Health we asked some of our people to share their reflections on what Pride means to them and what this moment means to our people and our patients.
We wish our 2SLGBTQ+ staff, physicians, learners and patients a Happy Pride!