Sharing the load: How Unity Health Toronto is contributing to the COVID-19 pandemic response
April 28, 2021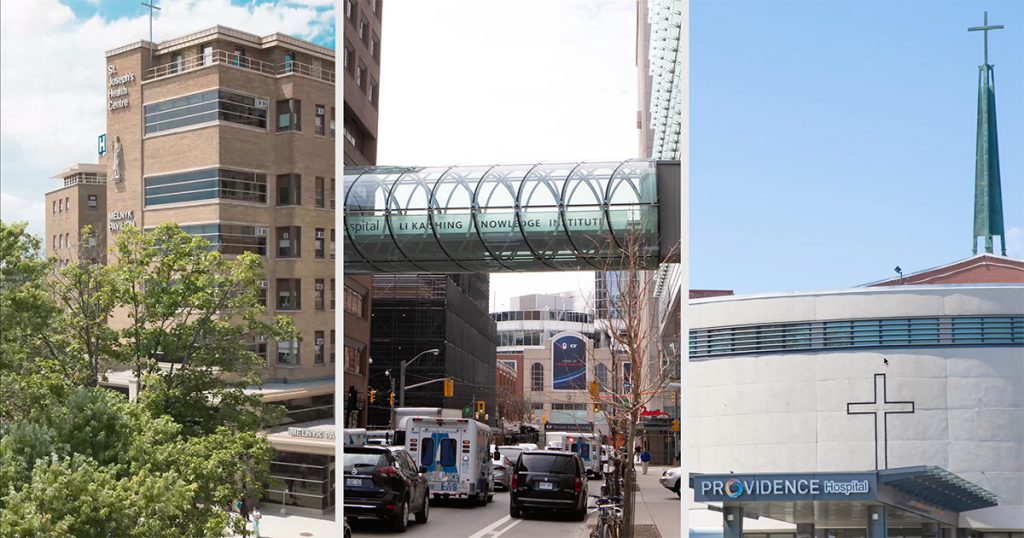 By Jessica Cabral
Ontario's hardest-hit hospitals have transferred hundreds of patients in recent weeks as wave 3 puts a heavy burden on Ontario's health system. Unity Health Toronto has cared for hundreds of COVID-19 patients transferred to our sites through the GTA Incident Management System (IMS) — a system set up by the province in November to coordinate patient transfers under the leadership of Unity Health's Dr. Andrew Baker.
How have teams at Unity Health adapted to be able to care for these vulnerable patients in this challenging, unprecedented time? We spoke with teams at our three sites about the creative solutions, staffing changes and logistical moves being made in this all-hands-on deck, system-wide effort.
General Internal Medicine at St. Michael's Hospital
The General Internal Medicine (GIM) team at St. Michael's Hospital began strategizing to increase their inpatient capacity early in the pandemic.
The team reviewed patients deemed as alternate level of care and transferred them to units in other areas of the hospital. Quickly, they identified a small section on the unit to use as an isolation area, changed their staffing ratios and honed their attention on proper personal protective equipment use. Staff safety and quality care for patients remained top of mind as they shifted their efforts to support immediate COVID-19 care needs and system capacity for the province.
That spring, the GIM team expanded their bed footprint to an additional 16 beds when they moved to the eighth floor of the Peter Gilgan Patient Care Tower. With this expansion, the team hired 50 to 60 staff members to manage the numbers.
"Our staff and the newly hired team members showed resiliency and dedication to our patients from day one. They've constantly gone above and beyond to manage patient care needs and work as a team," said Kim Grootveld, Clinical Leader Manager, General Internal Medicine, Geriatric and Stroke at St. Michael's. "We were in constant communication with and received support from other teams like Infection Prevention and Control, the Emergency Department, Access and Flow and Inter-professional Resource."
Last fall, the team moved again, this time to the sixth floor of the Peter Gilgan Patient Care Tower and received funding to expand an additional 16 beds and provide staffing to manage the increasing COVID-19 numbers.
Between November 2020 and April 2021, St. Michael's GIM team has accepted over 150 patient transfers – a combination of IMS directive transfers and patients from St. Joseph's Health Centre.
According to Dr. Vera Dounaevskaia, Interim Division Head of General Internal Medicine at St. Michael's, most COVID-positive patients transferred require acute care. To manage the high volume of patient cases, Dr. Dounaevskaia explained that the team adapted to become more efficient which included having daily team meetings to ensure smooth patient transfers from the sending facility, to work through any issues and concerns and to locate a bed for the incoming patient.
"When the IMS directive transfers began, everyone on our team understood what needed to be done and we came together to work as a team," said Dr. Dounaevskaia. The team has been extremely hard working and adaptable. We support each other and listen to each other's feedback. The work we do in GIM plays an integral role in the COVID-19 response. "
As the demand for bed capacity surges, the GIM team at St. Michael's will continue to provide capacity support and contribute to the regional and provincial fight against this virus.
Patient Flow at Providence Healthcare
All of the inpatient units across Providence Healthcare have stepped up to accept IMS transfer patients. From housekeeping to pharmacy, staff and physicians have supported the increase of patient admissions and the move of beds throughout the hospital. The Patient Flow team has been just one of the integral pieces contributing to the pandemic response work.
Between Dec. 3 and April 13, Providence accepted 122 IMS directive transfers. These transfers included patients with alternate level of care status (ALC), such as ALC for rehab or ALC for long-term care as well as some COVID-positive patients. Patient Flow has managed this patient movement, receiving directives from IMS, connecting with the sending facilities and working with Providence teams to ensure they have the right supplies.
"The Patient Flow team has been great throughout this entire process. They're very much leaders and ongoing learners. They're familiar with what's happening in the system and they remain in touch with the latest information. Things are changing not even every day, but within the day from moment to moment, and the team has adapted quickly," said Kelly Tough, Manager, Patient Flow at Providence.
For Tough, the process of transferring patients highlights how the GTA health-care system is coming together to collaborate to maintain hospital capacity across the region.
"It's a unique situation where we need to understand the whole system in terms of capacity. We need to be aware of which facilities need help and we need everyone to collaborate and provide the help required," Tough said.
Pediatrics at St. Joseph's Health Centre
At St. Joseph's Health Centre, contributing to the COVID-19 pandemic response meant converting the pediatric unit to a COVID-19 adult inpatient unit. In collaboration with multiple teams across the hospital, the pediatric unit closed to new admissions in January and shifted the effort to meet the capacity needs of the adult COVID-19 population.
"In early January, many of us were surprised to see the IMS directive that inpatient pediatrics at St. Joseph's and a couple of other institutions would be closed immediately to make room for adult patients. I was very fortunate to work with a team of leaders, managers and nurses that made the transition as smooth as possible, particularly for our patients and their families," said Dr. Anne Wormsbecker, Pediatrician and Interim Chief of Pediatrics at St. Joseph's.
The unit became a shared space for both adult and pediatric patients in March, but it was announced on April 12 that pediatric patients who needed to be hospitalized would be transferred to The Hospital for Sick Children. Despite the closure of the unit, care is still provided through the Just For Kids Clinic, Paediatric Consultation Clinic and Neonatal Intensive Care Unit (NICU).
"I am so proud to be part of an amazing group of pediatricians. Our group has been incredibly flexible over the last year and even more so since the start of 2021 with now two closures of our unit. Each pediatrician remains dedicated to kids and their families and continues to provide high quality care prior to transfer to SickKids for those who need hospitalization," said Dr. Wormsbecker.
Together, the team has been able to adapt the NICU to admit babies who would have previously been admitted to the pediatric unit post-discharge. Some of the pediatric nurses were redeployed to the NICU, while other team members were redeployed to the COVID Assessment Centre or to the Intensive Care Unit if they were adult-trained ICU nurses.
"Our pediatric nurses were very aware that they may be called upon to help out elsewhere in the hospital as children have not been affected by COVID in the same ways as adults have," said Alie Drabble, Patient Care Manager, NICU, Pediatrics and Just For Kids Clinic at St. Joseph's. "I was very proud when one nurse suggested that the nurses might best serve the COVID Assessment Centre where they could use their expertise to help with children that needed to be swabbed. The team was very open and willing to go wherever they were needed and could provide help."
When a child arrives in the Emergency Department and requires ongoing hospital care, Dr. Wormsbecker and her colleagues often collaborate with the Emergency Department team to assess the child's condition and facilitate a transfer to SickKids.
"That communication and collaboration with the emergency department really highlights the amazing teamwork we do across Unity Health, and it's really been a gratifying part of what can be a challenging process," said Dr. Wormsbecker.