Unity Health Toronto joins vaccination efforts for people living in remote Indigenous communities
February 01, 2021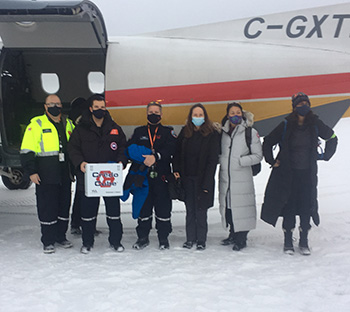 By Natalie Leung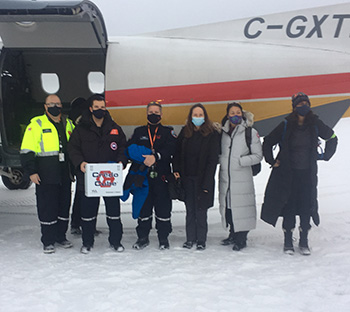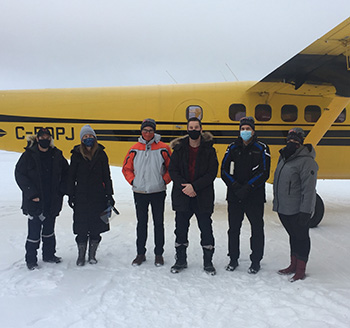 Team members from Operation Remote Immunity.
Four Unity Health Toronto staff and physicians are among six crews fanning out to provide COVID-19 vaccines to 31 First Nations communities in Northern Ontario.
Dr. Alun Ackery, Deputy Medical Director of the Department of Emergency Medicine at St. Michael's Hospital and Transport Physician at Ornge Air Ambulance, Dr. Laura Hans, Emergency Department Physician at St. Michael's Hospital, Dr. Suzanne Shoush, Family Physician at St. Michael's Hospital, and Daniela Graziano, MAP Research Visitor at St. Michael's Hospital, will be administering Moderna vaccines as part of Operation Remote Immunity.
The initiative, led by Ornge, aims to provide both doses of the vaccine to community members 18 years of age or older by April 30, 2021. Indigenous populations have been identified as a priority group as part of the Ontario Ministry of Health's COVID-19 vaccination program.
"As a First Nations woman, protecting and serving Indigenous communities is absolutely critical to me," says Dr. Shoush, "I want to do all I can during this pandemic to reduce health inequities and directly work for improved health outcomes for Indigenous peoples and their families."
Dr. Ackery, Dr. Shoush and Graziano stopped in Thunder Bay, while Dr. Hans headed to Sioux Lookout before flying out to individual Indigenous communities. Each of them will be staying in Northern Ontario for one to two weeks in order to vaccinate as many people as possible. This week, teams will be visiting Neskantaga, Slate Falls, Muskrat Dam, Fort Severn and Kashechewan.
"Vaccination is important for all Canadians, but it's especially important to vaccinate communities that don't have the ability to easily send sick people for intensive medical treatment," says Dr. Hans.
Ornge has been working with the Nishnawbe Aski Nation (NAN), which represents 49 First Nations in the north, other provincial and federal organizations and local community leaders to plan the vaccination strategy. They are also working together to push out a culturally sensitive public-education campaign that addresses vaccine hesitancy.
"A huge amount of work was done by Ornge to work with the remote Indigenous communities to ensure that they were part of the planning and to ensure that we optimized the processes to immunize as many people as we can," says Dr. Ackery, "I'm excited and proud to be part of this initiative."
All team members have received two doses of the vaccine and will also be tested for the virus before entering communities. This will help minimize the risk of transmission of COVID-19.
Cultural sensitivity training is a key component to the vaccination strategy. Vaccination teams must take part in the San'yas Indigenous Cultural Safety program, which includes in depth learning modules and moderated reflections, and complete in-person cultural safety training.
Dr. Shoush says she feels great knowing that the training was a mandatory component of the operation and looks forward to being part of Operation Remote Immunity.
"Indigenous life is sacred, and we have so much to learn – this learning has to start with protecting communities to ensure they can thrive and experience the same level of safety and wellness that the rest of Canada does."
About St. Michael's Hospital
St. Michael's Hospital provides compassionate care to all who enter its doors. The hospital also provides outstanding medical education to future health care professionals in more than 27 academic disciplines. Critical care and trauma, heart disease, neurosurgery, diabetes, cancer care, care of the homeless and global health are among the Hospital's recognized areas of expertise. Through the Keenan Research Centre and the Li Ka Shing International Healthcare Education Centre, which make up the Li Ka Shing Knowledge Institute, research and education at St. Michael's Hospital are recognized and make an impact around the world. Founded in 1892, the hospital is fully affiliated with the University of Toronto.
About Unity Health Toronto
Unity Health Toronto, comprised of Providence Healthcare, St. Joseph's Health Centre and St. Michael's Hospital, works to advance the health of everyone in our urban communities and beyond. Our health network serves patients, residents and clients across the full spectrum of care, spanning primary care, secondary community care, tertiary and quaternary care services to post-acute through rehabilitation, palliative care and long-term care, while investing in world-class research and education. For more information, visit www.unityhealth.to.