Health Canada approves first HIV self-testing kits
November 03, 2020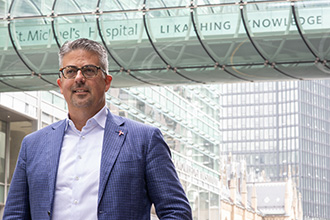 By Jennifer Stranges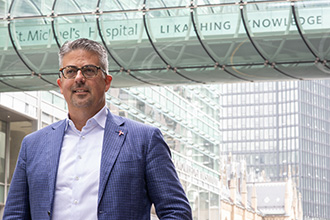 Dr. Sean B. Rourke
Canadians can now purchase and self-administer a test for HIV in their own home, marking a landmark moment for HIV care and prevention that will allow people to safely discover their status in as little as one minute, in a place that suits them.
Until now, HIV self-testing kits have not been approved for sale across the country, despite the fact that they are available in more than 30 other countries, including the United States, United Kingdom, Germany and France. In 2016, the World Health Organization (WHO) named self-test HIV kits as a key tool in the quest to eradicate the virus.
Health Canada's licensure of the device on Monday is based on the results of a cross-Canada clinical trial led by Toronto's MAP Centre for Urban Health Solutions at St. Michael's Hospital. Knowing a clinical trial was a requirement to have the tests approved in Canada, the researchers sourced funding and conducted the study, with the aim of getting approval from the regulator.
"HIV self-testing has been the missing link to reach the more than 9,000 people in Canada who have HIV and don't know it," says Dr. Sean B. Rourke, the study's principal investigator and a scientist at the MAP Centre for Urban Health Solutions.
"Many of these people do not come forward because of stigma and having more accessible tests and low barrier options is critical for people to get tested so they know their status. Self-testing has been proven to be a cost-efficient and effective prevention measure in the fight against HIV, and it will now move us closer to ending the HIV epidemic in Canada."
The study, launched in August 2019, included 767 participants from Toronto, Winnipeg, and Montreal, the majority of whom were at higher risk for HIV. The study found the self-test is over 99 per cent accurate when compared to blood samples taken in-clinic and sent to a lab for analysis. More than 95 per cent of study participants indicated they would use the self-test again, and would recommend it to family, friends, and sexual partners.
The study was jointly funded by the Canadian Institutes of Health Research (CIHR) Centre for REACH 3.0 and the Canadian Foundation for AIDS Research (CANFAR).
"Canada remains alone among G7 countries with HIV/AIDS infection rates that are going up – not down. While research has been at the core of CANFAR's focus for the past 30 years, our commitment to ending the HIV/AIDS epidemic in the next 5 years requires a focus on both research and its implementation," says Andrew Pringle, CANFAR Chair.
"As a result, and in line with recommendations from a strategic paper we published in 2018, we recognize the urgent need for ending stigma and increasing prevention, testing, and linkage to care. Self-testing is a critical tool in this effort, providing Canadians across the country with an overdue opportunity to know their status, and seek prevention treatment or care if needed."
The study analyzed the INSTI HIV self-test device, which is manufactured by bioLytical Laboratories Inc. in British Columbia. To do the test, a person pricks their finger, takes a single drop of blood with the materials provided in the kit, follows the simple procedure instructions provided in the package, and reads their results. The process can take as little as one minute.
Self-testing is seen as a critical tool in HIV prevention because it allows people to safely learn their status in the privacy of their own home and seek out treatment or prevention services as appropriate. In Canada, an estimated 63,000 people live with HIV, the virus that causes AIDS, and 14 per cent of those are unaware of their status.
Next, Dr. Rourke is working with community-based organizations across Canada to launch a telehealth platform project to support access to and distribution of 60,000 self-test kits with peer navigation services free of charge. This initiative was made possible through funding from CIHR, and through the financial support provided by the CANFAR and their ongoing collaborative efforts to eliminate the HIV epidemic in Canada within five years.
About St. Michael's Hospital
St. Michael's Hospital provides compassionate care to all who enter its doors. The hospital also provides outstanding medical education to future health care professionals in more than 27 academic disciplines. Critical care and trauma, heart disease, neurosurgery, diabetes, cancer care, care of the homeless and global health are among the Hospital's recognized areas of expertise. Through the Keenan Research Centre and the Li Ka Shing International Healthcare Education Centre, which make up the Li Ka Shing Knowledge Institute, research and education at St. Michael's Hospital are recognized and make an impact around the world. Founded in 1892, the hospital is fully affiliated with the University of Toronto.
About Unity Health Toronto
Unity Health Toronto, comprised of Providence Healthcare, St. Joseph's Health Centre and St. Michael's Hospital, works to advance the health of everyone in our urban communities and beyond. Our health network serves patients, residents and clients across the full spectrum of care, spanning primary care, secondary community care, tertiary and quaternary care services to post-acute through rehabilitation, palliative care and long-term care, while investing in world-class research and education. For more information, visit www.unityhealth.to.
About CANFAR
CANFAR's mission is to end the HIV/AIDS epidemic in Canada by funding innovative research including finding a cure and awareness programs focused on increasing prevention, increasing testing, improving treatment and care, and ending HIV/AIDS stigma. Over its 30-year history, CANFAR has invested more than $22 million and awarded more than 500 grants across Canada in research addressing all aspects of HIV/AIDS. Visit canfar.com to learn more and donate to the CANFAR2025 campaign.