Celebrating the year that showed science as the 'silver lining'
November 03, 2020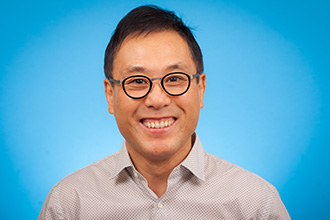 By Ana Gajic and Jennifer Stranges
(November 3, 2020) – The onset of the pandemic last March shuttered schools, businesses and a core part at Unity Health Toronto: research. Studies stopped. Researchers went home. The Li Ka Shing Knowledge Institute stood empty, apart from the newly opened COVID-19 Assessment Centre on the ground floor.
But Unity Health researchers have turned this abrupt pause into a success story. With more than $9.2 million in funding from the Canadian Institutes for Health Research (CIHR), Unity Health is the top federally funded Toronto research hospital for COVID-19 projects. More than 90 articles have published in peer-reviewed journals on COVID-19 since March, and scientists who have kept up their non-COVID research have continued to advance their projects. Natural collaborations have cropped up between the sites, bringing Unity Health together.
"This has been an unprecedented year," says Dr. Ori Rotstein, Vice-President of Research and Innovation at Unity Health. "But through it what we've seen is that research has been a silver lining to a year of tragedy and isolation. The scientific community has come together to continue their work – whether it's in COVID-19 research or beyond. Innovation has been rampant."
To celebrate this extraordinary year and the way our scientists have prevailed, Research Month  recognizes the achievements of researchers across Unity Health and encourages our hospital staff and the public to learn more about this important work.
We're kicking things off with two stories about how our research has flourished during 2020:
LTC+: A collaborative effort to keep long term care residents out of the Emergency Room
A trip to a hospital's Emergency Department (ED) can be a lonely and scary experience for residents in long term care.
According to Dr. Ashley Verduyn, Chief and Director of Medical Affairs at Providence Healthcare, it can involve a long wait on a hard stretcher in an unfamiliar place. Trips to the ED have been associated with delirium, falls, pressure injuries and functional decline. With the COVID-19 pandemic, these experiences can also expose vulnerable older residents to the virus.
To reduce unnecessary ED visits for residents in long-term care, a team of physicians and researchers across the Greater Toronto Area have teamed up to create LTC+. Led by Dr. Amol Verma and Dr. Fahad Razak, General Internal Medicine physicians and researchers at St. Michael's, along with Dr. Verduyn; Dr. Fiona Menzies, a Geriatrician at St. Joseph's; and Dr. Camilla Wong, a Geriatrician at St. Michael's, LTC+ is a virtual care platform that connects long-term care homes with medical specialists. It reduces the need to transfer residents from their homes to an acute care setting.
Every week, Dr. Verduyn, Dr. Menzies and Dr. Wong come together on a call with long-term care partners across the city and consult on issues and updates. So far, they've seen that this connection can result in less transfers of patients to acute care.
"We have truly fantastic partners working in long-term care," Dr. Menzies says. "I'm humbled by the work they have taken on and excelled at in such a short amount of time. They do all they can to support their patients, often people they have taken care of for years and have a very close relationship with."
Outside the GTA, LTC+ has reached homes with more than 4,000 residents across the province, and so far about 50 per cent of consultations have helped the long-term care home teams avoid transferring their residents to hospitals.
"Collaborations like this between clinicians in acute care hospitals and long-term care homes help to remove barriers in our health-care system that will ultimately improve the care experience for residents throughout our entire health-care continuum," Dr. Verduyn said.
Unity Health is leading the data and analytic collection for this service, which involves near real-time data collection about transfers of LTC residents to hospitals and consultation services being delivered by LTC+. With an analytics dashboard that highlights where LTC+ services have been used, the team will be able to more strategically implement the program and offer services where they are most needed. Through this platform, Unity Health's specialists are supporting 10 LTC homes, with collaboration and leadership from physicians across Providence, St. Joseph's and St. Michael's.
The data gleaned from this work will help inform how LTC+is used going forward, but also how similar virtual care models could support other services. Dr. Wong notes a need for more timely access to diagnostic services like imaging, labs and more that LTC+ is also starting to tackle.
"The pandemic showed us that some long term care homes were quite isolated and that their staff work extremely hard," she says. "How can we, as hospitals, help connect and support our partners in long-term care? LTC+ is one piece of the puzzle."
From SARS to COVID-19: An enzyme that may hold the answers
A global team of researchers including Unity Health's Dr. Haibo Zhang is testing the use of a specific enzyme as a COVID-19 treatment.
Seventeen years ago, Dr. Zhang, a Scientist at the Keenan Research Centre for Biomedical Science, was part of a team of researchers involved in the development of a drug for treatment of SARS called APN01.
The medication — manufactured by APEIRON Biologics AG, Vienna, Austria — holds promise because of the similarities between the SARS virus (SARS-CoV) and the current SARS-CoV-2 that causes COVID-19. Both coronaviruses have nearly identical 3D structures in certain key regions and have spike proteins, which can invade human cells by latching onto the transmembrane ACE2 receptor. In fact, the binding affinity of SARS-CoV-2 to ACE2 receptor is 10 times stronger than that of SARS-CoV, making SARS-CoV-2 potentially more contagious.
The APN01 drug is a soluble version of ACE2. Researchers believe that treating patients with APN01 could prevent SARS-CoV-2 from binding to a person's cells, and hence halt the spread of the virus.
"The APN01 is a decoy receptor of ACE2 that acts as an inhibitor, binding SARS-CoV-2 efficiently in the airway and blood stream and thus blocking entry of SARS-CoV-2 into cells via cell surface ACE2 receptors, which would reduce viral infection and protect organs such as the lung and gut from injury," Dr. Zhang said.
Dr. Zhang's project, which set out to test this potential treatment for COVID-19 and better understand the way in which the disease develops, was one of the first COVID-19 projects for which Unity Health received funding.
Now, seven months later, the team has made significant strides to better understand the ACE2 receptor's potential in stopping the spread of COVID-19. Dr. Zhang and his team in Toronto have been testing the treatment in lab models and cell culture models. They have also contributed to a clinical trial in Europe and published several papers in Cell, Lancet Respiratory Medicine, Intensive Care Medicine and Critical Care and have been highly cited in COVID-19 research fields. Most recently, the team finished training in a special facility at the University of Toronto, where they will begin testing the live virus in lab models and using a new technique to deliver the treatment.
They have now built collaborations across the world with top researchers in this field and hope their continued research on the ACE2 receptor will lead to a potential treatment for the virus.
"You know, this is a very crucial time really to do science," Dr. Zhang said. "We have to work against the tragedy. Everyone is trying to find other people's expertise and work together. This collaborative effort is wonderful."