Ten great things that happened this week
October 15, 2020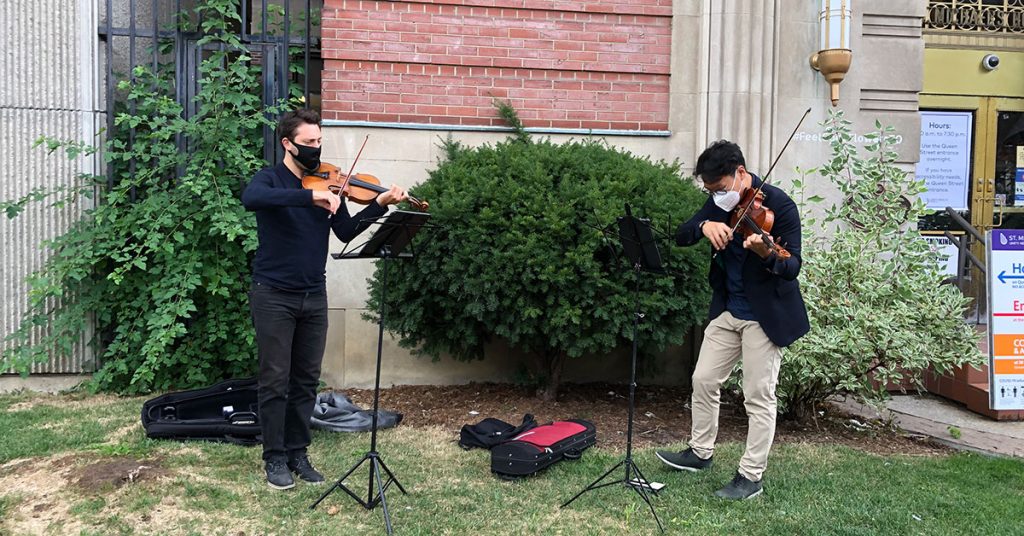 (October 15, 2020) – Living and working through COVID-19 is tough, but that doesn't mean we can't celebrate the wonderful things that are happening at our sites – and for our people – along the way.
Each week, we're sharing a list of 10 great things that happened this week. Do you have a story you'd like to share? Send it to communications@unityhealth.to.
1) Two St. Joseph's staff members were named 2020 Urban Heroes
Paediatrician Dr. Zamin Ladha and Registered Nurse Michelle Webster were both recipients of a Metroland Media 2020 Urban Hero Awards. Dr. Ladha won the People's Choice category for going above and beyond to support his colleagues during the pandemic. Ms. Webster won the Judge's Selection for her work in improving patient quality. Ms. Webster, who has cystic fibrosis, made those improvements while working from home after the possibility of COVID-19 exposure made it unsafe for her to keep working inside the hospital. Read Dr. Ladha's profile here and Webster's here.
2) Spiritual care practitioner at St. Michael's discusses how his Buddhist practice and clinical past help him help others
Jeff Braff retired from epidemiology and research six years ago and took off to India to study Buddhism. Three years later, he returned to St. Michael's as a spiritual care practitioner. In this article, he discusses how his dual expertise informs his ability to support patients and staff throughout the pandemic.
3) The Inner City Health Associates redefine CARE for people experiencing homelessness
COVID-19 has disproportionately impacted people who are homeless and underhoused. To better protect clients and staff in Toronto's shelters, the Inner City Health Associates developed The COVID Alert Risk Evaluation (CARE) project in partnership with shelter operators, Toronto's Shelter, Support and Housing Administration (SSHA), and Toronto Public Health. CARE provides data to help front line homeless shelter workers manage services and supports. We interviewed Dr. Jamie Robertson, Clinical Ethicist at Unity Health's Centre for Clinical Ethics and Dr. Aaron Orkin, Population Health Lead at ICHA on this project.
4) Toronto Life interviewed Dr. Amol Verma on what he's learning from the COVID-19 pandemic
In a Q&A with Toronto Life, Dr. Verma talks about his COVID-19 Hospital Analytics Laboratory team and their role in using hospital data to improve care for COVID-19 patients. He uses data to answer questions like what treatments work? What resources do we need more of? He also discusses other means of containing the virus during the second wave. "Pandemics are cyclical by nature, so the fact that we're in a second wave doesn't mean we did anything wrong. The crucial question is: how did we use that reprieve?" asked Dr. Verma. Read the full Q&A here.
5) How can a patient decide their best option for hip surgery? Dr. Amir Khoshbin weighs in
In a Healthy Debate piece on options for hip surgery patients, Dr. Amir Khoshbin, an orthopaedic and trauma surgeon at St. Michael's, said patients need to consider the surgeon and not just the type of surgery. He suggests patients select surgeons who do over 100 of them a year, adding that, "Higher-volume surgeons usually have fewer complications and potentially better outcomes." Read more.
6) Dr. Ashley Verduyn talks with the Globe and Mail about keeping our long-term care residents safe from COVID-19
The number of nursing homes that have declared COVID-19 outbreaks has tripled in the last month. Dr. Ashley Verduyn, Director of Medical Affairs at Providence Healthcare, spoke with the Globe and Mail about what's needed to keep long-term care residents safe during the pandemic.  Read the full article.
7) Dr. Ripudaman Minhas discussed his own internalized racism
In an interview with CBC Metro Morning, Dr. Minhas, Paediatrician at St. Michael's, discusses his essay, "The Elephant In the Zoom: Recognizing and Reconciling my Internalized Racism." He talks about how this has changed him and his approach to caring for his young patients. Listen to his interview here.
8) Five Unity Health Toronto experts are informing Ontario's response to the pandemic
Unity Health Toronto researchers Drs. Peter Jüni, Fahad Razak, Arthur Slusky, Janet Smylie and Pavlos Bobos are sharing their expertise as part of the Ontario COVID-19 Science Advisory Table. They will work with other experts to inform Ontario's response to the pandemic. Read more about the Science Advisory Table here.
9) What's the impact of mixed messaging on the public and the pandemic? Our experts weigh in
In an interview with the Toronto Star, Dr. Prabhat Jha, Director of Global Health Research at St. Michael's, says that the calls from public health experts to close restaurants in contrast with the government not doing so has led to unfocused messaging and a confused approach. He emphasizes that instead of "empty debates", the approach should be evidence-based and focused. Read more.
10) Two professional violinists boost the morale of St. Michael's staff
Last week, two professional violinists greeted staff and physicians with music outside the Bond St. entrance at St. Michael's. Aaron Schwebel (left) and Byungchan Lee played for nearly two hours to bring joy and show their support. Check out our Tweet here.