Ten great things that happened this week
September 30, 2020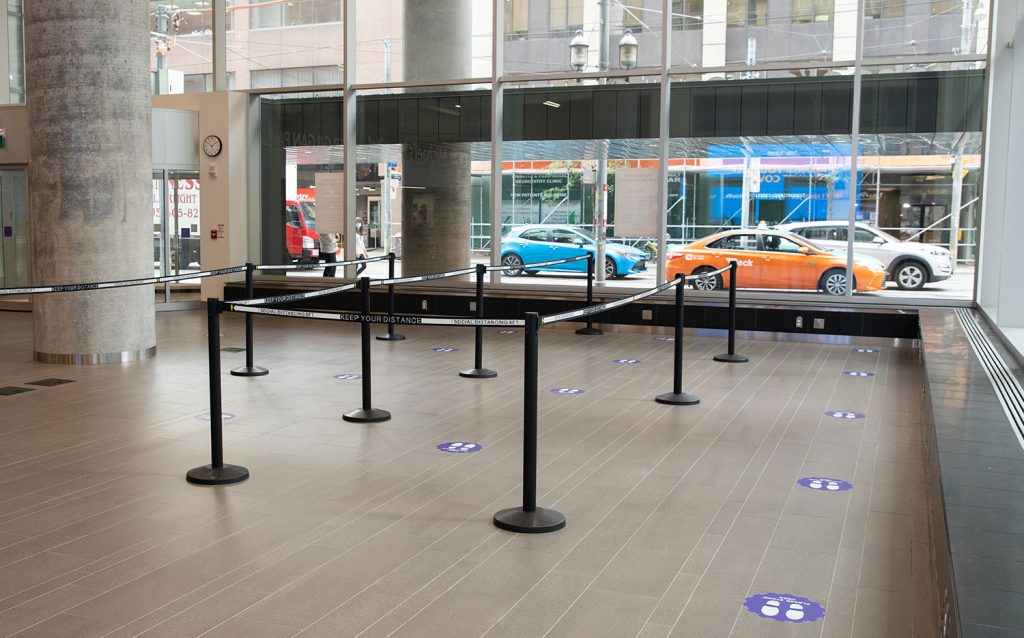 (October 1, 2020) – Living and working through COVID-19 is tough, but that doesn't mean we can't celebrate the wonderful things that are happening at our sites – and for our people – along the way.
Each week, we're sharing a list of 10 great things that happened this week. Do you have a story you'd like to share? Send it to communications@unityhealth.to.
1) The Peter Gilgan Patient Care Tower's lobby opened
This week, the PGT's bright, spacious lobby opened and became an entrance screening location at St. Michael's. The PGT lobby is large enough to accommodate entrance screening stations and allow for physical distancing inside, which will become a greater need as the weather gets colder.
2) Sixty-four awards and grants were presented to staff as part of Interprofessional Practice Week
Our Health Disciplines and Nursing staff were recognized last week during Interprofessional Practice Week. We held three, site-specific award ceremonies to recognize the nominees and winners at each site.
3) CBC Radio interviewed Dr. Larissa Matukas on ways to curb the spread of COVID-19
Dr. Matukas, Head of Microbiology at St. Michael's, was one of many physicians who signed a letter circulated by the OHA last week asking the province to place tighter restrictions on non-essential businesses. Listen to and read Dr. Matukas' interview with CBC Radio where she outlined her specific recommendations in this area. Read more.
4) Dr. Stephen Hwang pens an op-ed in The Globe and Mail on how we can end chronic homelessness
Dr. Hwang, Director of the MAP Centre for Urban Health Solutions at St. Michael's, wrote that he has been energized by the organized response to homelessness during the pandemic, which included transforming empty hotels to temporary housing and creating space in facilities for self-isolation. In addition, in last week's Throne Speech, the federal government announced its commitment to eliminate chronic homelessness in Canada. Still, he writes, we must continue these efforts, and the time to act is now. Read his op-ed here.
5) We spotlight one patient's rehabilitation at Providence after spinal cord surgery
Bill Hyman recently underwent his second spinal cord surgery at St. Michael's and then transitioned to Providence to rehabilitate. It was a seamless transition between surgical and rehabilitation teams, in part because St. Michael's and Providence are now part of one network. Mr. Hyman is now an outpatient of the Stroke and Neuro Clinic at Providence and is expected to be walking again in a few months. Read more.
6) St. Michael's study reveals new information about the side effects of cannabinoids for patients with COPD
St. Michael's respirologist Dr. Nicholas Vozoris led a study, published this week, which found that the use of cannabinoids is linked to negative respiratory health and death amongst older adults with chronic obstructive pulmonary disease (COPD). Read more about it in his CTV interview.
7) An analysis co-authored by Dr. Irfan Dhalla reviewed why fewer long-term care residents died from COVID-19 in BC compared to Ontario
Dr. Dhalla, Vice President of Physician Quality at Unity Health, explored this important distinction in the analysis, which was published this week. The analysis revealed that, prior to the pandemic, long-term care homes in British Columbia benefitted from more funding, less crowding, more inspections, more non-profit ownership and a more integrated system between public health, LTC homes and hospitals. Therefore, when COVID-19 began to spread in their long-term homes, they were able to respond in a faster manner.
8) We profile how having a family doctor who specializes in obstetrics improves care for the whole family
Twelve family doctors in the St. Michael's Academic Family Health Team specialize in low-risk obstetrics. One of them is Dr. Tali Bogler, who spoke to the benefits of this unique dual specialty, and how that can benefit the whole family. "In our care model, we see both the new parents and babies in our clinic during the initial newborn period and onwards. We become like a one-stop shop for the entire family; it really exemplifies the term 'family practice,'" said Dr. Bogler, Chair of the Family Practice Obstetrics group at St. Michael's Hospital.
9) Unity Health Toronto joined other Toronto hospitals to improve sustainability in health care
Unity Health Toronto is one of 12 Toronto hospital and/or hospital networks who have formed the Sustainable Health System Community of Practice to reduce health care-related greenhouse gas emissions. Read more about the initiative here.
10) The CBC interviewed Dr. Phrabat Jha on how we can encourage people to use the COVID-19 app
As Manitoba becomes the fifth province to launch the Health Canada COVID Alert app, Dr. Jha says that simply notifying people of the app isn't enough to get them to use it. Instead, Dr. Jha, Director of Global Health Research at St. Michael's, says that there should be a targeted social media campaign that makes a case for the importance of the app. He also suggests a 'no app, no entry' rule at bars and restaurants to incentivize its use. Read his interview here.