Our research changes lives for clinicians caring for COVID-19 patients
June 01, 2020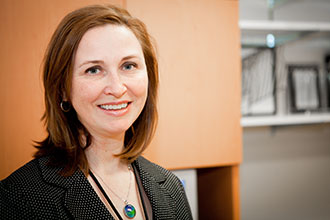 By Ana Gajic
(June 1, 2020) – How can we improve the lives of people who have been diagnosed with COVID-19? What about those at highest risk of the disease due to underlying comorbidities, or those who are on the frontlines caring for COVID-19 patients?
At Unity Health, more than 130 teams of researchers are tackling these important questions. To highlight their work, we're sharing stories of how our research changes. This week, we're spotlighting two projects focused on frontline clinicians caring for COVID-19 patients:
Can resilience protect health-care workers from burnout during the COVID-19 pandemic?
As research projects across Canada and the world were announced during the COVID-19 pandemic to improve patient experiences, Dr. Jane Topolovec-Vranic and Dr. Daniela Bellicoso realized the need to focus on the most critical players: health care workers.
As the Director of the Interprofessional Practice-Based Research (IPBR) team, Dr. Topolovec-Vranic and Dr. Bellicoso, an IPBR Research Coordinator, work closely with clinicians across Unity Health. Other members of IPBR also provide resilience training for these individuals. They saw an opportunity to understand how this coping strategy could protect clinicians from burning out.
"We designed a study to give clinicians a voice during COVID-19," said Dr. Topolovec-Vranic. "This is an opportunity for them to share with us how we can equip them for unprecedented and stressful events, like a pandemic."
The study, 'Examining burnout and resilience among health care staff in a pandemic,' referred to as 'BRIGHT' internally, includes four anonymous online questionnaires over the course of six months. The first establishes a baseline of a person's resilience and starting burnout, and the rest are follow-ups at the one-month, three-month and six-month mark. The questionnaires will be used to identify how one's level of resilience will affect their level of burnout over time.
"When we put together this data, we hope it will help to inform better ways to prepare clinicians and come up with targeted solutions to boost resilience," Dr. Topolovec-Vranic said.
Resilience is often seen as an individual's ability to respond and thrive during stress. But Dr. Bellicoso says it also reflects an organization and a system.
"In an organization that's resilient, the ability exists to respond in a productive way to significant disruptive changes, and to continue supporting staff so they can also thrive," she said. "Hopefully, this study will help us see what we can provide as an organization to shield people from burning out."
The researchers hope the project will also impact patient care and safety, and contribute to a better patient experience during the pandemic and beyond.
"Research has shown that if staff are burnt out, patient safety and satisfaction tends to be lower based on patient ratings," Dr. Bellicoso said.
"We want to equip staff to have a high level of satisfaction from their jobs, which in turn will ensure that patients have the best care experiences possible."
A touch-free way to measure vitals and symptoms of COVID-19
What if clinicians could measure a patient's vital signs and symptoms of COVID-19 without ever touching a patient?
It may sound like science fiction, but a project at the St. Michael's Emergency Department is testing an application that aims to do just that.
Using the camera of any smart device, an application developed by Dr. Kang Lee at the University of Toronto measures a person's blood pressure, heart rate, oxygen saturation and breathing rate just by taking an image of a person's face. This information taken together can evaluate the likelihood that someone has COVID-19.
"The beauty is that this is all contactless," said Dr. Mohammad Qadura, a Vascular Surgeon at St. Michael's and a Scientist at the Keenan Research Centre for Biomedical Science. "In a pandemic where person-to-person contact can spread the virus, any time you can limit that close contact is helpful."
The technology is set up on an iPad in the ED that will measure vitals as people come in. Using the camera of the smart device, the app measures how the light hits the surface of a person's face. With this information and the app's coded machine learning, the app can discern blood flow to the surface of the skin and through it, measure vitals. The app's analysis will be validated by comparing it to a clinician's reporting of the patient's vitals.
"We of course need to know whether this technology works and how accurate it is," Dr. Qadura said. He is the clinical trial lead of this study, which has now recruited more than 50 per cent of its patients.
Dr. Lee, a Professor of Applied Psychology and Human Development at the University of Toronto originally developed this technology to study behavior in children. He and Dr. Qadura were planning a research project to understand whether the app could help measure blood flow in the legs, as Dr. Qadura's surgical and research practice focuses on disease in the arteries and its impact on limbs. When the pandemic was declared, they worked with Dr. Ori Rotstein, Vice-President of Research and Innovation at Unity Health, and two Emergency Department physicians, Dr. Alun Ackery and Dr. Andrew Petrosoniak, to pivot their focus to COVID-19.
If the study shows the app is accurate and can validates its analyses, Dr. Qadura says the applications are far-reaching.
"If this works, we could implement the technology in high-traffic areas, like airports, to scan people for symptoms and signs of the virus," he said. "Or, it could be an app people could download at home that they could use to monitor their own symptoms. Beyond the pandemic, this is something we could use for virtual and telemedicine visits.
"If it works, this could be a true game-changer."