Why you should keep your virtual appointment with your family doctor
May 27, 2020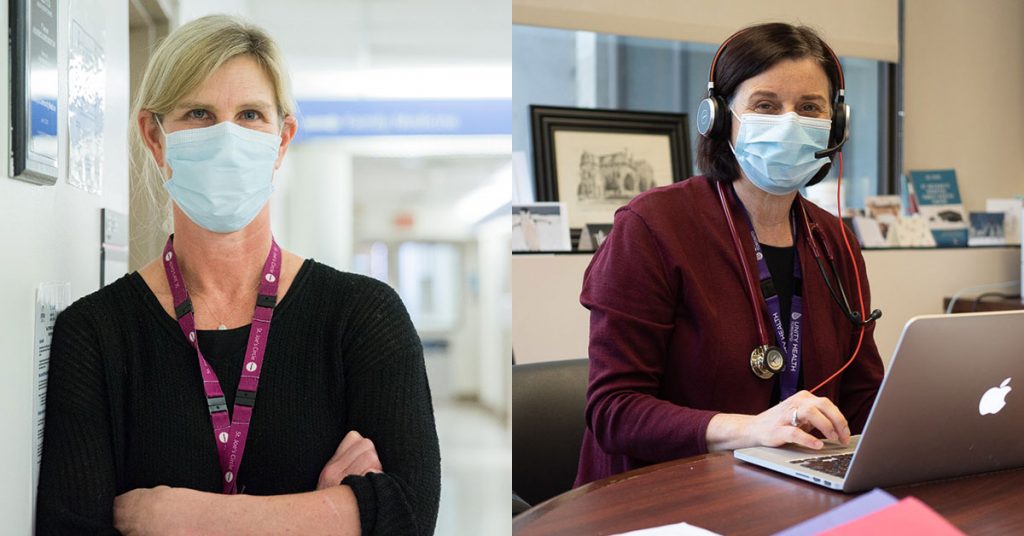 By Selma Al-Samarrai
(May 27, 2020) – The COVID-19 pandemic has resulted in empty streets and public spaces, and to the concern of family doctors, empty doctors' offices and emergency departments.
Unity Health Toronto doctors Karen Weyman and Daphne Williams are here to tell you that not only are family doctors very much available to safely see their patients, but that delaying or skipping a necessary appointment could be damaging to your health.
"Currently, the public messaging is to stay home. This is correct advice – unless you have a health issue," said Dr. Weyman, Chief of the Department of Family and Community Medicine at St. Michael's Hospital and a Family Physician in the St. Michael's Academic Family Health Team.
"Ignoring medical issues will lead to worse outcomes for our patients, so we want to encourage everyone to contact their family doctors for virtual appointments. Your doctor can assess the issue and let you know if an in-person visit is required."
Dr. Weyman estimated that approximately 90 per cent of the care provided by the St. Michael's Family Health Team is virtual right now. Through virtual appointments, she's learned that her patients are dealing with a number of medical issues in isolation, including ongoing medical concerns, new acute ones and mental health issues related to the emotional and psychosocial impact of the pandemic.
She emphasized that making appointments with your family doctor at this time is as important as ever for anyone struggling with any health ailment, big or small.
Dr. Daphne Williams, Physician Lead of the St. Joseph's Health Centre Urban Family Health Team, similarly estimates that 90 per cent of her team's care is now virtual, and has found the transition to virtual care valuable for her patients. Her team has been proactively reaching out to patients with previously scheduled in-person appointments to let them know that their appointments are still happening, just virtually.
"I'm finding in my appointments that I'm not only speaking to patients about their health issues, but also answering general questions they may have on the pandemic like how to safely practice physical distancing outside, the latest in safety measures and whether they should be visiting an assessment centre for their symptoms," she said.
In-person appointments are still happening for those who need them and multiple measures have been implemented by our Family Health Teams to keep people safe when coming in to clinics. They include limited seating and physical distancing in waiting rooms, screening at entrances and dedicated hours for certain patient groups.
Our Family Health Teams are also actively reaching out to elderly patients and marginalized groups to check in. At St. Michael's, this outreach is done through a program called Wellness Checks where patients who are older, have major mental health and physical illnesses, or live in poverty are contacted to see if they have any medical concerns.
At St. Joseph's, Dr. Judy Thompson, Home-Visit Lead Physician, has been leading an initiative where the clinic calls its frail elderly patients and then, depending on their needs, delivers patient care packages that include posters for residents to place outside their home, information on how to safely quarantine and donated cloth masks. This outreach will soon expand to the homeless and under-housed.
"The majority of Unity Health's family doctors are still connecting with their patients and will continue to do that," said Dr. Williams. "We can support you through your health issues, including COVID-19 symptoms, so we encourage you to reach out so you're not alone through this. This is what we're here for."