Progress update: Construction of St. Michael's satellite dialysis clinic in Thorncliffe Park
January 23, 2020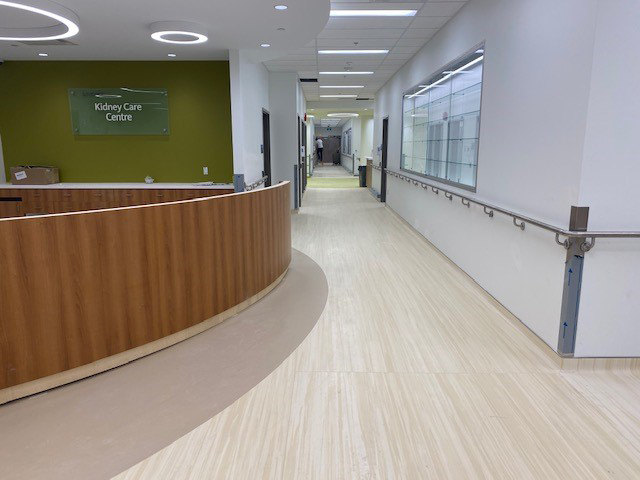 By Selma Al-Samarrai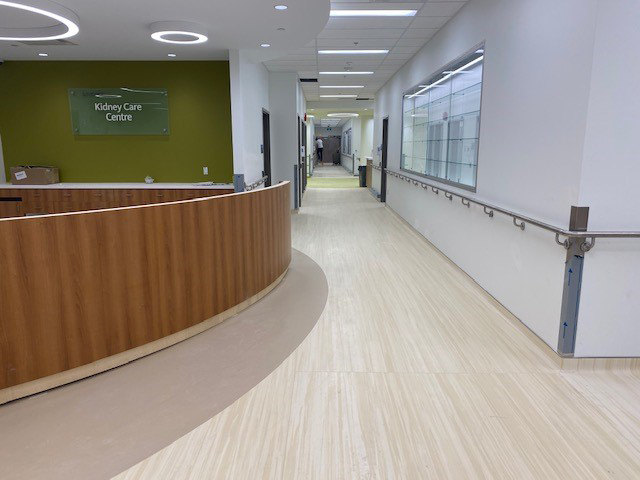 Dialysis reception and the hallway that leads into the Nephrology Clinic. (photo by Josh O'Neil)
Click on image to enlarge.
Just over seven months ago, the dialysis team at St. Michael's Hospital celebrated the construction start of its brand new 20,000-square-foot satellite dialysis centre in the East York Town Centre in the Thorncliffe Park neighbourhood. This is the first initiative by the St. Michael's Dialysis program to expand services outside of the hospital's downtown location.
Construction is well underway and the new St. Michael's Kidney Care Centre is expected to start seeing patients in the spring.
"The opening of the centre will relieve the demand for this very important need in the community and will bring dialysis and kidney care closer to home for many patients and their families," said Fiona Harrington, Clinical Leader Manager for the Hemodialysis and Apheresis units.
The new satellite location will offer 21 dialysis stations, with an additional six stations for home hemodialysis training, transition and support, as well as general nephrology clinics.
The location for this new multidisciplinary care centre was selected specifically due to its central and convenient location, its free parking and TTC access, and its accessible location on the ground floor. This location will provide dialysis services closer to home for many patients in the neighbourhood.
"It's extremely exciting that we are getting very close to opening the satellite unit. Lots of planning has taken place over the years and we are now seeing this beautiful centre coming to fruition," said Harrington.
About St. Michael's Hospital
St. Michael's Hospital provides compassionate care to all who enter its doors. The hospital also provides outstanding medical education to future health care professionals in more than 27 academic disciplines. Critical care and trauma, heart disease, neurosurgery, diabetes, cancer care, care of the homeless and global health are among the Hospital's recognized areas of expertise. Through the Keenan Research Centre and the Li Ka Shing International Healthcare Education Centre, which make up the Li Ka Shing Knowledge Institute, research and education at St. Michael's Hospital are recognized and make an impact around the world. Founded in 1892, the hospital is fully affiliated with the University of Toronto.
About Unity Health Toronto
Unity Health Toronto, comprised of Providence Healthcare, St. Joseph's Health Centre and St. Michael's Hospital, works to advance the health of everyone in our urban communities and beyond. Our health network serves patients, residents and clients across the full spectrum of care, spanning primary care, secondary community care, tertiary and quaternary care services to post-acute through rehabilitation, palliative care and long-term care, while investing in world-class research and education. For more information, visit www.unityhealth.to.