Seeing green: Unity Health Toronto launches a sustainability campaign
November 26, 2019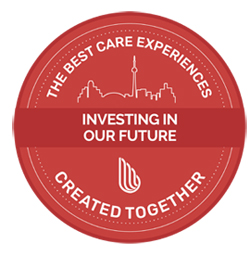 By Selma Al-Samarrai
Nov. 26, 2019 – Unity Health Toronto is launching a sustainability campaign in a bid to reduce our carbon footprint and waste, and to identify how we can continue to improve our conservation efforts.
Leading this campaign is Dean Martin, chief financial officer and executive vice-president of Corporate Services at Unity Health Toronto. The campaign, named SusDEANability, targets Providence Healthcare, St. Michael's Hospital, St. Joseph's Health Centre and all our offsite clinics and offices.
"Hospitals have huge environmental footprints; they're a larger consumer of energy and resources than schools and universities. If we can reduce that by just 10 per cent, it would make a huge difference," explained Martin.
"Through prioritizing sustainability at our organization, we meet three key goals: we reduce cost, we make the best use of our very precious health care resources, and we become a better corporate citizen by reducing our environmental footprint."
The SusDEANability campaign supports our network's strategic priority of 'investing in our future' – to improve our environmental stewardship and, through this goal, maximize existing funding and reduce our organization's expenses.
The campaign will profile ongoing greening projects being implemented across Unity Health Toronto. A few recent examples include the switch to LED lights at various locations in St. Michael's and St. Joseph's, the installation of electric car chargers at the St. Joseph's parking lot, and the replacement of two chillers at Providence. The latter project is estimated to save 136,000 kWh in energy consumption and $16,000 in associated energy costs, per year.
So what can staff do in the workplace to reduce Unity Health Toronto's carbon footprint? For starters, turn off their computers at the end of the work day.
Earlier this year, the network's IT team reported that 60 per cent of the network's computers were left on at the end of the day. That's about 5,000 computers. If just a third of these computers were turned off after work, this would reduce the network's electricity use by one per cent, which is enough to power 88 homes for an entire year.
Another area of improvement that staff can directly impact is printing waste. Some estimates suggest the average office employee goes through thousands of sheets of paper a year. With well over 10,000 staff, physicians, students and volunteers at the organization, the impact of printing can be substantial. Staff are encouraged to avoid printing documents whenever possible, or if they must print, to produce double-sided prints and to avoid printing in colour.
Staff are also encouraged to carefully separate garbage, recycling and compost when using bins across the network to reduce contamination caused by improper waste management.
Similar to the City of Toronto, Unity Health Toronto's sites do not recycle coffee cups nor non-paper straws. To dispose of them appropriately, those items have to go into the garbage. View a guide on how to appropriately dispose of waste at Unity Health Toronto's three sites.
In 2018, the City of Toronto's Waste Management Services team estimated that if they can reduce contamination caused by improper recycling by just one per cent, it would lower recycling costs in the city by $600,000 to $1 million a year.
View tips on how staff can improve their environmental impact.
"The hope is that this campaign will provide an opportunity for a groundswell of support amongst staff, and offer opportunities that everyone can get involved in easily and every day," said Martin.
"Some sustainability initiatives aren't simple, but these are."