Our Shared Values Awards recipients shine brightly
October 01, 2019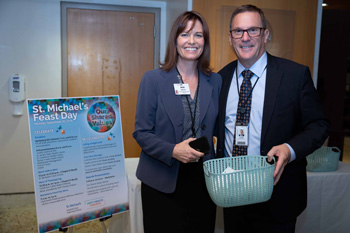 By Emily Dawson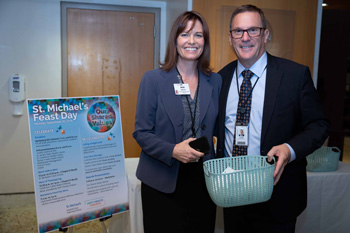 Beth Johnson and Tim Rutledge greeted staff as they arrived for work on St. Michael's Feast Day. (Photos by Katie Cooper)
St. Michael's Hospital has an enduring tradition of serving the diverse needs of our urban communities for more than 125 years. Our roots in downtown Toronto run deep, as does our commitment to living the promise made by the Sisters of St. Joseph of Toronto when they founded our hospital in 1892 to care for all those in need. Our current-day mission and values were built on this promise.
"Every day, people across St. Mike's honour our founders by demonstrating a commitment to our mission and values in their day-to-day work," said Beth Johnson, executive director of Mission Integration at Unity Health Toronto.
Annually, we celebrate St. Michael's Feast Day to recognize and applaud the ways in which staff, physicians and volunteers carry out the hospital's mission and values. This day culminates in the presentation of our values awards.
For the first time, the 2019 ceremony honoured the recipients of Unity Health Toronto's new Our Shared Values Awards, based on the corporate values we share with Providence Healthcare and St. Joseph's Health Centre. The Our Shared Values Awards program brings a harmonized approach to how we celebrate the staff, physicians and volunteers who exemplify a tangible commitment to living these values.
"The Our Shared Values Awards represent one of the highest honours at Unity Health, acknowledging outstanding contributions to patients and our community," Johnson explained.
The stories shared in our recipients' nominations exemplify how the values come to life in their interactions with patients, families and colleagues.
---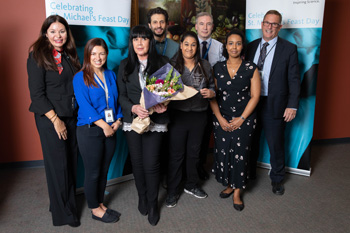 Human Dignity Award: Visitor Services team
The Visitor Services team is the recipient of the Human Dignity Award, which recognizes an individual or team who affirms that every person has sacred value and is worthy of respect.
Their nomination highlighted the role the team plays in bringing a person-centred approach, rooted in human dignity, within a busy, stressful and sometimes chaotic environment. Excerpts from this nomination read:
"The Visitor Services role far surpasses wayfinding for patients and visitors. It requires stellar problem-solving skills and escalation awareness when appropriate. The team is increasingly meeting individuals in our lobbies requiring medical assistance.
"These encounters include people under the influence and those that are in emotional distress. In addressing this gap, the team worked with staff in the Emergency Department to develop a Medical Support Protocol to address the complexity of people's needs.
"In ensuring that all are treated respectfully and are offered resources, the Visitor Services team is creating a community resource guide so that the public can get easy access to the information they need. This reflects the human dignity attribute, where no one coming to the front desk of our lobbies is turned away, and regardless of their life circumstances, are treated kindly with courtesy and respect."
---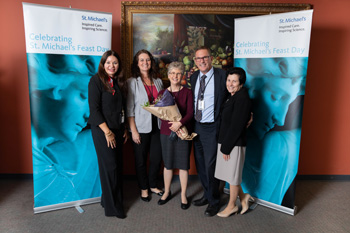 Inclusivity Award: Susan Poole
Susan Poole, executive assistant, received the Inclusivity Award for fostering an inclusive, welcoming environment where everyone is treated equitably and without judgement.
Her colleagues at St. Michael's illustrated her commitment with the following examples:
"Susan is very attuned to the needs of every person who passes by her office on a typical day. I have seen her many times coming out to check on people who may look lost, often escorting them to their desired destination.
"If someone doesn't look well, she engages them to ensure they don't need medical assistance. If they do, she makes sure that they get it.
"She is incredibly intuitive about others' struggles and reaches out to people in a way that makes them feel valued, and welcome in our space. I have seen many people react so thankfully to her kind gestures. I have never heard her express any negativity about anyone, even when some hallway encounters have been fairly chaotic. She shows her sensitivity to the values, faiths and cultures of others every single day."
---
The Compassion Award is presented to someone who "enables health and healing by understanding each person's needs and by providing care with kindness and sensitivity."
This year, the Compassion Award was given to the late Andrea Ross, an administrative assistant at St. Michael's for several decades, who passed away unexpectedly in March. Many colleagues nominated Andrea and we are sharing just one of many examples that make her a most worthy recipient.
"Andrea was always caring and thoughtful about the physicians she worked with. We could always stop by her desk and immediately, huge problems would be solved!
"On a more personal level, I will never forget an afternoon a few months before she died when she knocked on my door mid-afternoon. I was surprised by the knock and irritable to be interrupted from a busy day. However, she was just there to surprise me with a latte she had bought for me. I was so touched by the kindness of this gesture, which showed how she was always thinking of others and put them first, that I immediately felt a boost in mood and took a picture of the latte on my phone to remind me that even during a hard day, there are happy moments. She frequently made peoples' day this way."
---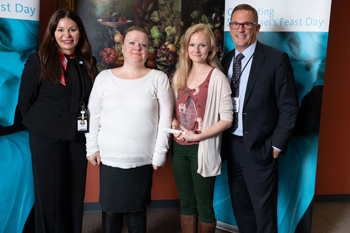 Community Award: NICU Parent Advisory Committee
Our Community Award recipient this year is the Neonatal Intensive Care Unit (NICU) Parent Advisory Committee (PAC) for embracing diversity, trust and teamwork to fulfill human potential.
As one of their nominators describes, the NICU PAC includes parents of premature infants; these parents provide advocacy and volunteer time and effort to improve the parent experience within the NICU.
"The PAC members participate in a number of events that foster a sense of community. They publish a newsletter twice yearly that features the stories of NICU parents and facilitate a Facebook group for parents to build community even after infants are discharged home.
"They also fundraise and hold events in the unit and during the holidays, they decorate the unit and hold photo shoots with infants wearing Santa hats that have been knit by PAC members.
"For parents spending time in the NICU over the holidays, it can be an isolating and emotionally challenging time. To receive this gift basket is a reminder to parents that they have the support of others who have faced the same challenges that they are experiencing, and also a sign of hope that there is life outside of the NICU."
---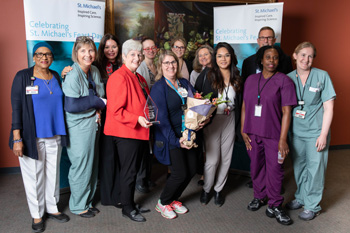 Excellence Award: General Surgery/Gastroenterology/Plastics (16CCN) team
The General Surgery / Gastroenterology / Plastics (16CCN) team is the recipient of this year's Excellence Award, which recognizes them for striving to achieve the best care and quality through innovation and continuous improvement.
The nominator chose these words to describe how the team as a whole reflects this value.
"One visitor recently commented 'there is such a positive energy and culture on 16CCN.'"
"HUGS is an example of one of the many initiatives developed by the team to recognize and support one another in quality initiatives and delivery of exemplary patient care. This quality improvement initiative led to the development of a pledge by staff, which is a tangible way for staff to hold each other accountable.
"In a staff meeting discussion about the team pledge, it was noted that some staff are known for offering embraces as a means of support. The concept of hugs led to a tagline for the team pledge: HUGS – Here U Get Support and Here U Give Support. Through HUGS, the team leads by example and recognizes the need for a strong team culture to truly support safe, patient- centred care and quality improvement initiatives"
"On behalf of the leadership team at Unity Health, congratulations to the St. Michael's Our Shared Values Award recipients and 28 nominees. You are leading by example, and we are grateful for all that you do," said Johnson.
About St. Michael's Hospital
St. Michael's Hospital provides compassionate care to all who enter its doors. The hospital also provides outstanding medical education to future health care professionals in more than 27 academic disciplines. Critical care and trauma, heart disease, neurosurgery, diabetes, cancer care, care of the homeless and global health are among the Hospital's recognized areas of expertise. Through the Keenan Research Centre and the Li Ka Shing International Healthcare Education Centre, which make up the Li Ka Shing Knowledge Institute, research and education at St. Michael's Hospital are recognized and make an impact around the world. Founded in 1892, the hospital is fully affiliated with the University of Toronto.
About Unity Health Toronto
Unity Health Toronto, comprised of Providence Healthcare, St. Joseph's Health Centre and St. Michael's Hospital, works to advance the health of everyone in our urban communities and beyond. Our health network serves patients, residents and clients across the full spectrum of care, spanning primary care, secondary community care, tertiary and quaternary care services to post-acute through rehabilitation, palliative care and long-term care, while investing in world-class research and education. For more information, visit www.unityhealth.to.