Occupational therapists help make the everyday possible
October 23, 2019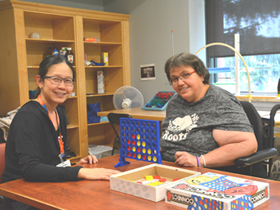 By Emily Dawson
Oct. 23, 2019 – Across Unity Health Toronto, occupational therapists (OTs) enable people to overcome barriers in their everyday life so they can do more and live better. This October, we're celebrating Occupational Therapy Month and the role of OTs in helping our patients and clients experience life to the fullest through the things they enjoy doing most.
"I wanted to get back to doing the things I like to do and she really helped me get there"
One year ago, Belinda Balazsi arrived at Providence Healthcare on a stretcher, despondent and unable to even lift her head or roll from side-to-side in bed. Balazsi had just spent four months in an acute-care hospital after a multitude of physical and mental challenges had significantly affected her quality of life.
She soon realized that her rehabilitation care team at Providence was going to motivate her to reach the one goal she had in mind – to walk again – with great care and compassion. In particular, Balazsi felt a special connection with her occupational therapist, Vivian Kwong.
"We talked a lot about life, about my children, her family, about what I like to do and what I want to be able to do," said Balazsi.
As the trust grew between them, Kwong became essential in Balazsi's healing journey.
"She helped me learn how to keep my head up, to sit for longer in my wheelchair, to use my left arm because I had basically no movement in it. At first, I couldn't even sit for half an hour without breaking down in tears," said Balazsi.
Kwong was determined to help Balazsi find her inner motivation.
"We really had to encourage Belinda. She tends to be very hard on herself, especially when she didn't feel she was making improvements. We had to help her believe in herself," said Kwong.
"I always try to find ways to keep it interesting and to keep it aligned to the patient's own goals. For Belinda, we'd play a competitive game of Connect Four – one of her favourites – in the standing position. To increase her tolerance for sitting in the wheelchair, I'd ask her to tour around the hospital to find things in a scavenger hunt," recalled Kwong.
Standing and sitting are integral steps in the journey to walk again. Balazsi made remarkable progress in her eight months at Providence.
"She was bedridden and immobile and she can now walk short distances with a walker. Where she was dependent on people for everything, she is now independent with basic daily tasks," said Kwong.
Balazsi is back at home and is grateful for Kwong's compassion and expertise.
"Vivian did everything to make sure that I'd be able to cope on my own. I wanted to get back to doing the things I like to do and she really helped me get there."
OTs promote early interventions in critical care at St. Michael's
In one of the busiest units in St. Michael's Hospital, a new pilot program is underway to help demonstrate how early OT interventions promote a more successful recovery.
The Medical Surgical Intensive Care Unit (MSICU) specializes in the treatment of complex conditions during a life-threatening illness and injury. Patients in the MSICU spend prolonged periods in bed, sapping them of strength and mobility and hurting their ability to manage activities of daily living independently, such as personal grooming. Maintaining strength and function is vitally important for these patients.
Charlotte Usas, OT, and Caity Heath, OT assistant, work with patients at all stages of their recovery in the MSICU.
"We are providing interventions as soon as possible before the patient transfers from the ICU to an inpatient unit. Traditionally, OT engagement only starts once that transfer happens but we know there are things we can work on with the patient in the ICU that would lead to better outcomes," said Heath.
"We're trying to prevent the deconditioning that happens naturally in an ICU setting. If we don't engage early, people become weaker," added Usas.
Every patient is different. With people who have higher mobility, Usas and Heath work on things like transferring from bed to a chair and getting dressed. For others, it might entail upper extremity exercises like brushing their hair – all designed to get people involved in their own care and guide them to more independence.
Usas and Heath shared a story of a patient who was in the MSICU with a progressive disorder and respiratory failure. The patient had been transferred between the MSICU and an inpatient unit a couple of times, leading to physical weakening and less engagement in his care.
"This patient needed a little extra motivation and we wanted to establish some beneficial routines. Charlotte designed a tailored activity schedule as a visual tracking system that showed all the tasks he accomplished in a day," said Heath.
The OT and OT assistant also worked to socialize him to the idea of going home. "We started taking him outside, which served as a great motivator for him to get dressed and go for a short walk before we'd transfer him into a wheelchair to go out," explained Usas.
"It made more sense to him to get dressed in order to do something, not just for the sake of getting dressed."
Usas and Heath share a love for the profession that inspires them in their day-to-day work.
"There's a reward in building quality of life based on a person's own goals," said Usas. "The philosophy of OT is to encourage patients to choose what they want to work on based on what's most meaningful to them."
"It's quite a privilege to see people in the most challenging time in their lives," added Heath, "and it's amazing to see what people can achieve with the right supports around them."
OTs help even Unity Health's tiniest patients
At the other end of the spectrum, Fernanda Galli is an OT in St. Joseph's Health Centre's Neonatal Intensive Care Unit (NICU), caring for babies born with complex medical issues or those born pre-term.
These babies require highly specialized care and the NICU services are focused on providing an environment that will help them continue to grow, develop and thrive.
While in-utero, a baby is in the most conducive environment for its healthy development. The amniotic fluid in which they float facilitates movement and muffles sensory stimuli. The last eight weeks in-utero is the optimal time for the development of the fetus' muscular strength and flexor muscle tone.
When babies are born prematurely, they are placed in unnatural positions – lying down on their backs or tummies – and have to deal with the pull of gravity. Therefore, movement can be very difficult for these most fragile patients.
"One of the primary goals for OTs in the NICU is creating an environment that promotes proper positioning, comfort, and movement," said Galli. She works directly with families and nurses to counsel on strategies such as positional devices, handling, feeding positions and specialty bottles.
Galli, who also holds a Neonatal Touch and Massage Certification, teaches parents baby massage techniques.
"The benefits of massage are overwhelming. Research indicates it improves weight gain, digestion, immunity, and respiratory capacity."
Brain function is a significant concern in the NICU, particularly around sensory stimulation.
"A pre-term baby has not had enough time in-utero for proper sensory system development. In essence, they cannot process the multitude of sensory inputs in their environment, nor do they have the adaptive responses they need to make sense of it all," explained Galli.
Outside the uterus, babies are bombarded with olfactory, tactile, auditory and visual stimuli and evidence links this inability to process stimuli with long-term issues for children as they grow. The OTs work with nurses and families on strategies to minimize stimulation through things like incubator covers, creating a scent-free zone, and keeping noise to a minimum.
The care and treatment doesn't stop once the baby goes home. Galli works in a specialty clinic that follows NICU babies and continues to work with patients on things like gross and fine motor skills and play development.
"It's a privilege to work with babies and families during this period of their life," Galli said. "They are so fragile and every interaction leaves a lifelong impression."