Consistent cuddling in hospital helped infants withdrawing from opioid exposure go home sooner: first-of-its-kind study
October 11, 2019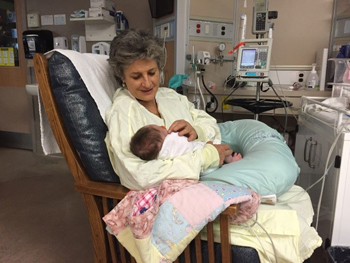 By Anna Wassermann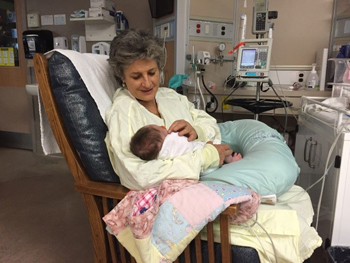 A volunteer at St. Michael's cuddles an infant with NAS.
A first-of-its-kind study published in Paediatrics & Child Health found that infants with neonatal abstinence syndrome (NAS) spent six fewer days in the Neonatal Intensive Care Unit (NICU) when they received consistent cuddling.
NAS refers to a group of symptoms experienced by infants withdrawing from in-utero exposure to opioids. These symptoms, which include seizures, irritability, difficulty sleeping and excessive and high-pitched crying, tend to be minimized with supportive therapies, such as rocking and cuddling.
At St. Michael's Hospital in Toronto, the team found that infants with NAS who were cuddled by a volunteer cuddler averaged 24 days in the NICU, compared to 30 days among infants who weren't cuddled by a volunteer cuddler.
Led by a multidisciplinary team at St. Michael's, the research suggests that volunteer cuddling programs could have significant clinical impact, getting babies home more quickly, reducing risks associated with hospital admission and lowering costs to the health care system.
"We've known for years that cuddling benefits babies with NAS," said Amanda Hignell, a social worker at St. Michael's, co-founder of the hospital's volunteer cuddling program and co-lead author of the study. "But the evidence was purely anecdotal. We wanted to change this and we thought we were in a good position to do so."
In 2015, St. Michael's became one of the first hospitals in Canada to introduce a volunteer cuddling program. Seven days a week, from 8 a.m. to 4 p.m., trained volunteers provide cuddles, hand-holding and verbal stimulation, such as singing, reading and talking, to infants whose families can't be present in the NICU.
The program was introduced as a standard of care for all infants but Hignell and Karen Carlyle, a registered nurse practitioner at St. Michael's, co-founder of the program and co-author of the study, were particularly interested in assessing the feasibility and impact of their program on infants with NAS.
"Although cuddler programs in NICUs are growing across Canada, there haven't been any studies to evaluate program impact on this particular group of infants," said Carlyle.
"We saw this as an opportunity to fill a gap in the literature, while also growing our program by measuring effectiveness and gathering feedback from those involved."
Aside from evaluating lengths of stay, the team conducted focus groups with nursing staff and volunteers to identify areas of opportunity. They prioritized comments on staff and volunteer dynamics, volunteer and family dynamics, program operations and impact of the program.
The team found that nurses and volunteers enjoyed positive interactions with families but required clarification on certain aspects of the program, such as volunteer responsibilities during down-time when the babies are asleep.
The team also found that volunteers experienced substantial enjoyment, identifying feelings of joy, fulfilment and pride to be involved in the program.
Cindy Nguyen, a volunteer cuddler who joined the program in 2017, said it's this joy and pride, as well as a sense of accomplishment that keeps her coming back to the NICU for her shift every other Saturday.
"It's hard to describe the feeling when you successfully calm an irritable infant with NAS," said Nguyen. "Sometimes it can take a while, but when they stop crying or peacefully fall asleep, it's one of the most rewarding feelings in the world."
Given the positive feedback from families, volunteers and NICU staff, Hignell says she's excited to keep growing the program at St. Michael's to ensure it's meeting the needs of the population as it evolves.
She also hopes to see more cuddler programs introduced in other hospitals across Canada and further research into the efficacy of these programs among infants with various conditions.
"Ultimately, I'd love to see cuddler programs in every NICU, and not just for NAS," said Hignell.
"That's what we decided to focus our study on but there are so many opportunities, conditions or components of support that the volunteers provide. We've seen such value in the program, I'd love to see it as a standard of care across Canada."
The authors would like to thank the Interprofessional Practice Based Research program for their ongoing support and assistance. They'd also like to acknowledge the contributions of the nurses and volunteers in St. Michael's NICU Family Support Program.

This paper is an example of how St. Michael's Hospital is making Ontario Healthier, Wealthier, Smarter.
About St. Michael's Hospital
St. Michael's Hospital provides compassionate care to all who enter its doors. The hospital also provides outstanding medical education to future health care professionals in more than 27 academic disciplines. Critical care and trauma, heart disease, neurosurgery, diabetes, cancer care, care of the homeless and global health are among the Hospital's recognized areas of expertise. Through the Keenan Research Centre and the Li Ka Shing International Healthcare Education Centre, which make up the Li Ka Shing Knowledge Institute, research and education at St. Michael's Hospital are recognized and make an impact around the world. Founded in 1892, the hospital is fully affiliated with the University of Toronto.
About Unity Health Toronto
Unity Health Toronto, comprised of Providence Healthcare, St. Joseph's Health Centre and St. Michael's Hospital, works to advance the health of everyone in our urban communities and beyond. Our health network serves patients, residents and clients across the full spectrum of care, spanning primary care, secondary community care, tertiary and quaternary care services to post-acute through rehabilitation, palliative care and long-term care, while investing in world-class research and education. For more information, visit www.unityhealth.to.