Shuter Wing demolition paves way for expanded Emergency Department
July 25, 2019
By Selma Al-Samarrai
Above:
photo of the Shuter Wing from the corner of Shuter and Victoria Streets, taken in July 2019.
Below:
a rendering of the new Shuter Wing once complete.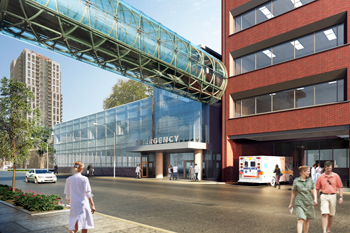 In the coming months, St. Michael's Hospital staff will see the 100-year-old Shuter Wing slowly empty of its departments in preparation for a complete demolition and rebuild. Shuter's six storeys house over 40 departments and services, and they are all moving to various locations on and off site.
The reasons behind this large-scale project are two-fold: the Shuter Wing requires a rebuild in order to meet the newest standards of patient care, and the first floor of the new Shuter Wing will house an expanded and redesigned ambulatory area of the St. Michael's Emergency Department (ED).
"The Shuter Wing is now over 100 years old. A typical building is designed to last anywhere between 25 and 50 years, so the wing is now beyond its useful life," explained explained interim director of Redevelopment Tom Parker.
"We hit a point where it was no longer cost-effective to renovate, so as part of the larger St. Michael's 3.0 project, we found an opportunity to rebuild the entire wing."
The ED expansion in the future Shuter build will include a new walk-in entrance and will be mostly focused on ambulatory patients, who compose 60 to 65 per cent of the ED's total patient population.
The new space will separate ambulatory patients from acute patients by providing ambulatory patients a dedicated waiting area, exam rooms and a confidential discharge suite. It will also use the Rapid Assessment ZoneA dedicated section for efficient diagnosis and treatment of patients with less severe illness or injury model. All of these features were planned to enhance patient flow and reduce wait times.
"The new department is purposely designed to accommodate both the volume of patients we see and the nature of patient presentations that we expect," explained Dr. Glen Bandiera, the former ED chief who oversaw the expansion's planning and the primary physician lead for the design and operational readiness preparations.
"This meant creating a quiet and respectful space for patients to be treated and recover. All assessment rooms will be completely private and enclosed, and there will be a state-of-the-art caregiver pod where staff can meet in a quiet and secluded space to discuss patient care, which minimizes interruptions and maximizes patient safety."
The new ED space in Shuter will also bring a first-ever diagnostic imaging hub, exclusively for ED patients, which will offer 24/7 access to CT scans, X-ray and ultrasounds. Currently, ED patients who require either of these two services are transferred to the third floor. This hub will result in a faster, safer and more dedicated service.
The expanded space will also include a new space for the Rotary Transition Centre, which provides various supports and shelter for underhoused patients after they're discharged from the ED.
"The reality is we need a bigger Emergency Department," said Dr. Carolyn Snider, who became the ED chief at St. Michael's in January.
"We need a new space where we can provide care that is more patient-friendly and patient-centred, and this expansion will help us do just that. All of us in the ED are excited to see this expansion."
The new Shuter rebuild will initially be two storeys, but it will have structural and service provisions in place to support an additional 15 storeys, which would match the height of the adjacent 17-storey Cardinal Carter wing.
"Even though the newest Shuter space will be dedicated to the Emergency Department, we have so much potential for additions and improvements for our staff and patients. We reached our limit with the existing space so by having a fresh start with Shuter, we have significantly more opportunities for redevelopment," explained Parker.
For related content:
About St. Michael's Hospital
St. Michael's Hospital provides compassionate care to all who enter its doors. The hospital also provides outstanding medical education to future health care professionals in more than 27 academic disciplines. Critical care and trauma, heart disease, neurosurgery, diabetes, cancer care, care of the homeless and global health are among the Hospital's recognized areas of expertise. Through the Keenan Research Centre and the Li Ka Shing International Healthcare Education Centre, which make up the Li Ka Shing Knowledge Institute, research and education at St. Michael's Hospital are recognized and make an impact around the world. Founded in 1892, the hospital is fully affiliated with the University of Toronto.
About Unity Health Toronto
Unity Health Toronto, comprised of Providence Healthcare, St. Joseph's Health Centre and St. Michael's Hospital, works to advance the health of everyone in our urban communities and beyond. Our health network serves patients, residents and clients across the full spectrum of care, spanning primary care, secondary community care, tertiary and quaternary care services to post-acute through rehabilitation, palliative care and long-term care, while investing in world-class research and education. For more information, visit www.unityhealth.to.