Three Wishes honours lives of ICU patients
June 24, 2019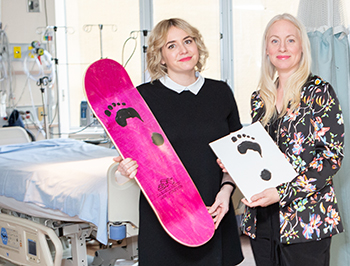 By Michael Oliveira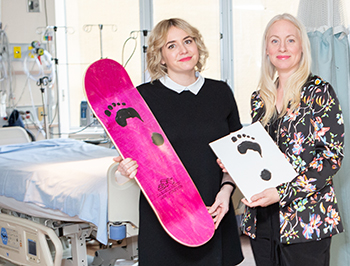 Ashley Henderson holds the commemorative skateboard designed through Three Wishes to honour her late husband Darrell Smith. Orla Smith, co-leader of the Three Wishes program at St. Michael's, holds the footprint that staff helped create for the skateboard. (Photo: Yuri Markarov)
At age 33 Darrell Smith had been an accomplished professional skateboarder with a community of friends and admirers around the world. He was a talented photographer with a passion for shooting on black and white film and developing his work in a home darkroom. And he was the love of Ashley Henderson's life.
Smith died at St. Michael's Hospital's Trauma and Neurosurgery Intensive Care Unit on Sept. 3, 2017, on the couple's seventh anniversary and two days before what would have been his 34th birthday.
But Henderson says she truly lost her common-law husband 10 days earlier, when he was struck by a car on his way home. He never regained consciousness and the decision was ultimately made to take him off life support.
"That week and a half was so traumatic and you're so numb the whole time. In those moments your brain isn't there and it's raw and emotional and you're kind of just going through the motions," recalled Henderson, who was then 34.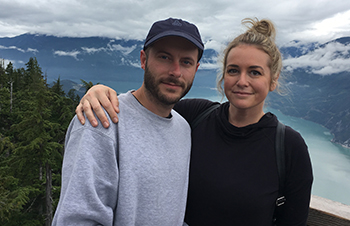 Smith and Henderson during a vacation in Squamish, B.C.,
taken about a month before he died.
"You're in this stark environment and everything's so traumatic and tragic and bleak. But then to have the Three Wishes program introduced — to have someone reach out to you with an idea to honour your loved one —is so incredibly important because it's not something you would think about in that moment. To have this experience offered to you with something you can take away and cherish for the rest of your life, it's incredible."
The Three Wishes program was conceived at St. Joseph's Healthcare in Hamilton with a mission to improve the experiences of patients, families and clinicians in the ICU by empowering staff to grant a number of low cost but emotionally powerful wishes.
Three Wishes was adopted at St. Michael's through a partnership to study if the project could be scaled out to other hospitals, explained Orla Smith, a registered nurse and scientist with the Li Ka Shing Knowledge Institute.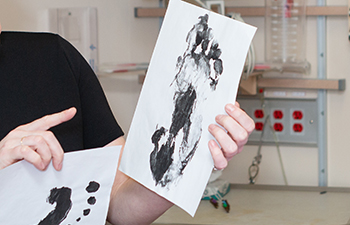 Henderson holds her original "Pinterest fail" footprint — staff helped her refine how to take the footprint for the final design. (Photo: Yuri Markarov)
"The idea was to think about how we could recognize and celebrate the lives of patients who end up dying in the ICU, a very technologically advanced environment where it can be difficult to see past the equipment and monitors to the person, and our shared humanity," said Smith, a co-leader of the program at St. Michael's along with Dr. Andrew Baker, chief of the Department of Critical Care and medical director of the Trauma and Neurosurgery program.
"And we not only think about how we can do things to honour the patients but also what could we do to support the families in their time of grieving, and what could we do to support staff who bear witness to this. Staff who work in the ICU are at risk for burnout and compassion fatigue, and so bringing back that humanity and linking it to the human experience of dying I think is profound for all those who are involved."
St. Michael's has since honoured over 150 patients through the Three Wishes program and documented over 500 wishes.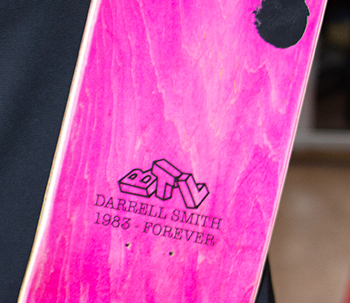 A closeup of the skateboard designed with Three Wishes. (Photo: Yuri Markarov)
"They've ranged from very simple things like playing music at the bedside, to other more individualized things like having patients dressed in their favourite hockey jersey when they're passing," said Smith.
"We've also helped families make complicated funeral arrangements for loved ones who may actually want to be interned in other countries, and in partnership with Spiritual Care, we organized a wedding to take place at the bedside."
For Henderson, the Three Wishes team helped create a personalized feature to add to a custom memorial skateboard. They discussed painting one of her common-law husband's feet to create a footprint that would be applied to the special skateboard, exactly where his foot would be when he was riding.
Henderson jokes her first attempt was a "Pinterest fail" but the staff helped create a better version of the footprint that worked perfectly. The process of designing this aspect of the skateboard with other family members was powerful and uplifting during an impossibly difficult time, Henderson said.
"Sharing that human moment of creating art in a playful way cut through the tension of such a raw experience, and brought a little bit of life back into the room. It was a moment of normalcy within a situation that was anything but normal," she said.
"To share this time together and kinda laugh — like genuinely laugh in the face of this horrific situation — was really quite touching and beautiful and what it resulted in is incredible."
Over 200 of the memorial skateboards were produced by a local store, the Blue Tile Lounge Skateboard Shop, and sold to Smith's family and friends in the skateboarding community around the world.
For another wish, the ICU staff had Smith dressed in some of his own clothes before his family said goodbye.
"I gave the nurses one of his tuques and a cardigan and when I entered the room that morning to take him off life support it was this moment where it was him again, because for the whole 10 days it wasn't him to me," Henderson said.
"Just to have a little piece of him back for that hour before I lost him forever was really important to me."
A wish made on behalf of Smith was to donate his organs.
"He had a very good friend who passed away from cystic fibrosis, so him being able to donate his organs, that was his wish," Henderson said.
"Overall, it all came together so beautifully."
About St. Michael's Hospital
St. Michael's Hospital provides compassionate care to all who enter its doors. The hospital also provides outstanding medical education to future health care professionals in more than 27 academic disciplines. Critical care and trauma, heart disease, neurosurgery, diabetes, cancer care, care of the homeless and global health are among the Hospital's recognized areas of expertise. Through the Keenan Research Centre and the Li Ka Shing International Healthcare Education Centre, which make up the Li Ka Shing Knowledge Institute, research and education at St. Michael's Hospital are recognized and make an impact around the world. Founded in 1892, the hospital is fully affiliated with the University of Toronto.
About Unity Health Toronto
Unity Health Toronto, comprised of Providence Healthcare, St. Joseph's Health Centre and St. Michael's Hospital, works to advance the health of everyone in our urban communities and beyond. Our health network serves patients, residents and clients across the full spectrum of care, spanning primary care, secondary community care, tertiary and quaternary care services to post-acute through rehabilitation, palliative care and long-term care, while investing in world-class research and education. For more information, visit www.unityhealth.to.