How the environment affects our health: study examines impact of traffic-related air pollution in walkable neighbourhoods
June 27, 2019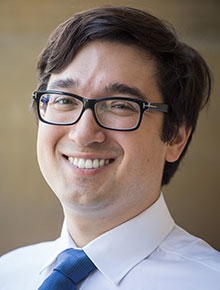 By Anna Wassermann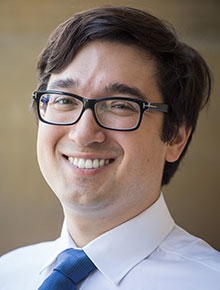 Nicholas Howell
A new study published in Environment International challenges the notion that living in walkable neighbourhoods is better for the overall health and well-being of Canadians.
The research, co-led by Dr. Gillian Booth, a scientist at St. Michael's Hospital's MAP Centre for Urban Health Solutions and ICES, and Nicholas Howell, a PhD graduate in the Li Ka Shing Knowledge Institute, found that living in unwalkable neighbourhoods was associated with a higher likelihood of having diabetes or hypertension than living in the most walkable communities. But, any observed benefit for those living in walkable areas appeared to decrease — or in some cases, disappear — as the level of air pollution increased. We connected with Howell to learn more about his recent research with Dr. Booth.
What did you set out to study?
We were really interested in whether air pollution in urban areas might offset some of the health benefits of living in walkable neighbourhoods. Previous research has shown that people living in walkable neighbourhoods tend to be more active, are less likely to be overweight or obese, and are less likely to develop health conditions like high blood pressure or diabetes. This is great news and a positive finding for public health and urban design, but our team wondered how we square these results with our day-to-day experiences. Walkable, downtown areas have a lot of people walking and cycling, but they can also be congested with traffic and have lots of pollution. We know from other research that air pollution from traffic is linked to worse health, so how do these two things come together? Are they totally independent, or do they compete in influencing our health? That's what we were interested in looking into.
Can you describe the relevance and timeliness of this topic?
This issue is very important for many Canadians and people around the globe who are increasingly residing in urban areas. With this shift, there's great potential for us to create environments that are healthier for people to live in, that help support them being active in day-to-day life, and help reduce dependence on cars. But there's also a need to consider how other parts of urban living, like pollution, might take away from potential benefits and prevent us from achieving the best possible health for the population as a whole.
How did you measure exposure to pollution, and determine likelihood of illness?
To estimate individuals' exposure to pollution, our collaborator and co-author, Dr. Perry Hystad, a researcher at Oregon State University, developed statistical models that predict how much nitrogen dioxide is likely to be present at different locations across Ontario. We then linked these estimates to individuals based on their home addresses. To measure risk of hypertension and diabetes, we used databases housed at ICES that contain information on individuals' health and use of services like visits to the hospital. Algorithms developed by our colleagues can help use that information to tell whether someone has, for instance, diabetes or not.
What were the key findings?
In our sample of individuals across 15 municipalities in Southern Ontario, including Toronto and the GTA, Ottawa and Hamilton, individuals living in more walkable neighbourhoods had higher exposures to traffic-related air pollution on average. Critically, we further found that while residing in an unwalkable neighbourhood was associated with a higher likelihood of having diabetes or hypertension than living in the most walkable communities, any observed benefit for those living in walkable areas appeared to be lost in the most polluted areas.
What are the implications for policy, urban planning and public health?
We need to be mindful of how air pollution affects the health of individuals in urban areas. Our policy and urban planning should help support reducing levels of traffic in cities so we can maximize the benefits of walkable communities. This might be through initiatives like bike lanes, which encourage people to cycle to work; enhancing public transit within an urban region; or strengthening inter-city train and transit systems. This last idea is particularly important because other research has found that much of the air pollution in urban areas might be generated by people driving into those areas rather than the residents themselves.
Where do you see this research heading?
This research hints at the complexities behind how the environment can shape our health. Often we try to separate out different parts of the environment, like how walkable a neighbourhood is, or how much green space there is, to make it easier to understand. But the findings in this paper suggest that we also need to investigate how different aspects of the environment come together to jointly affect human health. After all, we experience them all at once in our daily lives, not one at a time.
About St. Michael's Hospital
St. Michael's Hospital provides compassionate care to all who enter its doors. The hospital also provides outstanding medical education to future health care professionals in more than 27 academic disciplines. Critical care and trauma, heart disease, neurosurgery, diabetes, cancer care, care of the homeless and global health are among the Hospital's recognized areas of expertise. Through the Keenan Research Centre and the Li Ka Shing International Healthcare Education Centre, which make up the Li Ka Shing Knowledge Institute, research and education at St. Michael's Hospital are recognized and make an impact around the world. Founded in 1892, the hospital is fully affiliated with the University of Toronto.
About Unity Health Toronto
Unity Health Toronto, comprised of Providence Healthcare, St. Joseph's Health Centre and St. Michael's Hospital, works to advance the health of everyone in our urban communities and beyond. Our health network serves patients, residents and clients across the full spectrum of care, spanning primary care, secondary community care, tertiary and quaternary care services to post-acute through rehabilitation, palliative care and long-term care, while investing in world-class research and education. For more information, visit www.unityhealth.to.