Speech and Hearing Month: celebrating those who empower the ability to communicate
May 10, 2019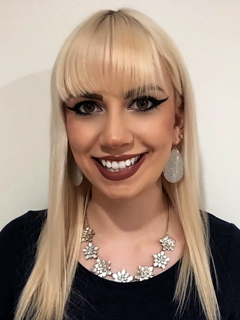 By Selma Al-Samarrai
May 13, 2019 – Speech, language and cognitive disorders can adversely affect academics, work and social interaction. Speech language pathologists and audiologists train extensively to optimize these most human of functions: communication and swallowing – talking and eating.
When an individual's ability to effectively communicate or swallow changes because of conditions such as stroke, brain injury, Parkinson's disease, multiple sclerosis, head or neck cancer, or dementia, it can have a huge impact on their quality of life. Individuals with untreated swallowing disorders (dysphagia) are at risk of dehydration, malnutrition and respiratory compromise. Anything that interferes with the areas of the brain that process and formulate language or the muscles that control speech and swallowing is of concern to the speech language pathologist (SLP).
May is Speech and Hearing Month and at Unity Health Toronto, we celebrate our hardworking speech language pathologists, audiologists, communication disorder assistants, and the important work that they do.
"I have worked at St. Joseph's Health Centre for the past 18 years and have practiced in both the Medicine and Surgery programs with a focus on working with individuals with swallowing disorders as well as some communication disorders. More recently, my role has expanded to working with individuals and their families in the palliative cohort. It is a challenging but rewarding role as I feel I am able to help the dying individual and their family deal with issues of end of life and feeding, especially when impacted by swallowing difficulties. I make diet texture changes based on the nutritional goals of the individual, and I provide continuous support and education about oral care and comfort-feeding practices. I hope to make eating and swallowing as comfortable and enjoyable for the individual as they move along their final life journey."- Helen Papakyriacou, speech language pathologist, Medicine program on units 4L and 6M, St. Joseph's Health Centre
"Approximately 79 per cent of individuals with a terminal disease or illness will experience dysphagia towards the end of life. As a speech language pathologist on Providence Healthcare's Palliative Care Unit, my role involves working with patients to maximize their swallowing function to promote oral nutrition and hydration as well as to improve and support their quality of life. I work closely with my patients to help them be able to maintain eating pleasure while reducing their risks of choking and aspiration. Patients' physical and emotional needs are always taken into consideration in order to help them manage their symptoms of dysphagia, to provide them with education and support surrounding their swallowing care decisions, and to provide recommendations and guidance regarding comfort feeding. The timely identification of swallowing problems in palliative care patients can lead to conversations about quality of life early on during one's hospital stay, which helps to alleviate social and emotional concerns for both patients and their families. I feel very privileged to be a part of the multi-disciplinary team that works with the palliative care population at Providence Healthcare in order to help alleviate patient suffering and provide comfort and support during a patient's final days." – Kelsey Bowers, speech language pathologist, Palliative Care, Providence
"As a hospital-based clinical audiologist, my role is to help in the prevention, diagnoses and treatment of hearing disorders. I work closely with the Ear, Nose and Throat (ENT) physicians to aid in their diagnosis of ear and hearing-related problems. I perform extensive testing on those who are having trouble hearing or are suffering from tinnitus to determine the etiology and extent of the hearing loss. If it is determined that the person needs to trial some amplification, I am also fortunate to have the hearing aid dispensary within the department where we can fit patients with hearing aids and advanced listening devices. This gives me the opportunity to not only test patients, but to see them through regaining their hearing. It gives me great satisfaction to see people regain their quality of life by being able to communicate again with their family and friends." – Sean Smith, Audiologist, ENT Clinic, St. Michael's Hospital
"In my clinical role, I work with inpatients admitted to Providence's stroke and neuro program who have swallowing and/or communication impairments. Aphasia, a language impairment, is a common consequence of stroke and it impacts a third of people post-stroke. Aphasia can affect a person's ability to understand, speak, read or write. While it does not affect a person's intelligence, aphasia may mask someone's competence. Imagine you know what you want to say, but can't get the words out. Someone speaks to you, but the words just don't make sense. You need to fill out a form, but you can't spell your own name. You try to read the paper, but the words look like a jumbled, foreign language. This may be the reality for a person with aphasia. My job is to help people with aphasia improve their language skills and build "communication ramps" to support communication. This is done in collaboration with the patient, loved ones, and the rest of the health care team. What I love about my job is that I can help support people with aphasia to reveal their competence and intelligence, engage socially with their loved ones, and empower them to take part in their healthcare." – Laura Conway, professional practice leader and speech language pathologist, Providence
"I am a speech pathologist for the Specialized Complex Care and Diabetes Comprehensive Care programs. My clinical expertise in the field of motor speech, language and swallowing disorders positively impacts the lives of patients across the Medical-Surgical Intensive Care, Palliative Care, Oncology, Nephrology, Respirology and Gastroenterology units. An important part of my work is providing patients with a thorough assessment of their swallowing function, via videofluoroscopic swallow study (VFSS). When I have identified the nature of the problem, I provide education and support patients to explore various options such as diet texture modification. I work collaboratively with a dietician and together we create a plan to support nutrition and reduce the risk for choking and other complications. I am honoured to be involved in the care of my patients:  they are my inspiration. I participate with the Registered Nurses Association of Ontario to advocate for the implementation of comprehensive oral hygiene practice guidelines and educate our staff about the role of oral care in prevention of hospital-acquired pneumonia. I also enjoy providing mentorship to University of Toronto graduate students of the communication sciences program.  – Lucia Lorenzatti, speech language pathologist, St. Michael's
"I work with patients who suffer from voice loss (dysphonia) or swallowing difficulties, often due to injury or systemic illness. For patients with swallowing difficulty, I assess their swallowing with either a radiological exam called a videofluoroscopic swallow study or with a camera and a scope called a fiberoptic examination of swallowing (FEES) to gain a better understanding of the reasons behind the problem. We can then explore strategies to improve the safety and efficiency of a swallow to reduce risk of choking that can lead to pneumonia.  In the Voice Clinic I do a detailed examination with stroboscopy, which allows us to analyze the vocal folds in motion. I work with a fantastic team that includes laryngologists, a speech pathologist and a singing consultant — I am also a classically trained singer.  A loss of voice can mean a loss of income, feelings of isolation and even a loss of identity.  With voice therapy, I am able to help patients recover their voices and learn to use their voices more effectively for their long-term health and livelihood. I feel so fortunate to come to work every day and make a difference where I can." – Marta DeLuca, speech language pathologist for the Voice and Swallowing clinic, St. Michael's