Understanding Health Canada's newest food guide: a Q&A with our registered dietitians
January 25, 2019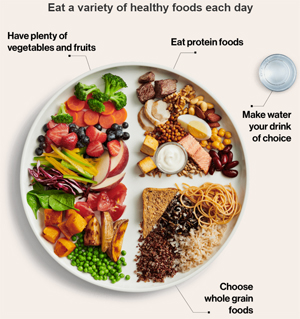 By Selma Al-Samarrai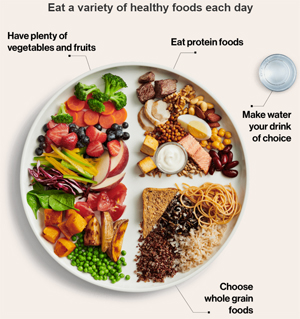 Click here
or on the image above for a larger version. Photo courtesy of Health Canada
On Jan. 22, Health Canada updated its food guide with significant changes to the formerly recommended four food groups.
Among the most notable changes is that dairy and meat products are no longer their own individual food groups. They are now listed together under the protein category, with plant-based protein recommended more than meat or dairy-based protein. The remaining two recommended food groups are vegetables and fruits, and whole grains.
Further, juice is no longer recommended, and the guide recommends "make water your drink of choice."
To understand the research behind the new recommendations, and how to best apply the guide to one's diet, we talked to three registered dietitians from Unity Health Toronto.
Here's what they had to say about Health Canada's newest food guide recommendations:
What are your thoughts on the recommendation to consume more plant-based protein and less dairy or meat?
Melissa Murray: The food guide is by no means telling people to become vegetarian, but plant-based protein has lower saturated fat and higher dietary fibre content than animal protein.
Because of this, plant-based protein is associated with lower risk of chronic diseases like cardiovascular disease and certain types of cancer. It's also more inclusive for people who are vegetarian or who belong to certain cultures that follow a more vegetarian diet.
I think this is a positive change in the food guide because many Canadians don't consume enough plant-based protein, legumes or dietary fibre, so hopefully this will encourage it more.


Meet the three Unity Health Toronto registered dietitians behind the Q&A:



If you have questions on the new guide that you want our dietitians to respond to, please ask your question as a comment on our Facebook post and we will answer you!




Meaghen Elger, registered dietitian and certified diabetes educator, Diabetes Clinic, St. Michael's Hospital




Melissa Murray, registered dietitian and certified diabetes educator, Family Medicine, St. Joseph's Health Centre




Nicole Yuen, registered dietitian and professional practice leader, Orthopedic and Amputation Rehab Unit, Providence Healthcare




Nicole Yuen: The food guide is a guide. It's a tool that can be adjusted and adapted to certain populations. For example, the reduced emphasis on dairy recommendations in the food guide may not apply to children and seniors who may have a higher calcium requirement and therefore need more dairy or dairy alternatives in their diet. It is worthwhile for individuals to consider connecting with a registered dietitian to discuss their individual needs and how they can incorporate foods that contain an adequate amount of the nutrients they need.
What are your thoughts on the removal of juice and sugary drinks from the food guide?
Meaghan Elger: Drinking water instead of beverages with sugar is an excellent recommendation. Eating a whole fruit is always better than drinking juice because it has less sugar and more fibre.
Melissa Murray: Research behind the food guide shows that the main source of total sugar in Canadians is from sugary beverages, with the highest intake in children. Hopefully this recommendation will foster change around this.
The guide encourages consumers to review nutrition labels, and specifically to monitor the daily value percentage of nutrients. Could you explain this?
Melissa Murray: Percentage of daily value (DV) is an easy way to interpret nutrients on a label. It tells you how much of your daily requirement of a particular nutrient is being provided to you through that product. It's important to note the serving size, because if you eat more or less than the serving, then the DV percentage will change.
The purpose of this percentage isn't to have people add up their percentages for the day, but rather to quickly figure out if the food item provides too little of a nutrient (under five per cent) or a lot (more than 15 per cent).
The guide encourages cultural and traditional eating. What's the importance of this?
Nicole Yuen: In every culture, food is such an integral part of community and health and the impact goes beyond what is eaten. There are many facets of food that are not necessarily nutritive but are deeply tied to culture, self-identity and healing. By acknowledging cultural and traditional food patterns that are ingrained into people's lives, the guide demonstrates sensitivity and respect to cultural diversity and to long-standing cultural traditions.
There's a lot of emphasis on preparing meals with and eating with others. Why is this important?
Nicole Yuen: The act of eating is multidimensional and it's nice to see that some of the other aspects that influence how we eat and not just what we eat are being highlighted. While there are evident benefits like saving money, I think people often forget the benefits of eating and preparing food together. Eating with others impacts our mindfulness and relationship with food, how we bond with other people and the development of healthy habits that last a lifetime.
Meaghan Elger: The new guide's focus on the connection between food, the eating environment and cooking is an acknowledgement of the importance of all these factors in the development of healthy eating behaviours. We know that when families eat together, children develop healthier eating habits. There's a trend now towards eating more processed foods, so it's important to cook meals from whole foods and share these skills and traditions with children.
The guide asks us to beware of food marketing – could you elaborate on the necessity of this?
Meaghan Elger: Food marketing can sometimes be misleading. For example, a product that says "lower in sodium" is being compared to the same product that has the usual amount of sodium. If you compare this product to the maximum amount of sodium a person should be having in a day, it may still be too high. Nutrition Facts labels can be helpful in comparing different products to make better choices.
How are you supposed to get your calcium?
(This question was received from a reader after the article was posted)
Nicole Yuen: Great Question! The food guide still includes low fat dairy as part of the protein recommendations. You can find calcium in dairy sources such as low-fat milk, yogurt and hard cheese, and also in non-dairy sources including fish with bones, legumes (beans), almonds, soy products (tofu and fortified soy beverages) and some vegetables (turnips and beet greens). It's also important to note that bone health doesn't rely solely on calcium intake but also on Vitamin D. Vitamin D is produced by our bodies getting enough sunlight exposure, but it is also found in food items fortified with Vitamin D (soy beverage), protein sources such as eggs and salmon, and dairy products. If you're still unsure about whether you are getting enough of a particular nutrient, I always recommend going to see a registered dietitian. Dietitians are specifically trained to look at evidence-based science to provide individualized recommendations that fit your lifestyle.
About St. Michael's Hospital
St. Michael's Hospital provides compassionate care to all who enter its doors. The hospital also provides outstanding medical education to future health care professionals in more than 29 academic disciplines. Critical care and trauma, heart disease, neurosurgery, diabetes, cancer care, care of the homeless and global health are among the Hospital's recognized areas of expertise. Through the Keenan Research Centre and the Li Ka Shing International Healthcare Education Centre, which make up the Li Ka Shing Knowledge Institute, research and education at St. Michael's Hospital are recognized and make an impact around the world. Founded in 1892, the hospital is fully affiliated with the University of Toronto.
About Unity Health Toronto
Unity Health Toronto, comprised of Providence Healthcare, St. Joseph's Health Centre and St. Michael's Hospital, works to advance the health of everyone in our urban communities and beyond. Our health network serves patients, residents and clients across the full spectrum of care, spanning primary care, secondary community care, tertiary and quaternary care services to post-acute through rehabilitation, palliative care and long-term care, while investing in world-class research and education. For more information, visit www.unityhealth.to.