St. Michael's receives nine CIHR project grants
January 29, 2019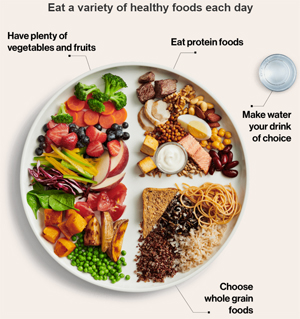 By Ana Gajic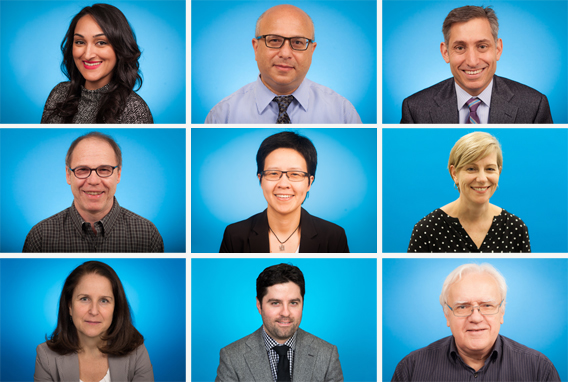 (Left to right, from top top row) Dr. Sakina Rizvi, Dr. George Yousef, Dr. Ron Wald, Dr. Andras Kapus, Dr. Wanrudee Isaranuwatchai, Dr. Jane Batt, Dr. Lisa Puchalski Ritchie, Dr. Jefferson Wilson and Dr. John Marshall
Nine St. Michael's led research projects have been funded by the Canadian Institutes of Health Research (CIHR) Project Grants from the fall 2018 competition. Congratulations to our researchers and their teams for receiving this recognition and support for their work.
Defining the Natural History and Predictors of Disease Progression in Mild Degenerative Cervical Myelopathy: A Longitudinal Multicenter Prospective Cohort Study
Led by Dr. Jefferson Wilson, scientist at the Li Ka Shing Knowledge Institute (LKSKI), this work will focus on Degenerative Cervical Myelopathy (DCM), a common disorder which occurs when progressive age-related changes affecting the bones and discs in the neck lead to compression of the spinal cord. This results in symptoms of hand weakness, walking difficulties and loss of bladder control. Dr. Wilson's research will aim to identify how doctors can determine which patients' conditions will deteriorate faster.
Pragmatic randomised trial of High or Standard PHosphAte Targets in End-stage kidney disease – PHOSPHATE Canada (TARGET 2)
Dr. Ron Wald, scientist at the LKSKI, will lead this research on the impact of phosphate-lowering on the care provided to dialysis patients. High phosphate levels in the blood are almost universally seen among patients with chronic kidney failure who require dialysis. Dr. Wald's work will aim to provide quality evidence regarding phosphate control for this patient population.
Development of the first pre-operative serum exosomal miRNA test to guide treatment decision in prostate cancer
Led by Dr. George Yousef, a scientist at the KRCBS, this research will validate a test that can determine which prostate cancer patients have an aggressive form of the disease and require surgery. The test will represent significant improvement in patients' quality of life by avoiding invasive biopsy and providing accurate assessment of tumours' aggressiveness.
Myocardin-related transcription factor (MRTF) and serum response factor (SRF) are constituents and key regulators of the primary cilium
This work, led by Dr. Andras Kapus, director of Trauma, Critical Care and Inflammation at the KRCBS, will examine how two proteins, myocardin-related transcription factor (MRTF) and serum response factor (SRF), contribute to the normal structure and function of the primary cilium. The cilium is a short, microscopic hair-like vibrating structure found on the surface of cells that acts as an important chemical and mechanical antenna of practically every cell in the body. This research will look at how the two proteins might be involved in cancer-related cilium defects.
Mechanisms Regulating Chronic Skeletal Muscle Atrophy and Weakness in the Critical Illness Survivor
Dr. Jane Batt, a scientist at the KRCBS, will lead this work to determine the mechanism by which some molecular regulators, known as microRNAs (miRs), impair muscle regeneration and growth. Her team will determine if it's possible to impact muscle regeneration and growth by modulating miRs in cell culture models and patients with intensive care unit-acquired weakness. Generating novel insights into sustained muscle wasting and potential therapeutic target identification will allow the team to develop approaches aimed at limiting loss of, and/or enhancing growth of muscle in individuals with sustained intensive care unit-acquired weakness.
The Role of Active Deresuscitation After Resuscitation (RADAR): A pilot randomized clinical trial
Led by Dr. John Marshall, co-director of the Critical Illness and Injury Research Centre, this work will look into the possibility that actively intervening to remove excess fluid retained by ICU patients, by increasing urine output, may improve patient outcomes. Since the administration of fluids is called resuscitation, Dr. Marshall and his team have termed this approach "deresuscitation." This pilot study will determine the benefits of deresuscitation and whether and how to study it on a larger scale.
Development and evaluation of a toolkit to support low- and middle-income country implementers' through the steps of effective implementation planning to improve uptake of evidence into practice and maternal health outcomes
Dr. Lisa Puchalski Ritchie, scientist at the LKSKI, will lead this project, which aims to develop and test a novel tool-kit, designed to assess barriers and facilitators to implementation of interventions to maternal mortality in low- and middle-income countries. Effective implementation requires that barriers and facilitators to implementation are identified and addressed using theory-informed, evidence-based implementation strategies adapted to the relevant political and cultural context. Dr. Puchalski Ritchie and her team will find the best ways to implement these important strategies.
Characterizing Dopamine D2 and D3 Receptor Binding in Treatment Resistant Depression
Led by Dr. Sakina Rizvi, scientist at the LKSKI, this project will aim to characterize the dopamine system in the brain in patients with treatment resistant depression, non-resistant Major Depressive Disorder and healthy controls. It is estimated that 30 per cent of individuals with Major Depressive Disorder do not significantly improve with antidepressant medication, accounting for over 1 million Canadians in their lifetime. Treatment resistant depression, defined as a failure of at least two antidepressant trials for the current episode, results in almost double the health-associated costs and a greater likelihood of occupational disability, causing significant economic and personal burden. Results of Dr. Rizvi's study will represent the first comprehensive assessment of dopamine in the brain among resistant and non-resistant Major Depressive Disorder patients.
Economic impact of falls prevention interventions: We know the "value", but what about the "value for money"
Led by Dr. Wanrudee Isaranuwatchai, this project will examine the cost-effectiveness of falls prevention interventions identified through the team's previous work. The findings will help identify falls prevention interventions that are not only effective for patients but also cost-effective.
About St. Michael's Hospital
St. Michael's Hospital provides compassionate care to all who enter its doors. The hospital also provides outstanding medical education to future health care professionals in more than 29 academic disciplines. Critical care and trauma, heart disease, neurosurgery, diabetes, cancer care, care of the homeless and global health are among the Hospital's recognized areas of expertise. Through the Keenan Research Centre and the Li Ka Shing International Healthcare Education Centre, which make up the Li Ka Shing Knowledge Institute, research and education at St. Michael's Hospital are recognized and make an impact around the world. Founded in 1892, the hospital is fully affiliated with the University of Toronto.
About Unity Health Toronto
Unity Health Toronto, comprised of Providence Healthcare, St. Joseph's Health Centre and St. Michael's Hospital, works to advance the health of everyone in our urban communities and beyond. Our health network serves patients, residents and clients across the full spectrum of care, spanning primary care, secondary community care, tertiary and quaternary care services to post-acute through rehabilitation, palliative care and long-term care, while investing in world-class research and education. For more information, visit www.unityhealth.to.