St. Michael's honours those with 50 years of service
November 02, 2018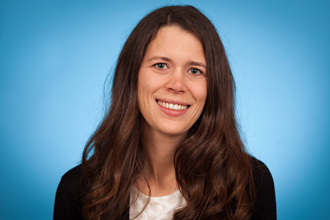 By Mary Dickie
St. Michael's celebrated its longest-serving employees and physicians Oct. 30 with a luncheon where those with 20 or more years of service were thanked by CEO Tim Rutledge and the event's donors, former CEO Jeff Lozon and his wife, Donna. Four people who have been with St. Michael's for 50 years—Reni Vorne, Luis Pacheco, Mitchell Halperin and Bernadette Garvey—were singled out for their remarkable dedication and service.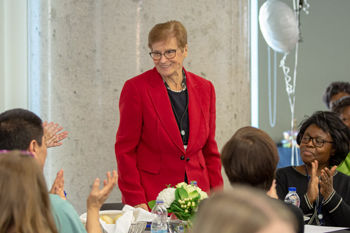 Dr. Bernadette Garvey
Dr. Bernadette Garvey became a staff physician in St. Michael's division of Haematology in 1968, and then director of that division as well as of the division of Laboratory Haematology, "I wore two hats, as both clinician and lab director," she says. She was the first woman on staff in the department of medicine, and the only one for 14 years. She unified the hospital's multiple labs into one department, and became chief of that as well as deputy chief of medicine, and chair of the medical advisory committee. She built a nationally recognized coagulation lab, and developed a comprehensive hemophilia centre, the largest one in Canada. As chair of the provincial Advisory Committee on AIDS, she spearheaded the development of the hospital's AIDS clinic and contributed to the development of one of the city's first palliative care units. She was the first Canadian to chair a major review committee for the U.S. National Institutes of Health, and went on to chair six more. She has received many awards, and served on more than 70 hospital and university committees. Working with the World Federation of Hemophilia, she established a hemophilia program in Jordan and was presented to the king of Jordan in recognition of her work. Dr. Garvey is proud of all her achievements, and especially of all the physicians she's helped along the way, but in the end she says she's proudest of not having to compromise her integrity to get where she was going.
Reni Vorne
Reni Vorne, an RN in Therapeutic Endoscopy, began in the ICU at Wellesley Hospital, and says she brought those experiences with her when she began working in endoscopy at St. Michael's. "We get intubated people, serious cases flown in from everywhere, so all of my knowledge is used here," she says. While the technology and equipment have improved over the years, the most significant advance for Vorne is that patients can be treated earlier. "We get to people when the cancer is still on the first level," she explains. "You don't want it to spread to the third or fourth level of the tissue, because then they need major surgery. So a lot of patients are doing much better because of the work we do as a team." One memory Vorne treasures was when she comforted a seriously ill and agitated patient. "I asked him about it later, and he said, 'I remember I had trouble breathing and I thought I was kidnapped, but there was this sweet voice saying I would be fine, to just breathe and relax. I thought it was an angel talking to me,'" she recalls. "I've used that for myself over the years, to remember to tell people what's going on and settle them. Because they hear you, and it's meaningful."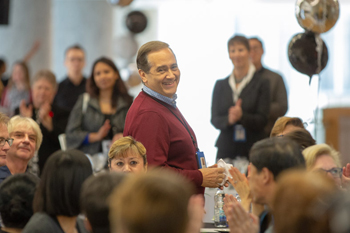 Luis Pacheco
Luis Pacheco, senior procurement specialist in food and nutrition commodities, has been working at St. Michael's since he was 16 years old. "The sister told me she'd hire me as long as I stayed in school, and I promised I would," he says. "And I've enjoyed every minute." Pacheco's father, sister and son have also worked at St. Michael's, so it's something of a family tradition—together, they have accrued more than 200 years of service. Luis' first job was preparing patient meals on an assembly line, but he took night courses and was eventually promoted to food service supervisor, now known as nutrition management. "I was always interested in nutrition," says Pacheco, who has seen many changes over the years, including a move to healthier and less restrictive diets for patients. "I know the service I provide is patient care, and I go home happy." Pacheco says his most challenging task was leading the kitchen's overnight move from the old basement to the new Cardinal Carter wing in 1983. "I like challenges, but it wasn't easy," he recalls. "A lot of equipment had to be moved. I stayed all night so people could have their breakfasts in the morning. But everything went well—nobody had to go without breakfast!"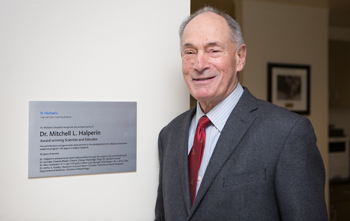 Dr. Mitchell Halperin
Dr. Mitchell Halperin is a renal physiologist at St. Michael's and an educator and researcher at the Li Ka Shing Knowledge Institute. Dr. Halperin helped establish the hospital's Division of Nephrology, and led it from 1998 to 2003. His emphasis has always been on research and education rather than clinical work, and indeed that's why he came here in 1968. "St. Mike's was more permissive in terms of letting me do what I wanted to do," he explains. "I didn't want to have a clinical practice, in order that I could work in my lab to study renal and integrative physiology, which enabled us to apply our discoveries to the bedside. I felt I needed time protection to run my lab, and that it would be the essence of my contribution in the areas of education and research." Dr. Halperin is a member of the Order of Canada, but he says he is proudest of those he has mentored at St. Michael's. "I had the opportunity to work with lots of really clever, accomplished people," he says. "And I still find teaching really satisfying."
St. Michael's is proud to recognize these remarkable individuals who have contributed so much over the past 50 years to its mission of innovative teaching and research and exemplary, compassionate care.
About St. Michael's Hospital
St. Michael's Hospital provides compassionate care to all who enter its doors. The hospital also provides outstanding medical education to future health care professionals in more than 29 academic disciplines. Critical care and trauma, heart disease, neurosurgery, diabetes, cancer care, care of the homeless and global health are among the Hospital's recognized areas of expertise. Through the Keenan Research Centre and the Li Ka Shing International Healthcare Education Centre, which make up the Li Ka Shing Knowledge Institute, research and education at St. Michael's Hospital are recognized and make an impact around the world. Founded in 1892, the hospital is fully affiliated with the University of Toronto.
St. Michael's Hospital with Providence Healthcare and St. Joseph's Health Centre now operate under one corporate entity as of August 1, 2017. United, the three organizations serve patients, residents and clients across the full spectrum of care, spanning primary care, secondary community care, tertiary and quaternary care services to post-acute through rehabilitation, palliative care and long-term care, while investing in world-class research and education.