How one clinic is helping newcomers with a sick child adjust to life in Canada
October 29, 2018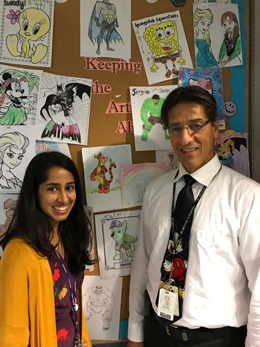 By Selma Al-Samarrai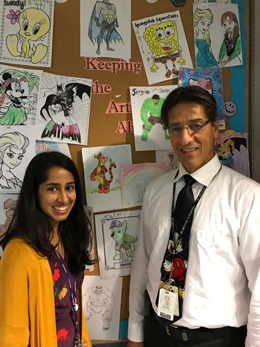 Drs. Shazeen Suleman (l) and Tony Barozzino, physician leads at the clinic.
Last October, Sara and her family of three immigrated from Sudan to Montreal, Canada. Sara's nine-year-old son, Mohamed, who lives with cerebral palsy, began having issues with his feeding tube, which landed them in an Emergency Department. There, Sara was told that Mohamed would be best cared for in Toronto at the Newcomers to Canada Clinic at St. Michael's Hospital.
By December, Sara was amazed with the immediate support that her family was receiving at the Toronto clinic. Beyond assessing Mohamed's condition and setting up his appointments with specialists, the clinic's staff acted quickly to manage all the medical and non-medical logistics involved in caring for a child with cerebral palsy.
"We were newcomers and we don't have family or friends here, so they really helped us a lot. They contacted Mohamed's school board and got him registered for school, they set up him up with Wheel-Trans service, and they applied for funds to get him medical supplies. They really supported us," explained Sara.
The Newcomers to Canada Clinic at St. Michael's Hospital serves infants and adolescents with chronic illness who are new to Canada. The clinic's unique operating model focuses on the intersection of medical care for chronic diseases and the social supports needed by families that are new to Canada.
After diagnosing and treating its young patients, the clinic connects the families with primary-care providers, specialists, schools and resources in the community to help ensure they have immediate access to the services they need.
"We developed a model of care that recognizes the issues facing immigrants and refugee families and children. We incorporate interpretation services and address issues such as social determinants of health, barriers to care, language and literacy, and trust between families and medical teams," explains Dr. Tony Barozzino, one of the two physician leads of the clinic.
"Our goal is to, over time, not only increase our ability to care for these families, but also ensure they become self-sufficient and know how to access the resources that are available to them."
Dr. Shazeen Suleman, also a physician lead at the clinic, was the first point of contact for Sara. As a daughter of refugees, Dr. Suleman says it's her personal experience that inspired her to pursue a career caring for newcomers.
"I wouldn't be in the position I'm in today if my parents didn't have the support and services they had when they first came to Canada."
"These families are incredibly resilient. To arrive in a new country motivated by the pursuit of life takes a lot of courage and drive. Recognizing that resilience positions our clinic in more of an empowerment role than a charitable role," says Dr. Suleman.
Sara also credits patient navigator Dorjana Vojvoda and registered dietitian Alyson Martinez for their tremendous care of Mohamed. Sara recounted the numerous occasions where Vojvoda and Dr. Suleman attended meetings at Mohamed's school to clearly explain his condition and his needs to the school, and prepare them for his enrolment.
"The clinic doesn't just support Mohamed, they are also supporting me too because I don't have to worry about him as much. After he starts school, I can study or work. My heart feels warm every time you say Dr. Shazeen or Dorjana or Alyson. We can't thank them enough," said Sara.
About St. Michael's Hospital
St. Michael's Hospital provides compassionate care to all who enter its doors. The hospital also provides outstanding medical education to future health care professionals in more than 29 academic disciplines. Critical care and trauma, heart disease, neurosurgery, diabetes, cancer care, care of the homeless and global health are among the Hospital's recognized areas of expertise. Through the Keenan Research Centre and the Li Ka Shing International Healthcare Education Centre, which make up the Li Ka Shing Knowledge Institute, research and education at St. Michael's Hospital are recognized and make an impact around the world. Founded in 1892, the hospital is fully affiliated with the University of Toronto.
St. Michael's Hospital with Providence Healthcare and St. Joseph's Health Centre now operate under one corporate entity as of August 1, 2017. United, the three organizations serve patients, residents and clients across the full spectrum of care, spanning primary care, secondary community care, tertiary and quaternary care services to post-acute through rehabilitation, palliative care and long-term care, while investing in world-class research and education.