A snapshot of organ and tissue donation at our three hospitals
April 18, 2018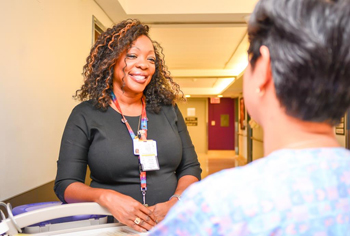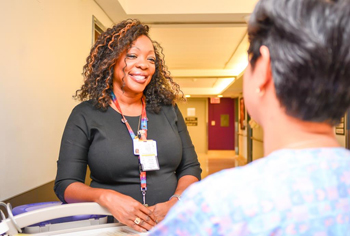 Jacqueline Lumsden, the patient care manager for the Palliative Care program and Assess and Restore services at Providence Healthcare
During Be A Donor Month, and throughout the year, you'll hear the words: 'Organ donation is a gift.'
Organ donation is considered a great gift by many. It's not always in the receiving of the gift but in the giving as well. For some, that unfortunately may not be an option, and only two per cent of all hospital deaths lead to donation. Factors such as health status and how a person died contribute to whether they can be an organ donor. For instance, if the person had cancer in the past five years, they wouldn't be able to donate their organs. If they weren't ventilated or intubated at the time of their death, there are limitations to organ donation. There is more flexibility around tissue donation, which includes donations of the eyes, bones, and skin.
At our three hospitals, we provide many different services for diverse patient populations. This means the ability to facilitate deceased organ and/or tissue donation varies from one hospital to the other in our network. The opportunity for organ and tissue donation is far more likely in an acute-care setting, such as St. Michael's Hospital, than in a rehabilitation setting, such as Providence Healthcare. No matter the opportunity, we all have a role to play.
We took a deep dive into the process of deceased organ and tissue donation at each of our sites by speaking with the people who know it best – those who provide care to our patients at end-of-life.
Providence Healthcare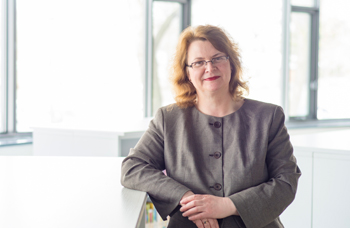 Kimberly MacKenzie, the relationships and partnerships manager at Providence Healthcare
At Providence, we spoke with Kimberly MacKenzie, relationships and partnerships manager; and Jacqueline Lumsden, patient care manager for the Palliative Care program and Assess and Restore services.
As the majority of Providence's inpatients are in rehabilitation programs – helping people get back to living independently in the community after a significant illness or injury – MacKenzie explained that end-of-life conversations occur most frequently in the Palliative Care program.
"When a family is interested in donation, they tend to approach us first," said Lumsden. "We then work with them to make any third-party arrangements necessary to facilitate their wishes."
Because the hospital does not have any ventilated units or an operating room, donation at Providence is limited to tissue donation.
"People see palliative care as the end," Lumsden said. "It doesn't have to be that way – tissue donation is about providing an opportunity after death to another person. There has been great interest in this from our staff and we're looking at how to incorporate discussions about donation into advanced care planning in the future. Anecdotally, most of these conversations have so far centred on corneal and full body donations for research."
St. Joseph's Health Centre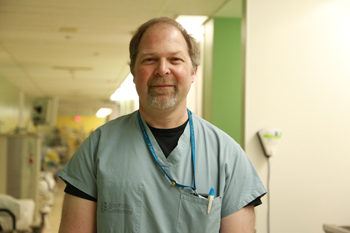 Dr. Rob Cirone, medical program director of the ICU and interim chief of Anesthesia at St. Joseph's Health Centre
With an intensive care unit onsite, St. Joseph's Health Centre provides care to many potential organ and tissue donors. Dr. Rob Cirone, medical program director of the ICU and interim chief of Anesthesia at St. Joseph's, is also the hospital's donation physician and reports directly to Trillium Gift of Life Network (TGLN).
As a TGLN designated facility, St. Joseph's is required to report all deaths to the 24-hour Provincial Resource Centre. Since St. Joseph's doesn't have a TGLN coordinator on-site, they are able to call one in when appropriate. This often happens when the care team knows a family of a patient in the ICU has chosen to withdraw them from the ventilator or if death is imminent and the discussion to withdraw life support is underway.
"We're very diligent about notifying TGLN when there is the opportunity for potential donation," Dr. Cirone said. "Everyone in ICU is committed to identifying donation opportunities after it is apparent that no form of care can save the patient's life."
TGLN data has shown that a family is more likely to pursue organ donation as an option when approached by a TGLN coordinator as opposed to someone on the existing care team. This approach also helps in avoiding misconceptions that a care team has given up on a patient prematurely or that they have a conflict of interest. Though sometimes difficult, the team at St. Joseph's waits for TGLN to be at the table in order to initiate the conversation with the family once the patient has been screened.
"This is a time when a family is most vulnerable," he said. "It's neither unreasonable nor unexpected that they may not have others front of mind. We work with TGLN to ensure any and all opportunities for donation are provided to the families."
St. Michael's Hospital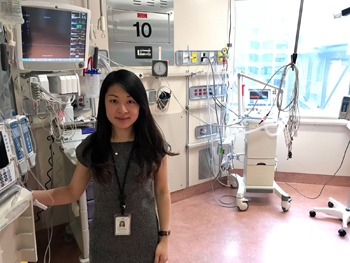 Christine Wong, who started as a nurse in the Trauma and Neurosurgery ICU at St. Michael's Hospital, is now the Trillium Gift of Life Network co-ordinator on-site
With multiple ICUs at St. Michael's Hospital and a history of high organ donor conversions, there is a TGLN co-ordinator embedded into the staff. Christine Wong, who started as a nurse in the Trauma and Neurosurgery ICU at St. Michael's, is now the co-ordinator on-site.
Wong works with families of a potential donor to present the opportunity for donation. She's often notified as soon as someone who is ventilated or intubated has a grave prognosis, and reviews their chart to assess if the patient is a candidate for donation. This way, if and when the family decides to withdraw life-sustaining therapies, she is able to have a comprehensive conversation as to how their loved ones can save lives through organ and tissue donation.
"Families are going through one of the most difficult times they'll ever experience," said Wong. "My job is to provide them with the opportunity to save lives in their time of tragedy. The conversation is never easy, but families are provided a sense of hope during a difficult time. Families often view donation as a way to honor their loved ones and that gives them a positive light when the world seems so dark.""
If the family consents to the donation of their loved one's organs and tissues, Wong coordinates the testing to make sure the patient is eligible to donate. This includes facilitating the work-up for the patient and booking and arranging an operating room and surgical recovery staff.
Wong's job doesn't end at the bedside.
"A big part of my job is to support them through their tragedy, from presenting the opportunity of the gift of donation, to connecting them to bereavement services, to facilitating communication between the family and the recipients of their loved one's donation," she said.
Other elements of her job include donation program development, education of members of the multidisciplinary teams, measurement of corporate goals and reporting metrics.
"We've worked to make organ and tissue donation a true part of our culture," she said.
"Today there are more than 1,500 Ontarians waiting for a lifesaving organ transplant," she said. "You can provide hope to those on the waitlist by registering your consent to organ and tissue donation at beadonor.ca. Taking 2 minutes to register could give someone 10 years of life."
A different approach with the same values
Although our approaches to organ and tissue donation vary from site-to-site, each hospital in our network is doing its part to contribute to donation.
"I want everyone in the network to have organ donation front of mind for April and bring it up in every huddle," Dr. Cirone says. "We can all contribute by registering our consent to be donors."
About St. Michael's Hospital
St. Michael's Hospital provides compassionate care to all who enter its doors. The hospital also provides outstanding medical education to future health care professionals in more than 29 academic disciplines. Critical care and trauma, heart disease, neurosurgery, diabetes, cancer care, care of the homeless and global health are among the Hospital's recognized areas of expertise. Through the Keenan Research Centre and the Li Ka Shing International Healthcare Education Centre, which make up the Li Ka Shing Knowledge Institute, research and education at St. Michael's Hospital are recognized and make an impact around the world. Founded in 1892, the hospital is fully affiliated with the University of Toronto.