Business as usual for St. Michael's Emergency Department during expansion
January 03, 2017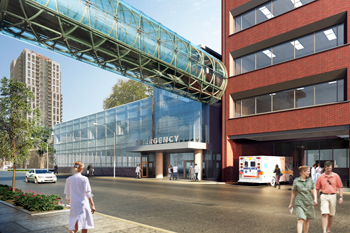 By Kate Manicom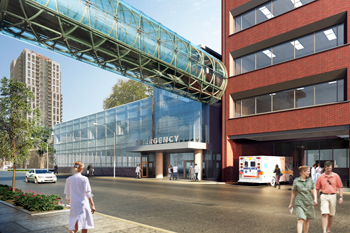 An architect's rendering of the St. Michael's Slaight Family Emergency Department exterior, as viewed from Shuter Street. (Rendering by NORR Architects)
With designs for the Emergency Department expansion and renovation finalized, the ED team is preparing to care for patients while the department is under construction.
"We anticipate meeting all clinical needs, but will need to be creative in how we do this, from space, process and safety perspectives," said Dr. Glen Bandiera, chief of Emergency Medicine. "Our priority is maintaining the number of treatment spaces to meet the increasing volumes we expect to see over the course of the renovation."
As construction moves throughout the department, patient care areas will shift into the renovated spaces. The phasing of the construction ensures patients will be seen in the most appropriate spaces for their needs. The department has also increased its staffing model to accommodate the larger spaces and distances staff will travel.
Patient care areas will be carefully separated from construction to ensure patient and staff safety, with all appropriate infection prevention and control measures in place.
Dr. Bandiera and the ED team have been involved in the planning for the new department since it began in 2009. The ED was last renovated to meet an annual capacity of 45,000 visits. Last year, 75,000 patients came through its doors, a number that continues to rise annually with Toronto's growing population.

Did you know?

The Emergency Department renovation was funded in part by a $10 million donation by the Slaight family. The Slaight Family Emergency Department will open in 2019.



"We have had a team of physicians, nurses, clinical assistants and clerical assistants participate at every step of the way," said Dr. Bandiera. "We visited a number of sites to learn about best practices and adopted many of these into the design of a new ED to specifically meet our unique needs."
These needs include plans for a purpose-built, dedicated mental health area, with eight beds physically separated from the rest of the ED. The quiet, secure area will be staffed 24-7 with staff specially trained to care for patients with urgent mental health needs. There will also be an integrated medical imaging suite inside the department – with CT scan, X-ray and ultrasound – decreasing time required for important diagnostic imaging.
All of these enhancements, along with the addition of a third trauma bay and expanded ambulance bay, will allow St. Michael's to continue its mandate as a regional level 1 trauma centre.
In the meantime, staff in the ED, who are accustomed to unpredictability, prepare for the coming changes.
"The staff and physicians have been tolerant of planning and uncertainties, but also generous with their ideas and critiques, leading to constant improvements in the final design," said Dr. Bandiera. "I am grateful they have been willing to look beyond the disruption towards a new and better Emergency Department."
About St. Michael's Hospital
St. Michael's Hospital provides compassionate care to all who enter its doors. The hospital also provides outstanding medical education to future health care professionals in 27 academic disciplines. Critical care and trauma, heart disease, neurosurgery, diabetes, cancer care, care of the homeless and global health are among the hospital's recognized areas of expertise. Through the Keenan Research Centre and the Li Ka Shing International Healthcare Education Centre, which make up the Li Ka Shing Knowledge Institute, research and education at St. Michael's Hospital are recognized and make an impact around the world. Founded in 1892, the hospital is fully affiliated with the University of Toronto.