Two St. Michael's researchers awarded prestigious Canada Research Chairs
June 24, 2021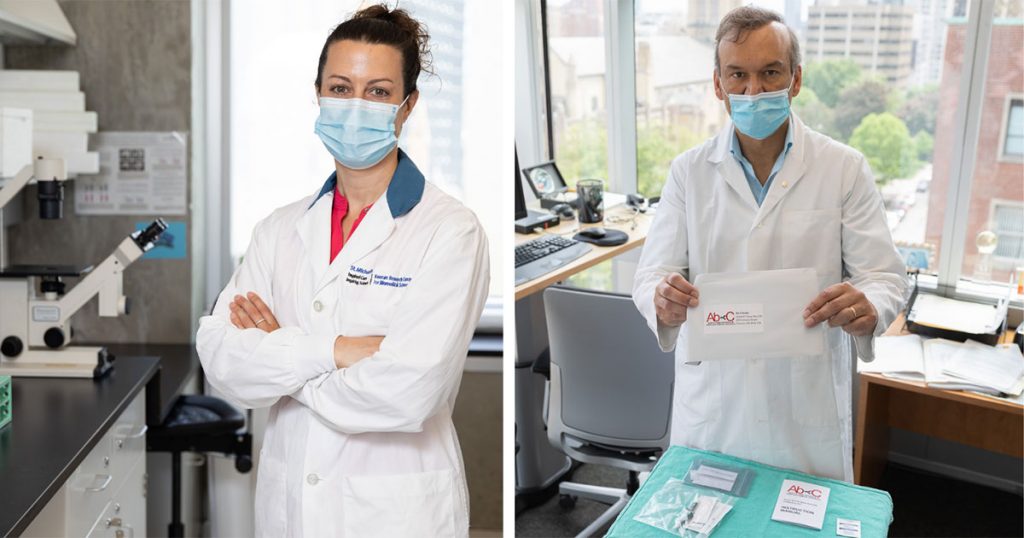 Two St. Michael's scientists are among the latest group of Canada Research Chairs, a prestigious program that supports top Canadian scientists.
Dr. Kelsie Thu, a Scientist at the Keenan Research Centre for Biomedical Science, is chair for the first time, while Dr. Prabhat Jha, Director of the Global Health Research Centre, had his chair renewed.
The federally-funded Canada Research Chair program invests in Canadian researchers to make Canada a world leader in research and development. Tier 1 Chairs are considered outstanding researchers and world leaders in their fields. Tier 2 Chairs are exceptional emerging researchers.
Dr. Thu has received the Tier 2 Canada Research Chair in lung cancer therapy response. The Canada Foundation for Innovation (CFI) – in collaboration with the CRC program – has also announced support for Dr. Thu through its John R. Evans Leaders Fund (JELF), which helps universities pay for laboratories and equipment.
Dr. Thu is investigating new ways to treat lung cancer and has started collaborations with colleagues across the Keenan that can provide insights into using chemotherapy more effectively and in a more targeted way. Dr. Thu joined Unity Health Toronto last year, and this funding will support her to continue to take on exciting new projects.
"It is truly an honour to receive this CRC award," Dr. Thu said. "I feel proud that the research we are doing and the research that we proposed was viewed as important and impactful and that it could benefit Canadians. Our application was a huge team effort involving multiple scientists at St. Michael's and abroad, and I am very grateful for all of their mentorship, support and contributions to the research proposal."
Dr. Jha received a renewed Tier 1 Canada Research Chair in Global Health. This support will enable Dr. Jha and his team at the Centre for Global Health Research to continue nationwide mortality studies, which now include India, countries in Africa, and countries in South America.
"Our main priority over the next year is to document the excess mortality from COVID-19 that has occurred in many countries," Dr. Jha said. "We also want to report on the COVID-19 infection levels in Canada through the Ab-C study. This will include documentation of the levels of infection from natural and vaccine-induced infection. We will know about population immunity to the virus based on this research."
Dr. Jha and Dr. Thu are part of a large group of Canada Research Chairs at Unity Health Toronto. Read about the most recent cohort here.
This story is an example of how we're bringing our Research Strategic Plan to life. Access our full plan online here.
By: Ana Gajic