Ten great things that happened this week
October 22, 2020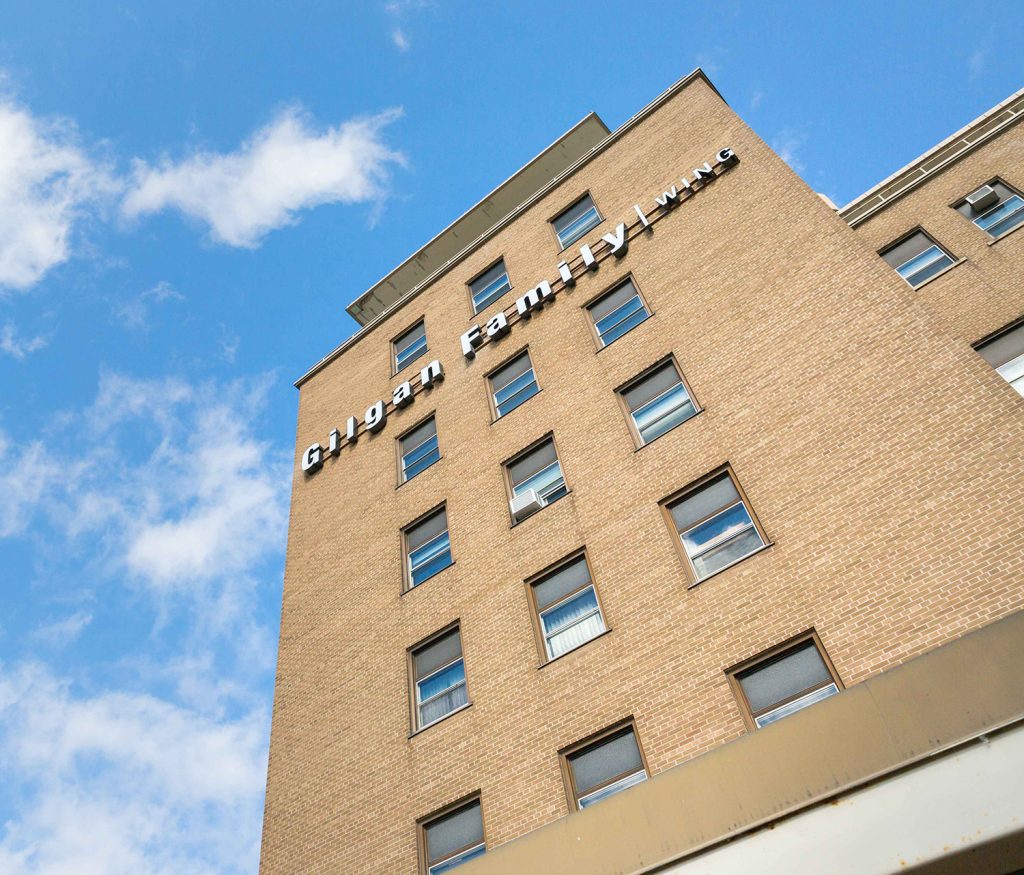 (October 22, 2020) – Living and working through COVID-19 is tough, but that doesn't mean we can't celebrate the wonderful things that are happening at our sites – and for our people – along the way.
Each week, we're sharing a list of 10 great things that happened this week. Do you have a story you'd like to share? Send it to communications@unityhealth.to.
1) We renamed a wing at St. Joseph's after a very generous donor
Patients will now enter the Gilgan Family Wing entrance at St. Joseph's thanks to a $10 million donation from Peter Gilgan. His donation will create a new Outpatient Care Centre on the first floor of the newly renamed Gilgan Family Wing. When complete, the Centre will offer private examination rooms equipped with virtual care technology, waiting room designs that will enable physical distancing, and the latest in health care design and technology.
2) St. Joseph's celebrates its 65th annual Clinical Day
Education Week is coming up, marking a special anniversary at St. Joseph's. On Nov. 6, our health disciplines staff, nurses, physicians and learners will celebrate the 65th annual Clinical Day, which started in 1955 by Dr. James S. Simpson to provide physician-based education across St. Joseph's. Over the years, Clinical Day evolved to an inclusive and community-based event that includes health disciplines, nursing, learners and physicians in the St. Joseph's community. "I think it's a testament to our institution and our dedication to education, allyship and inclusivity that the event has evolved the way it has. Health care is provided by a team and we work best when we're all on the same page," said Jasdeep Grewal, Faculty & Continuing Education/Professional Development Affairs (CEPD) Coordinator.
3) Toronto's first stationary Indigenous-led COVID-19 testing centre opened this week
The centre in Na-Me-Res will provide COVID-19 testing and related health services for Indigenous people, including case management, contract tracing, outreach supports and referrals. It is a collaboration between Na-Me-Res, Seventh Generation Midwives Toronto (SGMT), Well Living House at St. Michael's Hospital and the Centre for Wise Practices in Indigenous Health at Women's College Hospital. "Evidence supports the effectiveness of by community for community Indigenous health solutions," said Dr. Janet Smylie, Director of Well Living House, the Indigenous health research unit at St. Michael's, and principal investigator of We Count COVID-19 database research project.
4) The Ontario Hospital Association highlights St. Michael's Family Health Team's model for addressing social needs
As the pandemic unfolded, the St. Michael's Academic Health Team acted quickly to ensure they could still meet the needs of their socially marginalized patients. They created a social determinants of health (SDOH) Committee-COVID-19 Working Group to address three major priorities: individual patient needs, equity assessments of health team operations and social policy advocacy. Noor Ramji, Gary Bloch, Deborah Kopansky-Giles and Katie Dorman discussed this work in a piece for the Ontario Hospital Association (OHA). Read it here.
5) Dr. Tara Kiran co-authored new recommendations for a virtual-first approach to patients with type 2 diabetes
Type 2 diabetes is one of the most common chronic conditions managed in primary care, with patients normally seem every 3 to 6 months for bloodwork, examination and a general check-up. With the COVID-19 pandemic limiting in-person clinical appointments, Dr. Kiran, a family physician at St. Michael's, recommends an approach for primary care clinicians that includes a virtual-first approach to diabetes care during COVID-19. Read more about it here.
6) Dr. Sahil Gupta shares his learnings on the COVID-19 response for people experiencing homelessness
During Wave 1, many people experiencing homelessness turned to hospitals for COVID-19 testing and a space to shelter in place. In response, community agencies, St. Michael's Emergency Department leadership, inpatient teams, lab services and public health collaborated to find ways to care for this vulnerable population and ease the burden on Emergency Departments. These solutions included an early warning system that helps send people for testing and isolation right away, an expansion of the St. Michael's COVID Asssessment Centre testing to help this population. Read Dr. Gupta's OHA piece about what more we can do during wave 2 here.
7) Findings from a new Unity Health Toronto study reveals the need for targeted suicide-prevention strategies
A new study co-led by St. Michael's Dr. David Gomez, trauma physician, Dr. Najma Ahmed, trauma surgeon and Nancy Baxter, research scientist, found that two-thirds of gun-related deaths in Ontario are suicides by men over the age of 45 who live in rural areas. Dr. Gomez spoke to CBC News about his research findings, and the targeted interventions required to address this issue. Read more about this study here.
8) A new drug monitoring tool led by Dr. Tara Gomes to help track drug trends and inform COVID-19 planning decisions
The new COVID-19 Ontario Prescription Drug Utilization Tool was launched this week by scientists at the Ontario Drug Policy Research Network (ODPRN). Dr. Gomes, a scientist at the Li Ka Shing Knowledge Institute of St. Michael's and Principal Investigator of ODPRN, says this tool will help avoid drug shortages and allow policies and clinical practices to adapt more quickly.
9) Dr. Irfan Dhalla spoke to Bloomberg Markets about what is required in order to reopen businesses safely
Dr. Dhalla, Vice-President of Physician Quality at Unity Health, discussed how targeted restrictions in specific areas could help curb community spread. His recommendations include a more targeted test, trace and isolate strategy; specific guidance and inspection for businesses to limit unnecessary closures; and expanding the use of the federal government's COVID-19 Alert app. Watch his interview here.
10) A world-first cardiac procedure at St. Michael's is giving high-risk patients a new treatment option
Mir Hasan Ali, 76, was the first patient in the world to undergo a tricuspid valve replacement through the leg to repair a heart condition. The procedure was led by Drs. Neil Fam, Mark Peterson and Géraldine Ong at St. Michael's. Prior to this surgery, tricuspid valve replacement could only be done through open heart surgery or through an incision by the ribs, which posed a greater risk of complication for older patients. This new EVOQUE tricuspid valve replacement has created a safer treatment option for them. Read our piece in Hospital News here.