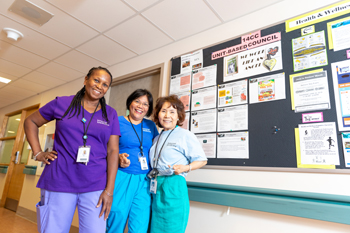 The Unity Health Experience
Working in health-care means being part of something bigger than yourself. It means being part of a family and a network of devoted professionals who love what they do. Unity Health is no exception—we are committed to helping our staff feel fulfilled, valued and supported every day.
Not only do we prioritize creating exceptional experiences for the patients who come through our doors, we also provide the same treatment for our staff, physicians, students and volunteers. This is why we are consistently engaging with our staff to ensure their needs are met and their voices are heard.
There are several advantages to being part of the Unity Health team including, but not limited to:
An innovative and inspiring environment where you get to work with committed and passionate individuals
Competitive compensation, benefits and pension program
Employee and Family Assistance Program
Commitment to a team-based interdisciplinary approach to care and service
Opportunities for ongoing learning, development and professional advancement
Values-based recognition awards that celebrate staff excellence
Celebrations and events that demonstrate the appreciation for our people and make Unity Health a dynamic, fun and social work environment
Our commitment to anti-racism, equity and social accountability is essential to our ability to provide exceptional care experiences and to drive research and academic excellence. We are committed to creating an environment where all of our people feel welcome and valued while being themselves. We encourage applications from qualified candidates and especially welcome applicants who are Indigenous, Black or Racialized, persons with disabilities, people who identify as LGBTQ2+, and all others who may contribute to the further diversification of ideas.
We are committed to accessibility in the candidate application and selection process. Requests for accommodation can be made at any stage of the recruitment process, providing the applicant has met the requirements of the vacant position. Applicants are asked to please make their accommodation requirements known when contacted.
Unity offers our employees a competitive and progressive Total Rewards Program to attract, motivate and retain the best and brightest employees. We remain competitive in our industry in respect to salaries and vacation, and offer comprehensive benefits plans. The full time benefits plan includes:
Extended health care (prescription drugs, vision care, paramedical, medical supplies)
Dental care
Life insurance
Long-term disability
Optional life, critical illness and accidental death insurance
Many of our part time employees also have the opportunity to participate in a flexible benefits plan.
Employees have the opportunity to participate in the Healthcare of Ontario Pension Plan (HOOPP). HOOPP provides health-care workers with a financially secure retirement and is a leader in defined benefit pension plans.
We support employees if they need to take a leave of absence, and provide a supplemental payment to those on pregnancy and parental leave. Employees have access to many perks and discounts for hotels, banking, fitness facilities, home and auto insurance, and more.
Delivering an exceptional experience is our priority at Unity Health. In order to enable this top-rated care and experience for our patients and their families, we rely on the phenomenal staff, physicians, volunteers and learners within our organization.
One of our strategic priorities surrounds Joy in Work for our people. This is why we foster a culture of recognition both at an organizational and an individual level. We understand the personal nature of recognition and at Unity Health we offer a number of ways to demonstrate our appreciation for all contributions by our engaged and dedicated workforce. Whether through regular celebratory events or personal acknowledgements, we strive to make people our first priority through our recognition of the time, commitment, and excellence everyone provides.
At Unity Health, we strive to create a culture of continuous learning through the investment in the potential of our employees. We achieve this by developing an environment where educational opportunities are endless including:
Financial support for tuition assistance
Support for on the job professional development
World-renowned simulation learning experiences
Financial assistance for other job-related learning (conferences, webinars, workshops, etc.)
This broad spectrum of learning-related activities allows us to enhance our world-class educational programs and further our academic mission.
Last updated April 12, 2021